The process of buying and selling properties has become much faster and easier thanks to online business opportunities. Online real estate helps you save valuable time as you search for available properties for your next personal or commercial space. Instead of having to visit a broker's office or read the newspaper ads, you can go online to find hundreds of property listings and buying websites that make it easy to form a shortlist and visit selected properties before making final decisions. If you are in the real estate business, you must build a property website to get ahead of the competition in 2020 and expand your client base.
Why You Need to Invest in Real Estate Website Development in 2020
The digital world has eliminated the traditional barriers of entry for the real estate industry. There are numerous benefits of having a property website for your business, whether you are a local property seller or an established real estate company.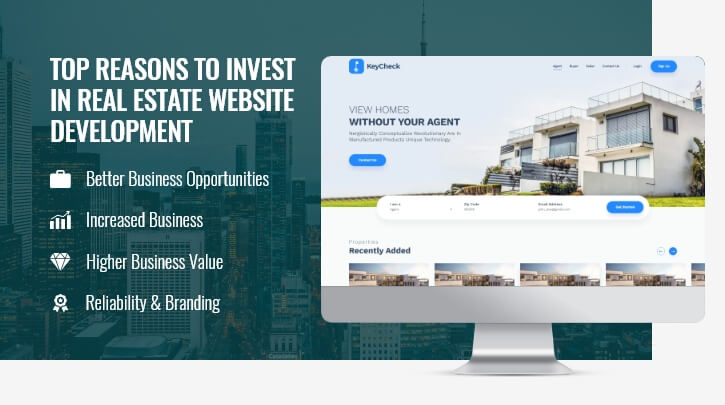 1. Better Business Opportunities
Having a digital presence can not only build your brand within a few months but also helps you attract more business opportunities online. With your address, contact details, and previous projects displayed on your site, visitors can engage with your business and you will increase the chances of growing your client base. Industry research reported that more than 50% of small property businesses have seen an increase in leads due to having an online presence.
2. Higher Business Value
Businesses that anticipate and answer the questions of their customers provide more value to them rather than businesses who create noise about their property listings. When you inform and help your audience, they will be more interested in what you have to offer them. A good website with informative content and easy to understand services can take your business to new heights.
3. Reliability & Branding
Building an online presence with strategic marketing attracts more traffic to your website and other platforms. You can create buzz about your business and differentiate your service from competitors with a feature-rich, content-focused real estate website. Once you have created a strong brand reputation online, you are one step closer to expanding your real estate business and reaching potential customers.
4. Increased Business
After you have managed to attract traffic to your website, the next step is to inform and help your target customers to convert them into leads. Having a property website brings more leads to your business. Your website becomes your new office space for acquiring and engaging with clients who are interested in buying or selling properties using your service.
Steps to a Successful Real Estate Website Launch
Now that you have a better understanding of why investing in real estate web development is a great idea for your business, here is how to build an impressive property website.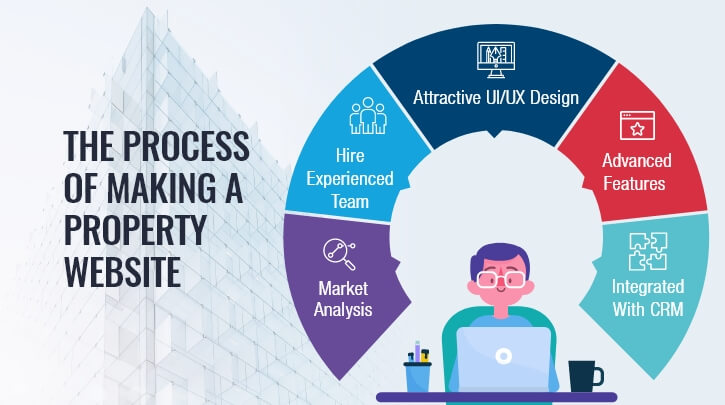 1) Research Market Trends
Before finding a team and getting into custom software development Services , you must understand the market trends and competition. Real estate websites take various types of forms depending on the services and purpose of the website. For example, there are real estate listing websites, real estate property websites, Builder's websites, and property finder websites. Choose the one that represents your business and research how global companies are promoting their websites for better leads.
2) Find the Right Team
Once you have determined the purpose of your service, the next step is to find a website development team that understands your requirements and has experience in building real estate websites for multiple clients. Your team will be the one to help you with all the technical aspects and bring your idea to life. So, do your research and select the most qualified development team skilled in the latest techniques.
3) Features of a Successful Real Estate Website
Users who are interested in your website will have to register in order to take actions like shortlisting a property, browsing your service, or asking questions. You can offer registration for users and real estate agents by including various option buttons on your site.
Whether you are selling or buying, your website should have a clear listing feature with filters like 'add to Wishlist,' 'compare,' 'view information,' and so on. These filters and categorized listings help users to search your website easily and find the right information.
With each property listing, you must include photos and a video presentation of the properties to help your business stand out online. Users always want more content to view, and they will choose the websites that best showcase their properties online without having to physically visit them. If your website allows property listings, create a structured guide that details the minimum numbers of photos and videos to maintain user-friendliness across your website.
A simple, fast, and responsive website attracts more customers than a slow but visually appealing one. Make sure your website is mobile responsive and user-friendly so that your customer can easily use the search bars, property listings, and call-to-action buttons without any glitches.
Let your buyers provide written feedback for your real estate assistance or property listings to see what they either liked or disliked about it. This will help other customers learn about your business and find the right properties. Plus, you can add filters that sort your properties by rating and reviews to get more customers the best property deals.
No real estate website is complete without maps and a live location of the property. An interactive map setting can help customers better understand the surrounding location of the property they are viewing. Your website development team will integrate the Google Map APIs into the website with a custom visibility option to define the location and nearby spots.
You cannot convert leads into clients without proper communication. Include a messaging option on your website to maintain a constant connection with your customers and answer their questions quickly. Adding a chatbot is also a great option if you want AI-based assistance for better communication.
The admin panel should be easy to use and understand since it is the place where you will be managing, updating, and reviewing the data of your website and customers. Most real estate websites include dashboards for property sellers and agents, which are also managed through the admin panel.
If you want to provide additional features on your website, then online chats with the agent, calendars, live market analytics, and owner details can be added to increase website engagement and lead conversion.
4) CRM System
CRM is one of the most vital components of many business websites. A real estate CRM system, helps you manage the client's data and communication through automated tracking and management of data. You can ask your development team to integrate a CRM like Zoho, Pipedrive, or others into your website.
How much does a real estate web application development cost?
This is the most common concern among many business owners who are entering into the online business space. Here are the main aspects that determine the development cost for your real estate website.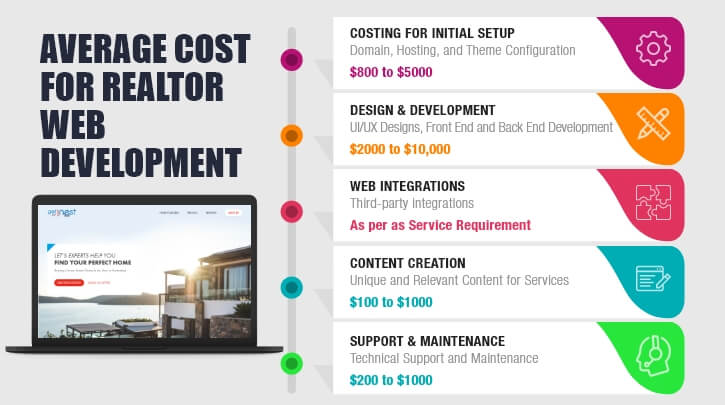 1) Inital Setup- Initially, you will have to invest in a domain, hosting, and theme suggested by your developers. This may cost you around $800 to $5000 depending on the plan you choose.
2) Design & Development: This includes UI/UX designs, front end development, back end development, testing, enhancing the functionalities, adding property search filers, website pages, and integrations. Each development phase has a different price for the procedure. Depending on your business's size and requirements, this may cost around $2000 to $10,000.
3) Content Creation: Your website is not useful without relevant content and the right information. Including all the pages, product information, and more, content creation costs around $100 to $1000.
4) Support & Maintenance: Once your website has been launched, you will need technical support and maintenance from your developer team. With updates, functionality enhancements, and bug fixing, the cost of this investment depends on the Software solution provider company you have chosen for custom development work.
5) Integrations: Third-party integrations as per your services and requirements.
Overall cost
With all the above points considered, a real estate web development can cost you from $10,000 to $80,000 depending on the data, company size, and other requirements you have.
Final Words
Even if you are starting from scratch, make sure your website is user-friendly and optimized for mobile devices since many potential customers are going to find your website using their smartphones. In addition to this, your website should be engaging and build reliability by verifying agencies and registered users with built-in verification features. Your goal should be to create a website that brings real estate professional buyers, builders' agents, and property managers together in one place. You can then use marketing and social media to promote your site, establish your brand, and generate leads.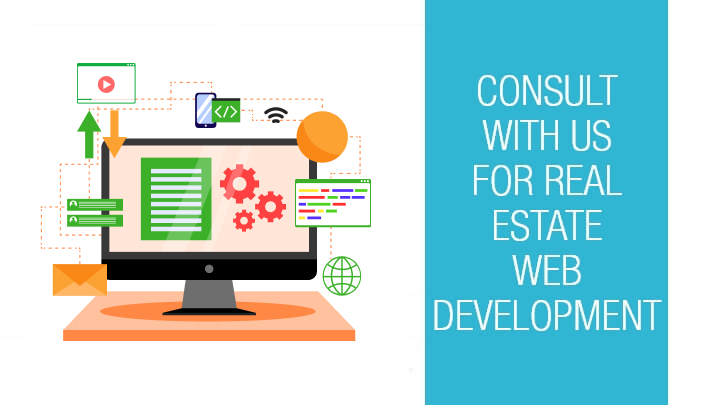 However, developing a property rental website is not as easy as it seems. Finding the right development team takes some time and research to ensure that you get your desired result at the most competitive cost.
Customers all over the world have trusted ConsultingWhiz for providing results at affordable prices and delivering remarkable custom web development services in USA every time. With our agile development approach and eye-catching designs, you can expect a successful and bug-free real estate website that is highly responsive and engages with your target customers. Our goal is to collaborate with your visions and create a long-lasting professional relationship.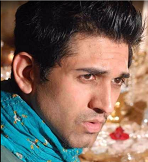 Mike is the founder of ConsultingWhiz LLC, Software development company in the USA, he has 15+ years of experience in agile technologies and  development. I've worked with many satisfied owners of customer servicing businesses. Let's connect today to get started on your path to 100% automation, reduced overhead costs, large ROI, and so much more.