E-commerce is becoming more competitive than ever before, and the current circumstances suggest tremendous growth in e-commerce technology in the next few years. Web development companies are introducing new ideas and concepts with each passing day, and businesses need to follow the latest trends to achieve a profit margin. Even if you continue having a physical store, online stores can recreate your reputation and represent you as a brand.
For this reason, you need the right e-commerce web development team that understands your requirements and follows these steps below to develop profitable e-commerce websites for start-ups.
Tips to Create a Successful E-commerce Website for Your Business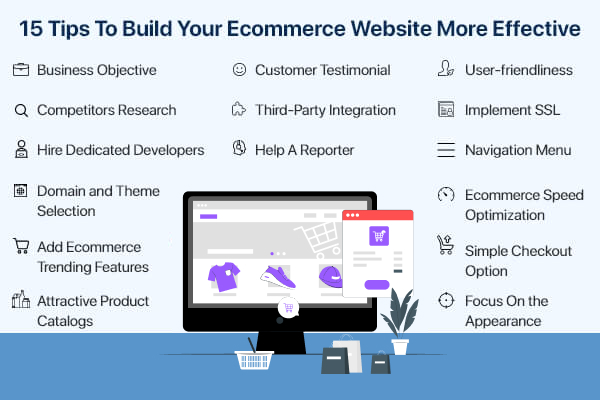 1) Have Clear Objectives
From images to content and the theme of your e-commerce website, all material should be designed with the company goals and end-users in mind. Make sure you have clear objectives before you jump into the development process. Take note of your goals in terms of your audience, products, what your main reasons are for switching to an online store, and the long-term goals to form a concrete plan. The clearer you are, the better your developers will understand your requirements.
2) Research Competitors in the Same Niche
To be the best, you must understand what's trending and what users expect while shopping online. Research your competitors as much as you can, and get an insight into how they are promoting their products on their website. Website appearance and features play a huge role in making your website successful. Therefore, you must determine what you can do better than your competitors to build a stronger connection with the audience.
3) Hire Experienced & Skilled Web Developers
Once you have got a clear concept of what you want, the most important decision to make is to hire e-commerce developers experienced with modern development skills and tools. Rather than relying on recommendations, you need to research and assess the portfolios of the companies you consider. Ask questions about the previous projects, analyze the portfolio, and look for a team that connects with your idea, and applies updated techniques to develop profitable e-commerce website.
4) Find the Right Theme and Domain
Choosing a domain name and theme for your online store is a key step, as your name is the first thing that users are going to recognize. The theme of your website will represent your brand's personality and reputation. Here are a few tips before finalizing a domain and theme.
Prioritize your product and niche.
Make sure the domain is available and identical for your business.
Choose an SEO focused name.
Choose a theme that goes with your logo and product categories.
Phrases, sayings, unique names, and shorter names are easier to remember.
Use credible sources to buy the domain for your business.
5) Focus On the Appearance
One factor that is often neglected when analyzing the performance of a website is aesthetics. The presence of an e-commerce website plays a huge role when it comes to branding.
Research suggests that more than 40% of users will leave a site without finishing the purchase if they don't like how it looks.
So, make sure you have the best e-commerce web designers and graphic experts who can make your website speak with its appearance and usability.
6) Don't Miss the Essential Features
Without the right features, your website's existence is ineffective. There are three categories of features that you can consider including.
1) Essential Features: Dashboard, shop categories, payment gateway, filters, search bars, navigations, images, CMS, reporting tools, etc.
2) Secondary Features: User-focused order functionality, integration with a physical store, recommendations, feedback, and reviews, Google reviews, etc.
3) Advanced Features: Integrated blog, order, and shipping management, videos, offer recommendations, third party integration, etc.
Depending on your budget and requirements, you can add as many features as you want. The more useful your features are, the better the shopping experience users get.
7) User-friendliness
As statistics indicate, a user-friendly website increases websites' traffic to 85% and generates more leads than regular websites. The more user-friendly your website is, the longer your users are going to stay on your site and return. This is why investing in custom e-commerce development is essential in building a website to be as user-centric as possible.
Your UI/UX designers must be aware of the suitable designs that go with the wireframe of the website. Better User Interface leads to better User Experience and should not be overlooked when creating a website.
Even if your website is simple and less attractive, if your users like it, nothing can stop you from developing a competitive online reputation.
8) Content & Catalogue
Another area of e-commerce website development for start-ups worth considering is how product cataloging and content can make a huge difference in the positive impact your site has on your customers. Providing helpful, relevant information to your buyers will increase the trust they have in your brand. Showcase your products in a way that eliminates the need for them to go anywhere else to purchase from the same product category.
In terms of content, your SEO strategy will not work without utilizing the power of content. Blog posts, reviews, and keywords increase your reach and website ranking on search engines. This attracts leads like a magnet. Hire an experienced content creator to make your website a content-rich platform for users.
9) Navigation Menu
Menu bars help users to easily find the pages they are looking for and it is recommended that your navigation menu appears on top of all the pages. There are different styles to choose from when creating menu bars, so make sure that your selection is not too complex and consists of the main pages of the websites. If you have multiple category products, a drop-down menu will certainly help you achieve a clean appearance.
10) Mobile Optimization & Speed
Would you ever go back to a website that consumes your time with the loading sign? Probably not. Users won't waste their time waiting when there are thousands of other options available for online stores and shopping. In addition to this, 70% of your buyers visit your website through mobile phones, which is why mobile-friendliness and speed are among the top factors your developers need to focus on.
The biggest e-commerce websites have launched mobile apps to effectively serve their mobile users. With all this considered, you should definitely prioritize mobile optimization and the speed of your website.
11) Easy Checkout
A fast, simple checkout process that doesn't require unncessary information is what a buyer wants from an online store. Allow users to checkout with minimal complexity and provide multiple payment options so they can trust your security and checkout with 100% satisfaction. Too much information and continuous canceling can annoy your customers. Consequently, if you have to pay an extra amount for integrations, go for it, and you will see the positive impact it has on your customer's payment experience.
12) Popular Integrations
There are many advanced integrations available that make a website more accessible for users. Apart from integrations for shipping, payment, and communication, you can go for advanced third-party integrations like push, In-apps, Web Push, On-site, Email, WhatsApp, and Facebook re-targeting. These integrations enhance communication and user-friendliness to ensure customer satisfaction.
13) Drive More Testimonials & Reviews
Testimonials and customer reviews help buyers to make decisions and add credibility to your brand. Of course, not everyone will be happy with your products, but you will get a chance to understand what your customers actually want. If your product is great, you will receive positive reviews, and that will directly help drive your sales.
14) Help A Reporter
This is an effective part of influential marketing for your business. Help A Reporter works as a PR tool for a website where you can share information, expertise, and tips to earn publicity for your products. It is a good tool for immediately following up with a lead and connecting with them through emails and notifications.
15) SSL Certification
Your dedicated e-commerce developers will know how SSL certification works and what makes it important, but you should still confirm if they have implemented SSL to your website. SSL ensures that the information that travels across networks is safe and makes your website a secure platform for users.
Apart from these, social media links, FAQs, and videos are useful components to include in a profitable e-commerce website development.
No matter what you sell, e-commerce websites hold great potential to increase your business and innovate new opportunities for your growth.
Get the Best E-commerce Website Development Services for Your Business
To implement all these above-mentioned steps and features to your website and make it a successful asset for your business, you need a development team that understands your unique needs and addresses them with the right technologies and features.
ConsultingWhiz, Customized Software Development Company is a passionate team of skilled e-commerce web developers based in the USA that delivers exactly what you imagine. Our team utilizes the most advanced technologies and platforms to deliver an unbeatable digital asset. Connect with a developer today and take advantage of all that an e-commerce website can do for your business!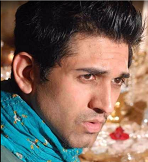 Mike is the founder of ConsultingWhiz LLC, Software development company in the USA, he has 15+ years of experience in agile technologies and  development. I've worked with many satisfied owners of customer servicing businesses. Let's connect today to get started on your path to 100% automation, reduced overhead costs, large ROI, and so much more.