This is one of the most frequent questions asked by business owners who are looking to develop custom software for their businesses and start-ups. While there is not a definite answer to this question, we can help you estimate the overall development cost by considering the top factors that affect the development cost and procedure.
What Is Custom Software Development?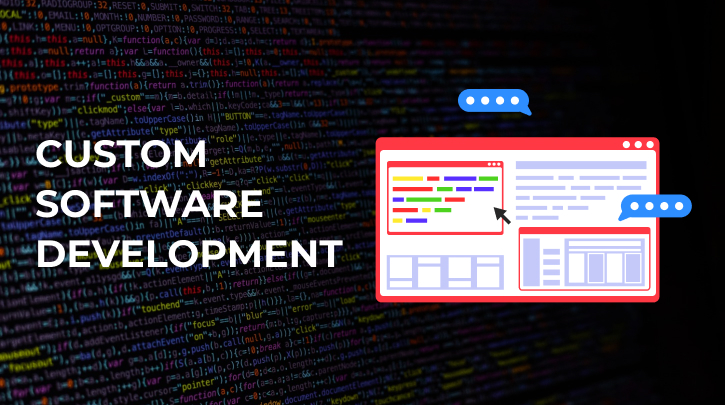 Before you can understand the cost of developing custom software for your business, you must learn what custom software is. Custom software development involves tailor-made software for specific business needs. With custom software, companies can get digital solutions that are designed specifically for their demand and processes, managing their operations, and optimizing data security. In the past few years, the demand for custom software development has increased as business optimization and accuracy have become key factors in sustaining growth.
How Much Does Custom Software Cost?
Regardless of the location and the size of your business and the developers you choose, several key factors determine the overall cost of your custom software development. Here are the most important factors you need to understand.
What Affects the Cost of Custom Software?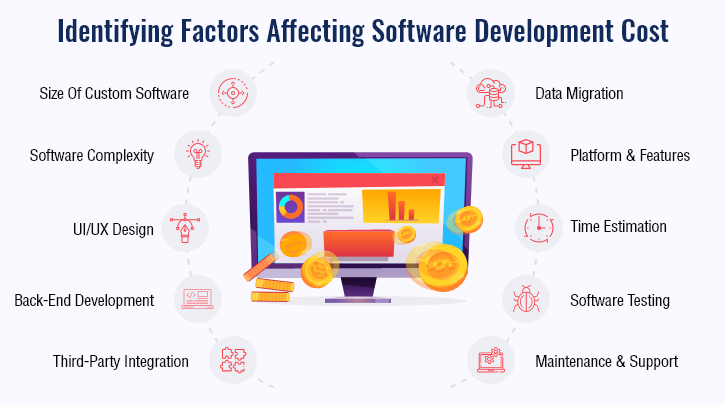 1. Size of Software-
The most important factor that determines almost half of the development cost is the size of your custom software. For instance, a simple mobile app or an online store that features your products will be cheaper than an ERP solution for multi-tasking used by banks or hospitals. Similarly, CRM solutions, warehouse management, and security applications are premium software that is expensive and take time and effort to build before the final product launch. Make sure you know the exact features your software should have when you explain it to your team.
2. Complexity-
The complexity of your custom software can play a huge role in the final development estimate. Complexity refers to the overall purpose and additional requirements you have for your software development team. The more complicated it gets, the more costs you will have.
Features, design, UI/UX, and technological requirements are the main factors that make software complicated or comparatively easier. With traditional platforms and technologies, a simple software or app can be developed within a few weeks. However, the degree of complexity can increase the development time and tools required to add highly responsive features.
3. Design Structure-
When it comes to design, there are two main areas covered:
Creative Design: This is the creative appearance and visual elements of the software, including graphics, color schemes, and unique designs to get the attention of customers on various platforms. Companies like Amazon have been investing billions to make their designs as creative as possible. Therefore, you should want your designs to be flawless and appealing regardless of the cost invested.
UI/UX Design: User Interface and User Experience are the major aspects of software design that interactively engage with the users. It is important to find the best UI/UX designers who understand the process of designing B2B or B2C software for your business, and that may cost you around $800 to $2000 separately.
4. Development of Software
For those who are aware of the basic components of the development procedure, estimating development costs would not be an impossible task. But for a beginner, there is an entire step by step procedure included to create a scalable custom software for business.
Implementing a design, platforms, front-end development, back-end development, and testing if the software is free of any glitches can take some time to complete. However, the process and time frame also depend on project size and complexity as there are certain challenges associated with development.
5. Integrations
Third-party integration or integration with other software involves significant research and effort since you are unaware of the potential security issues and performance concerns. If it's the usual business software or application, purchasing third-party integrations and connecting with your app would not be time-consuming for multi-integration like WMS to control goods, payment gateways, shipping, and much more. However, it may become expensive to include all the features you have shortlisted.
6. Migration of Existing Data
Whether you have an existing software or data that needs to be added to your new software, data migration is a careful process. Data migration requires custom scripts, which take the data from your old system and reshape it as per your new software. The steps are quite simple, but there are different channels to make data migration possible on the first attempt.
Most of the data migrations are completed after the software development with translation features based on your requirements. Figuring out the scripts, translation rules, migrations space, and workload will require time and investment.
7. Time & Budget
When it comes to software cost estimation, time has a significant impact on the development cost. If you have a deadline in mind, your software development agency will have to increase the number of developers to meet your expectations and deadline. This may affect the overall service cost and any additional charges.
On the other hand, if you have a budget you are working within, your development consultant will either ask you to filter your requirements or go with a software that fits in your budget. You may choose to stick to your budget or instead focus on the features depending upon your business size.
8. Platform & Features
These are among the most important factors while estimating the cost to develop software for your business. If you choose a single platform for your software, like iOS, Android, or Web, the cost will be lower compared to choosing all three. Additionally, the software and tools your team suggests will add to the estimated cost.
The features or pages you want in your software are a priority component of your idea. Therefore, you need to make a list of features that you cannot compromise at any cost along with the secondary functions that can help you cut down the development cost. Be sure to research the key features for a high performing software and consider an MVP to come out with the best result.
9. Testing
Once the development is completed, your development team will ensure that the software is working properly. If there are any glitches or bugs, they will remove them and test the software on multiple devices. Testing is an unavoidable aspect of any development project, and the cost depends on the overall development charge.
10. Maintenance & Support
When your software is developed after weeks of technical work and change implementation, you need to prepare for extra expenses such as updates and support costs. Maintenance and technical support are important in keeping your software functioning for a very long time. Usually, the software solution provider company will provide support and maintenance at a reasonable price so that you can anticipate the cost during development estimation.
Overall Cost of Software Development
Now that you have a better idea of what main factors that affect the cost of software development are, here is the estimated cost for custom software development.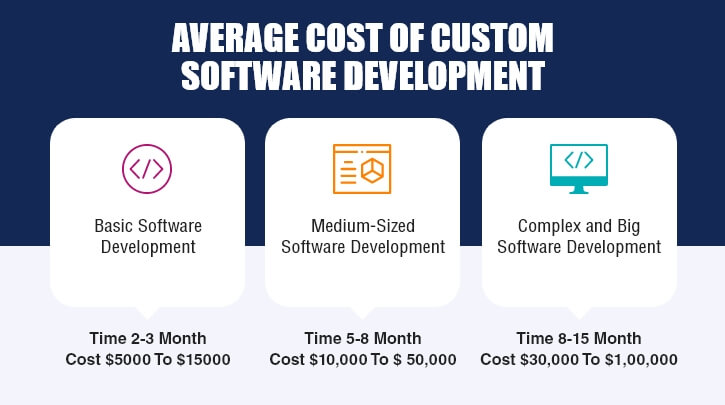 Simple software development can take around 2 months, which can cost you around $5,000 to $15,000.
Medium-sized application and custom software may take up to 5 months with an average cost of software development around $10,000 to $30,000.
Complex apps and innovative business software can take up to 6-15 months, and the cost can start from $30,000 and reach up to $100,000 depending on your locations and business requirements.
Before finalizing the project, you must focus on the quality and features that will be beneficial for your business and worth the investment.
Find the Right Software Development Expertise at a Competitive Cost
While choosing custom software services for your business, you need to identify and research the technical requirements and initial costs. It may seem a bit complicated at first, but once you have understood the basic points (mentioned above), you will be able to create a software development budget without any hassle.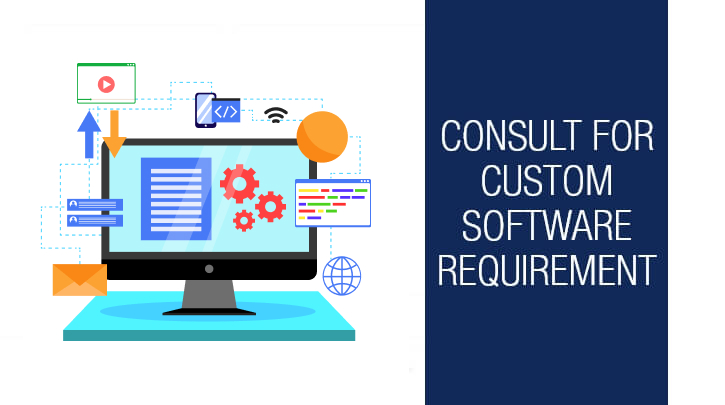 In addition to this, you should select a development team that is experienced and able to help you in the process of understanding the technical and non-technical aspects of your software plan. To keep your budget aligned with the expertise, research as much as you can and find a company that offers cost-effectiveness and professionalism to match the industry standards.
As you begin your search for a cost-effective custom software development company in USA for your business, consider hiring ConsultingWhiz as your development partner. We have a results-driven approach and offer cutting-edge technology solutions and offshore software development services. Our trusted developers can fulfill your requirements and provide the best software packages suited to your needs. With years of experience in the software industry, we understand how important your digital assets are for your business growth and streamlining operations. We only hire the most qualified and experienced developers who will help convert your ideas into a feature-rich software.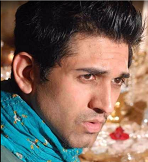 Mike is the founder of ConsultingWhiz LLC, Software development company in the USA, he has 15+ years of experience in agile technologies and  development. I've worked with many satisfied owners of customer servicing businesses. Let's connect today to get started on your path to 100% automation, reduced overhead costs, large ROI, and so much more.