The customized software solutions for services, processes, task and data management in companies is not new but increasingly crucial. The business world is continuously growing in the field of technology, Workflows are smart and paperwork are eliminated. In order to not be left behind, it is vital to join them and pay extra attention to technology changes. Let's have a look at what is custom software development?
A software solution is a type of program that completes all the time-consuming as well as every day necessary tasks without human errors. But, every other company has a different day to day work and different style of working. Therefore, custom software solutions are developed to perform and meet the specific requirements of a company.
To understand this better, let's take an example of a bank. Every bank gets a custom software solution for online banking to meet the specific needs of the users and the bank. Customized solutions can affect your business in a good way in the long run as they are more efficient and more adjustable. Getting a customized software solution for a business unlocks a host of benefits, but deciding whether your business needs a customized solution is quite difficult.
We have mentioned 10 benefits, why your business needs a customized software solution.
Top Reasons Why Custom Software Development is needed for your business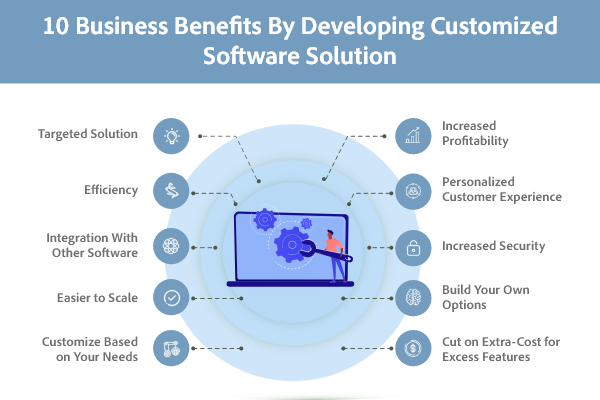 1. Targeted solutions
Custom software solutions are designed to address your business needs. Every business follows a unique pattern of workflow and manages different types of records. It is an unusual thing to go for an off-the-shelf software which does not fit in your business needs. Tailored product, on the other side, gives you plenty of room to grow and also is serious about your company's growth.
2. Easy integration with other software
As we have said earlier, not every ready-made software is compatible with your business requirement and workflow. The custom software is designed in a way to integrate with existing or other software easily. Integration issues are not a concern with custom software. By this means, you can have greater control over users and products at different access levels.
3. Scalability
Off-the-shelf software may be good in the initial phase of business but as your business grows, your business needs follow the same path. Off-the-shelf software are disasters for growing businesses as you cannot customize according to your business needs. A scalable software solution is more sensible if you want to grow at your own pace. Customized software is specially made to address particular problems that your business is facing. It directly works on those problems to ensure a smooth workflow.
4. Efficiency and effectiveness in business processes
Without automated software solutions, the effectiveness and efficiency of business processes are not possible. Off-the-shelf business software may be good for some businesses, but they surely do not support efficiency as they are not designed for specific problems. One of the supreme reasons to adopt Software application development is that you don't have to change your business processes to adapt to standardized software. They are designed for your business only. Thus, provides efficiency and effectiveness.
5. Automation of business activities
Custom software solutions can eliminate day-to-day manual and paperwork. But what is automation? Automation means instead of doing work manually, the software can do the work on the behalf of a human. Thus, it saves time and unnecessary paperwork. Every business has some day-to-day activities which can be easily automated such as attendance record, product count, etc. A considerable amount of time and efforts can be saved by the automation feature. The best part is, you can consult with a custom software development company about your requirement and they will come up with the best Custom software development benefits.
6. Custom software is reliable and secure
When you welcome custom software into your business, you restrict the entry of hackers. Common ready-made software is more prone to hacking and your data may leak outside. With Custom Software Development services, external hacking threats are significantly decreased as custom solutions are hard to crack or hack. This software can protect your data as well as maintain privacy. Custom software solutions furnish you with incomparable and improved security compared to off-the-shelf software.
7. Support from the development teams
One of the biggest advantages of Custom Software Development for Business compared to ready-made software is that you will have access to the technical support team. All your problems or changes can be done in one place without hassle. It gives you more control and you can leverage the stress-free benefit of custom software. The development team knows what type of code is used and where it is used. Therefore, it will save a huge amount of your time as changes will not take much time.
8. Technology advancement
Technology is improving day by day. Automated and helpful software is leading from the front. All the businesses out their needs to stay updated about technology advancements in order to grow significantly. Enterprise software development services is a perfect need for a business to grow and stay updated with the latest technology. Most of the companies use this software to manage inventory, customer record and human resource management. Therefore, it becomes essential to adopt the new technology before your business gets behind others.
9. Cost-effective and help business in the long run
Software development solutions are one-time investments that are far more valuable than ready-made software. The cost associated with developing a custom software solution is sometimes higher and sometimes lower compared to ready-made solutions. However, they are designed for the future and help business in the long run. You don't have to keep changing software to fit it in your business needs. Custom software is easily customizable and provides strength to your business. Your business can never grow when held back by software. But, without being limited, you can easily conquer the industry.
10. Custom features and functionality
Generic or off-the-shelf software is specially made for common business problems. Therefore, off-the-shelf systems cannot be able to fulfill specific business requirements. Some of the software even come with additional features but they are of no use. On the other side of the coin, custom software solutions are developed keeping in mind your specific business requirements such as analytics, management and innovative custom features, just a name of few. With Custom business software development, you can easily achieve all your business needs in a much convenient way.
Conclusion
Choosing a software to fit in your business model is quite frustrating and time-consuming. On the other hand, a software that is made for your business model is what is best for business. By having customized software, you and your business can leverage the tangible and intangible benefits, some of them are listed above. Most of the successful companies choose customized software over traditional software to save cost and time. Now, It's your turn to choose the right software that can help your business in the long run.
Reading Recommended-
If you're seeking a top-rated firm for customized software solutions, then you are at the right place. ConsultingWhiz is a leading Software Development Company in USA. Our custom software application development is what your business needs for the much-needed push. We have a panel of extensive and qualified experience experts. Share your business requirements and we will make a "Best for Business'' solution.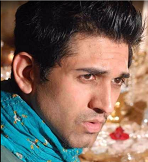 Mike is the founder of ConsultingWhiz LLC, Software development company in the USA, he has 15+ years of experience in agile technologies and  development. I've worked with many satisfied owners of customer servicing businesses. Let's connect today to get started on your path to 100% automation, reduced overhead costs, large ROI, and so much more.