In this era of digitization, the best entertainer for all of us is our cell phone. We spend many hours of our day lost in our phone. Our Cell phone has become an integral part of our life.
But what is something that makes our cell phone so entertaining and engaging? The answer is applications that we use. If you are a businessman and you are not having an application for your business, then you are definitely losing the game. A Mobile app is the best way to bring your audience to your business and keep them informed about your services and products. Thus, having a mobile application for your business is like having a soul to the body. Some people have no idea about what exactly goes into the development of a mobile app and how much does mobile app development cost. In this fast-moving world, technology has taken up innumerable turns. And new-age mobile applications are the product of the modern-tech. The mobile applications are the cry which is heard every now and then and get fulfilled according to your needs. It's a tassel to create a mobile app as there's already competition in the market and the competition is ever heightening.
The Cost of Developing Mobile App
As we move, everything nowadays has become a way to earn more and more money, and developing a mobile app for your business is the best way to earn tons and loads of money in a go. But, the major question that arises is what is the cost of developing mobile applications?. And how and what are the ways to commercialize the mobile app. There are many factors that help in the making of a mobile application. The factors that basically included are, the platform where the app is ought to be made, the complexity of the app, how experienced is the mobile app development company and many other factors that affect the development of the mobile app.
The business model: Business and revenue creation is the main motto of developing an application or a mobile application as revenue is a major force that generates the cost of developing mobile apps. There are a few steps that are to be taken into consideration:
The platform selected by the customers of that particular mobile app.
The product one is trying to sell.
All those gadgets and devices used to be compiled to make a properly working mobile application.
Paid or free app.
All kinds of in-app purchases.
The important role of visual design in the interface of the application.
Role of advertisements.
And these are among those innumerable factors which help in the development and solving cost-related problems of the mobile application. Also, on the other hand, the monetization strategy plays a very epochal role. As a paid app, it is very easy to develop applications which in turn help in the development of the in-app purchases. As far as the cost is concerned, an e-commerce application costs more than any other app. And cost to cost price list comes to play only when the budget is kind of fixed and you got to do things according to that particular budget only. It depends on the cost of an app developer.
How Much Does it Cost to Build an App?
If you are looking for a feature-rich app, it costs in the range of $100,00 – $500,000 but basic apps may cost lower. Let's first understand a few aspects of app development before getting a mobile app development cost estimate in California? To be very honest, to skyrocket a business, one should first know their customers. It is very possible to gain popularity, one should first know it's public and what they actually need from them. In some domains, apps have too many features while others have only some. It is a key factor to find how much it costs to build an app. Many of the big startups have had loopholes while prepping up for building a mobile application. For example, Snapdeal has failed millions of times, as it wasn't able to provide quality goods as it only offered a lot of quantity in goods. As well as Snapdeal lacked in the electronic market as Flipkart and Amazon stepped in the online market as they gained a huge customer base in a very short period of time. This led to a drop in the market share of Snapdeal by 4% in a year. To be very precise, one won't reap any good out of building an app if there's no heat to gain and actually work for the app.
How to Determine The Monetization Strategy
Paid apps, Free apps or e-commerce?
E-commerce:- It is a market revenue prototype, where the sellers sell their products online or help in earning commission from the sellers listed on the applications.
Paid applications:- This helps in making money from lots of downloads. So the cost to cost implications is taken into consideration.
The ability to generate the revenue solely depends on the number of times the application has been downloaded all through the while. There are many such paid applications in the Android set up and in the app store which were marked somewhere between one dollar to twenty-five dollars.
So it is kind of very important to set a price mark which will help an individual to consider or reconsider one's mind, how much does mobile app development cost? Also, there are many free apps, which are entirely free to download from the application store and it has a different revenue generation model.
How do Those Free Apps Make Money?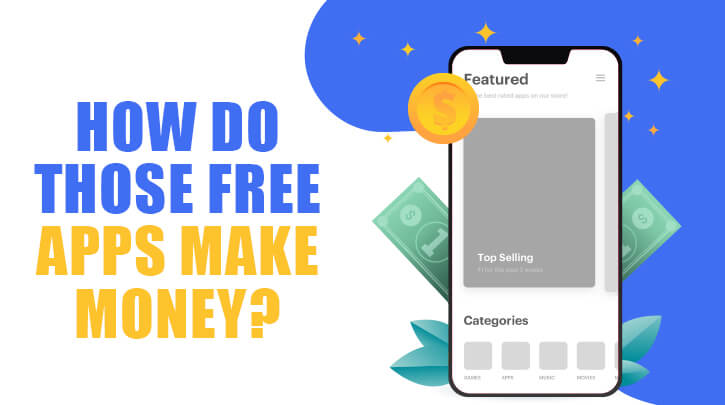 Free applications are very helpful in the primary level to build a user base as well as help in expanding customer reach.
These mobile applications also help in bonding up a relationship between you and your customers which in turn benefits the value of the product or the existing product.
With the help of advertising and affiliate marketing, direct revenue can be gained.
Whereas those in-app purchases are the gainful as it helps in the generation of the revenue, especially for those addictive games.
Types of Applications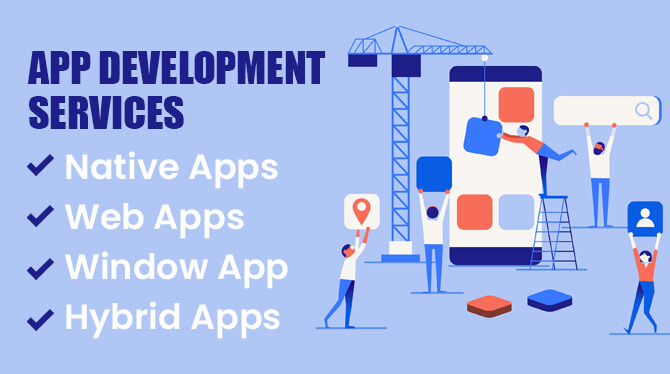 The mobile app is a software program that is being developed to program, definitely on those different mobile devices or gadgets. Those mobile applications make the task processing very easy, user-friendly and efficient.
Web application: Surveys made it clear that 80% of the population find it more convenient to use mobile apps than mobile websites.
Native Application: These are the applications that are specifically designed for some definitive operating systems. It provides an unmatched experience to the user however it is a bit complex to be understood
Hybrid application: It is a relatively simpler and easy app to develop a more developed and hybrid app. It also functions on a particular programming language. However, it can work on both platforms.
Platform
Many different apps can be made accessible on different platforms like the iOS and, the windows, the Android and even the web. Each platform has its own impact over the development cost for an app.
The Android and the Apple iOS are totally different from each other and have entirely different interfaces and those of the applications developed for these OS platforms will obviously be different. To choose between an Android and iOS, it is actually a difficult task to choose, but if your budget allows going for both, try and then give a review.
iOS vs Android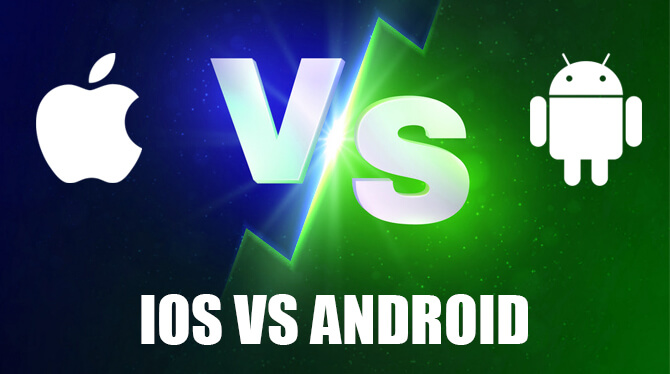 iOS applications
Pros:
These are very fast to build and cost a little more than android apps.
It has more spending on customers. However, a paid app would have been downloaded in iOS.
iOS users stick to their OS as well as the up-gradations are also integrated.
In iOS, it has followed strict guidelines that ensure quality in applications. That's where iOS always performs better than Android.
It is a way more engaging and easier platform.
Android applications
Pros:
The number of users of android is way more than the number of users of Apple iOS.
The cost of downloads in iOS is way higher than that of Android.
There's no such maintenance of apps, unlike Apple iOS.
Also, the cost of an app developer is lower in the android market as well as easy as all those guidelines we're not strict.
iOS applications
Cons:
It's hosting is more on the application store, that is somehow close to $200 as compared to $25 on the Google play store. This does not include the app making cost.
As the guidelines are strict, sometimes the process becomes slow for the approval of an app.
Android users are way more in India and USA.
Android applications
Cons:
Users may become spendthrift and a paid app can't do the same as that of the apple.
It needs to go places and it caters to a wide variety of devices.
and these are very slow as they take some more time to be developed entirely.
Functionalities of an App
A list app: It is basically a website that is a mobile-optimized version of it. It is very easy to create and it does not incur much cost.
A Dynamic app: it is somehow connected to Facebook as it requires some sort of information from that particular application.
Games: while innumerable apps are being developed, these are complex apps to develop and to be precise with the cost it is the most expensive of all applications which contain complex AI.
Visual Design and UI/UX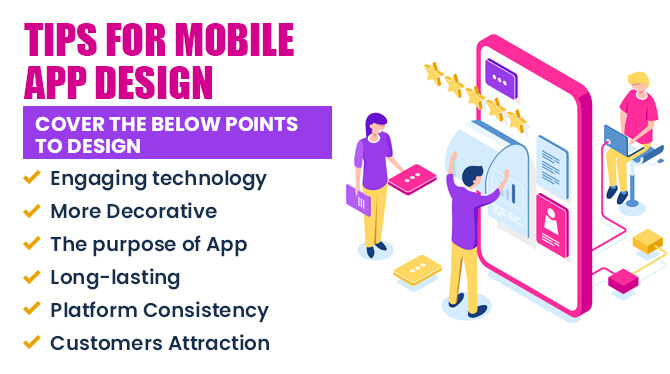 to he precise, what sums up a good design, here it is-
Much innovation and in tandem with the new and engaging technology.
More emphasis is put up on the product and the way it will be used and its usefulness.
The app must be decorative. So Aesthetically marvelous.
It should be more comprehend-able and handy to use.
Must have a purpose.
The app should be long-lasting and strong.
The more the level of simplicity, the more the customers will be attracted to it.
Consistency in all kinds of platforms.
Graphics designs are indeed very important and it is a vital part of the development of a mobile application. How does your app perform, it's functionality, it's navigation? All these things depend upon the UX development. But for a visually stunning UI/UX your app making cost would go a little higher as it is a costly service. A great app designer can make our mobile app look more gilded and more attractive which will pull in masses to download or join the application. All this is needed to ensure a successful project. For this, You should partner with The best mobile app development company because an app developer in the USA costs too high .
Consulting Whiz is an established app Services provider in the industry. After partnering with tons of brands and leaving them into greater heights towards a glorious future. Our industry experts have experience of making brands and businesses like you successful. Are you worried more about the development cost for an app? Then it's the right time to collaborate with Consulting Whiz for your project! Consulting Whiz starts from discussing your requirements and objectives to achieve their goals whether it be a revenue target or making a brand globally successful. Then our industry experts help you design a complete set of requirements and timeline for the project and finalize the cost of app creation. Our unique process of development is entirely dedicated to bringing the best for you and simultaneously reducing the cost of developing mobile applications.
Get connected here with our mobile Consulting expert at contact@consultingwhiz.com and we will happily answer your every query and bring the best results.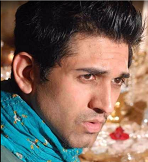 Mike is the founder of The ConsultingWhiz, he is expertise in the Software industry and has 12+ years of experience in Mobile App, Custom Software Development & Technologies that support SaaS Based Companies.