From connecting with our friends to shopping for our favourite stuff, mobile apps have taken over everything. According to a statistic, an average user uses 9 apps daily and around 30 apps in a month. The mobile apps are expected to generate a revenue of around $935 billion by the year 2023. Well, this revenue number might prove wrong in the future because of the speed at which mobile internet users are growing, the revenue number is going to be more than predicted.
The 5G revolution is already knocking on the doors of the future as more and more countries are building infrastructure to adopt this technology. The Coronavirus pandemic has further boosted the demand for digital solutions multi fold. Hence becoming a catalyst for mobile app startups to grow further with their mobile app development ideas.
Why Go for Mobile App Development?
Have you heard the name of an app called "Burbn"? Maybe not. This is the name of the initial version of Instagram. Kevin Systrom came up with the idea for Burbn that made photos simple and beautiful and was able to sell it to Facebook for a whopping $1 Billion in the year 2012.
This is one of the biggest pieces of evidence in recent times as to how simple mobile app ideas for Start-Ups can grow into gigantic businesses. Also the app development scene today has completely changed. Previously only people having degrees in computer science were able to convert the best mobile app ideas into reality. However, with the increasing scope of globalisation today, you can hire professionals to turn your idea into reality.
Currently, the United States is among top consumers of mobile service applications in the world. This is quite evident from the statistics relating to GenZ which straight out point to the growing importance of being in the mobile application space. However, building a mobile application for your business can seem like a humongous task. As a solution to this, you can hire from some of the world's best development companies based in the USA to perform this job for you.
Simple App Ideas that Make Money
The app market gets diversified with each passing day through the advent of new mobile app ideas in 2021 constantly. Trending app ideas can be bifurcated into some major categories for better clarity. Here we present different categories of mobile apps and ideas underneath them that have the potential to go big.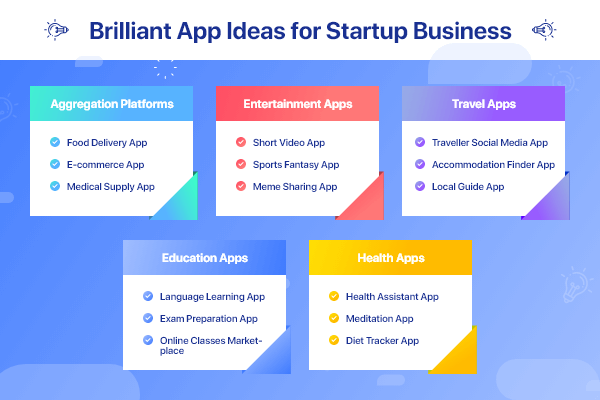 1. Aggregation Platforms
* Food Delivery App
Food Delivery Apps are all the rage now due to the pandemic situation, more importantly, the aggregation model allows the user to compare prices at one place and order the food they like. Additionally, there is a lot of room to grow for these apps as most of the players in this segment are relatively new.
* E-commerce App
Once Jeff Bezos said that It's hard to find things that won't sell online and nothing can be truer. You don't need to compete with giants like Amazon Ecommerce App, instead, you can just serve a niche segment like Etsy which is a marketplace for handicrafts and related items online.
* Medical Supply App
Medical stores are one of the businesses that can greatly benefit from taking their businesses online. A lot of people who are sick or in hospital find it difficult to get medicine. Also, the efficiency of the aggregation model can reduce costs for both the seller and buyer making it a viable business idea.
2. Entertainment Apps
* Short Video App
The tremendous popularity of the short video app Tiktok is one of its kind and this looks like the future of video entertainment apps. Further, the short video apps present a great model of monetisation due to their way of working. Hence the idea presents itself as a short term opportunity to own a great business.
* Sports Fantasy App
Catering to the huge sports-loving population worldwide, the sport fantasy app has been garnering huge attention. It provides an option for the users to build their teams and predict results. However, due to still being in a nascent stage it provides a great opportunity for growth.
* Meme Sharing App
Apart from giving a good laugh, memes have become an alternative for a conversation on social media platforms. But there are only a couple of apps that are truly dedicated to memes which makes it a great chance to have an app that provides an interactive platform for memers and meme lovers.
3. Travel Apps
* Traveller Social Media App
People are already fed up with being in lockdown for so long and the tourism industry might see a considerable surge in growth because of this again. Thus it is a great chance to provide a platform with a travel experience sharing platform.
* Accommodation Finder App
Solving the problem of finding a good stay, apps like Airbnb have taken great advantage of this demand and supply gap. But a lot of locations are still untouched by this service and can be a great place to provide accommodation finding services to people.
* Local Guide App
A lot of times people miss on great moments while traveling due to not having localised and genuine experience of the location. This can be solved by providing an app that can get people connected with local guides with good ratings at reasonable costs.
4. Education Apps
* Language Learning App
The Interest of people in connecting with residents of different countries has always been there, especially among travellers and students. Thus a language learning app can be a great idea when it is laced with innovative ways of learning by the developers.
* Exam Preparation App
The exam preparation market is a big place but it is still fragmented, however, an app that provides a one-stop solution for all the exams can prove out to be a great idea. The coronavirus pandemic has already given a much-needed push to the e-learning sector and this can be the best time to enter this arena.
* Online Classes Marketplace
Tons of online classes have popped up in this pandemic on various platforms such as youtube, Udemy and Coursera. But still, there are niche subjects that require quality courses and have a great space for growth in current times.
5. Health Apps
* Health Assistant App
From Google to Apple everyone has been working on voice assistants seeing the future of IoT. Still, there is a great opportunity for providing a health-specific assistant that can be collaborated with wearables and can provide real-time statistics.
* Meditation App
In times of increased stress and tension, meditation can be a great way to maintain optimum mental health. A complete meditation guide app can be a great solution for people, additionally, various social media features can also be added to help users connect on the platform.
* Diet Tracker App
A good diet forms a major part of healthy habits but it isn't easy to maintain one. A one-stop solution for tracking and maintaining diet can be a great product for a health-conscious audience. Also, a platform for fitness influencers and nutritionists can be provided to increase interactions on the app.
Costs Involved in Mobile App Development
After having a good mobile app idea for business, the next important step is to plan and ascertain the cost for app development projects. This depends on factors like –
Complexity of the App
Budget of the Project
Location of the development service provider
Time Frame in which the product is to be completed
Normally an app development can cost –
$3000 to $8000 if the app is small and simple
$50000 to $150000 for moderately complex app
$150000 to $250000 for a highly complex and custom mobile app development
However, these costs are general estimates and an exact cost can be arrived at by having a consultation with an experienced mobile app development company.
Choosing Mobile App Development Services
Apart from the costs of the app, it is equally important that the quality of the app is at the optimum level. That is why choosing an organisation with a team of experienced and dedicated mobile app developers is a must. The first important sign to look for is a strong and satisfied client base that has given good reviews to the company. Secondly, the company should have strong security measures for the protection of the app ideas and lastly, the location of the service provider can make a huge difference in costs. Companies from countries like India can provide great services at much lower costs.
Seeing the current mobile app development trends and the demand for mobile apps, it is pretty evident that there is huge scope for startups looking to expand themselves in the digital territory. According to former Google CEO Eric Schmidt – "Mobile usage is growing faster than all of Google's internal predictions" and in no way this statement can be denied. This is the aptest time for entrepreneurs to leverage mobile app development technology to build their startups.
Consulting with an expert in mobile app development technology is the first step to hiring a company with a team of mobile app developers of high calibre. Consulting Whiz is a team of tech-savvy professionals with a vision of boosting businesses to become Market Leaders. Being the prominent company providing services of mobile app development in USA, Consulting Whiz has a successful project portfolio of helping the brands leverage the power of mobile app development. Discuss your project and understand your requirements with an expert in custom mobile app development Technology.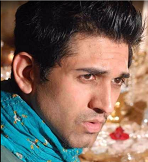 Mike is the founder of ConsultingWhiz LLC, Software development company in the USA, he has 15+ years of experience in agile technologies and  development. I've worked with many satisfied owners of customer servicing businesses. Let's connect today to get started on your path to 100% automation, reduced overhead costs, large ROI, and so much more.