In this fastly growing world, everything is moving at a digital pace. Whether it be in an offline or an online mode, we want everything to yield instant results. None is resistant to this phenomenon, as they say, we are living in the era of technical revolution, so with increasing digital speed, we are speeding our expectations too. The same applies to businesses as well, especially when it comes to online setups such as commercial websites that deal in consumer goods and services. We desire to earn maximum profits in minimum time and you see, as a businessman, there is nothing unethical in expecting higher returns in a limited period. But, the question that arises here is – whether this thought is accomplishable? Are there any ways that can be implemented to increase Sales From Your Website? and, What are the things to implement in a website?
The answer is obviously yes. Although it is an undeniable fact that it all takes work. But with a constant check on your website's performance and adaptation according to the market deviation, you can lead your website to increase website sales. There are some ways that you can use to optimize sales and yield better revenues on your website. By implementing these ways on your website you can increase website revenues in a minimum period and some of them are unique ways to increase sales.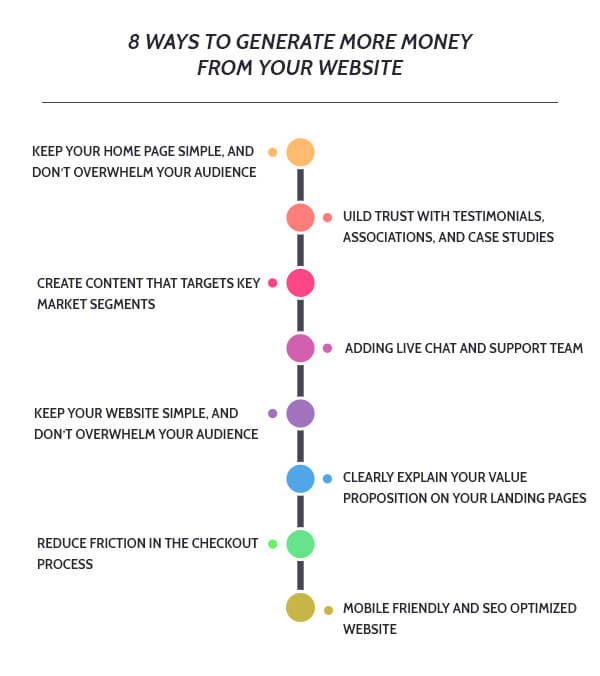 1. Keep your web design simple
Bursting off the most common myth around the web world, that a heavily designed website attracts more prospects to the website and increases sales. Sure, most of us go by this thought but it isn't that effective. Consumers prefer less complex and graspable websites over those which are labyrinthinely designed. 94% of your website's first impression on the minds of your prospects depends on your site's web design.
Filling your homepage with an abundance of information about your products is not a good move. It is just like packing the main entrance of the home with all the furniture you have in your house.
Instead of giving too much information and listings on the homepage, keep it minimalistic. Keep it crisp, attractive and display the key information which you think is the diamond of your mine and keep other jewels organized in later pages. By this, you will allow your consumers to develop an interest by serving one piece at a time.
The best way to design and organize your website in a consumer-oriented way is to hire web developers. A web developer is a professional that helps you to construct, organize, and redesign your website in the best possible way. By hiring a web developer you can acquire professional assistance in every aspect of your web design.
2. Serve content that attracts the target audience
Serving good quality content and that too according to the needs and predilection of your targeted audience is an incontestable way to invite prospects to your website. However, it is advisable to widen your perspective and cater to every segment of the market related to your industry instead of being stapled to one fragment. Ensuring quality content on the website can result in increase online sales 2021.
Most experts believe that 80% of your revenues are generated from just 20% of your audience. So to increase your website's sales focus on increasing that 20% share of the consumer. And the way to achieve that is by providing desired and demanded quality content including goods and services that you are dealing with.
3. Clear Product's Proposition
Another way of reaching this is by offering a simpler and attractive product description. The main purpose of the product description is to avail the information related to the product that can attract consumers by making them aware, and convincing that the product is a solution for their problem. Some websites make it complicated by putting so much design in conveying product information, which ultimately makes it difficult for a customer to understand.
Avoid keeping it extra-fancy and loaded with so many things that have a chance to repel consumers due to its complexities. Keeping a simple design is way more attractive than fancy designs.
4. Provide honest and practical claims about your services
Being super positive about the product or service, you are providing is not always a good option to take. Today's consumers are mindful enough to differentiate between true and false claims about the product. All will go in vain when your consumers cannot find the appropriate information or browse correctly through your website. Stats show that about 89% of the consumers shift to the prevailing competitors after having a bad consumer experience.
Just serve quality and original claims that will help the consumers to buy the product without having a feeling of being tricked. This will enable you to build trust among your consumers. A good product description consists of three attributes:-
It should be able to elaborate how your product is best suited as a solution for the consumer's problem.
It should be able to feature all the benefits and pros of your products or services.
Third and the important one is that it should declare how the service you are providing is better than your market foes.
5. Install consumer support system like live chats
By far the most effective way you can implement to increase consumer engagement on your website is by installing and enabling consumer assistance systems. This can be a surefire in generating and skyrocketing your sales, especially in a situation when you are dealing with a product or service that requires consultation or technical assistance.
According to research carried on by the American Marketing Association, it was found that websites that have installed live chat functions have seen a growth in conversion rate by 20%. Consult an expert front end web development company to know which chat support suits your business.
It delivers a sense of importance to the consumers that their queries and doubts are being responded immediately.
Another major benefit of implementing this step is that you can get a taste of the problems and issues that the consumers are facing while surfing across your website. You can take appropriate measures at your level to deal with those issues ensuring a better experience for consumers.
6. Include consumer reviews and suggestions
Consumer reviews are the most trusted part of any website. As they believe them to be free of any biases and alterations. Allowing consumers to write reviews and share the experience is another most effective way to increase consumer engagement on your website.
A local consumer survey reveals that 91% of the consumers highly trust the consumer's reviews posted on the websites, in a similar way that they trust recommendations by their family and acquaintances.
This is a win-win situation for both you and your consumers. Positive reviews of the consumers can benefit you by increased sales along with trust and loyalty among consumers. It also shows the sense of professionalism and by getting direct reviews and suggestions from the existing consumers about your products or services, you can get the touch of the problematic regions of them and can improve them for further business and ultimately this will result in increased website sales.
7. Create ways to collect email and other contact details
Email marketing is undoubtedly a fantastic way to boost website sales. It accounts for approximately 23% of the total sales. Similar to personalized advertisements, consumer-directed emails show a positive impact on your website's bottom line. Email marketing can help attract audiences. People get email marketing as an answer most of the time they ask experts about how to increase online sales fast.
By collecting the contact details of your customers, you can connect with them personally and build trust with both existing and potential consumers. Your consumers also get notified about any new launches or offers and discounts on your website that will attract them to your website resulting in increased traffic.
These are the most basic yet effective steps you can use to generate more revenue by website. However, they will take some time to show their effectiveness as they are generic and designed after having a larger perspective on the problems faced in generating revenue by most websites.
To assure that the ways you are implementing to increase your sales are right, you must go for a personalized diagnosis session with Consultingwhiz.com. We (Consulting whiz) is a leading website development company in the USA. We provide website development services, customer assistance and consulting that provides practical and productive solutions to every problem of the consumers. We provide end-to-end consultation to the customers to solve their issues at a personalized level.
Consulting whiz helps you to diagnose problems prevailing even at a minute level and provides you with an exclusive expert's solution to that identified issue. You can also get your website developed and designed in a proper professional and consumer-oriented way through consulting whiz. Other than that we also provide highly praised web application development services. If you are looking for someone to help you in generating more revenues from your website, then consulting whiz is undoubtedly the best choice and does not even require a second thought. We are glorified as the best web development company in the USA and deliver the best custom web application development services, along with 24/7 services to our customers ensuring that they receive creative, innovative, and effective solutions to their troubles and we assure that you generate maximum website sales. We guarantee assurance and delight that you won't regret.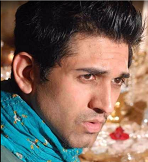 Mike is the founder of ConsultingWhiz LLC, Software development company in the USA, he has 15+ years of experience in agile technologies and  development. I've worked with many satisfied owners of customer servicing businesses. Let's connect today to get started on your path to 100% automation, reduced overhead costs, large ROI, and so much more.