Technology has had a substantial impact on the healthcare industry over the past few years. As health concerns are continuing to grow worldwide, health professionals and hospitals are demanding the best diagnostic tools, minimally invasive procedures, and above all, a fast management system to help the organization focus on providing better patient care and health care services. This is why digitization in healthcare has rapidly expanded with medical ERP software for the healthcare sector.
The long and bulky paper reports, business files and tests reports that chained you to your desk are no longer a part of the modern healthcare industry. Not only do doctors have quick access to patients' clinical reports and history, but patients can also use mobile apps to gain better insight into their health by connecting them to their doctors.
ERP healthcare software has been utilized by many industries over the last two decades for improving operational management. In order to streamline operational efficiencies and reduce labor cost and potential error, hospitals are implementing modern ERP software.
What is ERP?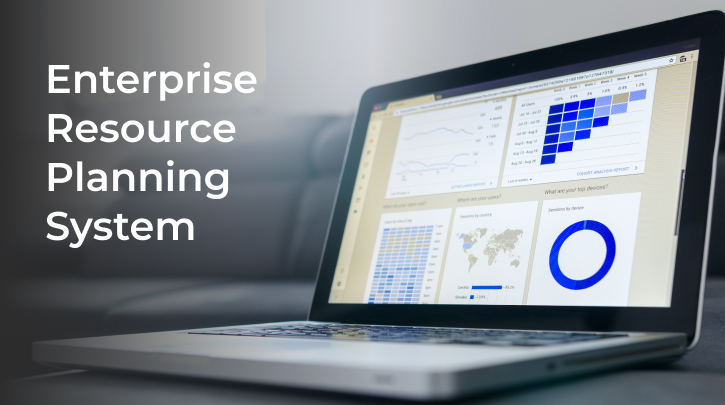 Enterprise Resource Planning technology or ERP solution is a software developed for data management, tracking and communication between multiple departments of organizations through mobile apps or web portals. The software can be customized based on the requirements of an organization, and can be managed by the admin who keeps track of all the departments with an admin panel. For example, ERP in healthcare may include Finance, HR, Doctors, Staff and Inventory, Patients and more, this way all departments can work collectively without the need of manual paperwork.
Why is the ERP System Important for the Healthcare Industry?
As with many other industries, the need for ERP software for healthcare is no different. Healthcare providers around the world are looking to provide quality patient care and reduce costs with more optimal technologies that are now available. It is important to understand why ERP has now become an indispensable part of healthcare institutes. Here are the major benefits of implementing an ERP system in healthcare.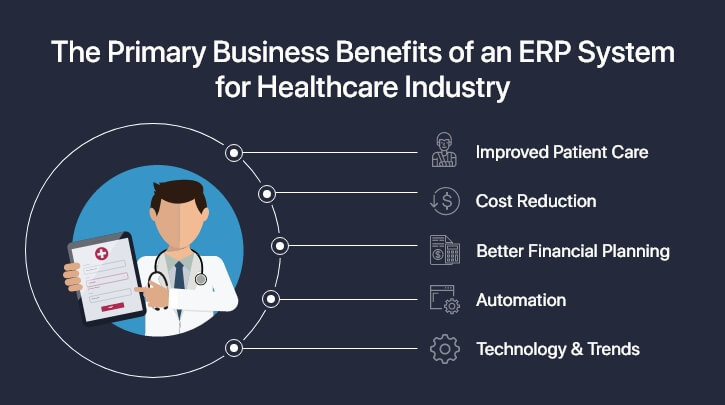 1. Improved Patient Care
ERP for healthcare helps doctors and patients access relevant databases such as reports, dietary information, schedules and more. This easy access leads to prompt decisions for better health care treatments. With ERP, Artificial Intelligence and Automation make it possible to plan treatments for crucial cases with information that can be accessed through multiple platforms, making procedures much more efficient.
2. Cost Reduction
ERP software effectively decreases operational and labor costs. From inventory management and accounting to reports management and finances, everything can be handled on a single platform with ease. Administrative errors in finance and patient care have been reduced with this automated information technology solution.
3. Better Financial Planning
ERP software for finance helps in managing bills, payroll, tax and expenses, schedules for inventory, and medical equipment annually. This helps in planning the financial chart and managing profitability along with quality patient care.
4. Technology & Trends
The healthcare industry is becoming advanced at an unprecedented rate. From utilizing the latest technology for diagnosis and surgeries to constantly working for digitization, they have been adopting new technologies for decades. Benefits of ERP in healthcare include improved business intelligence and streamlined health care services, both of which are needed to effectively run a healthcare organization. By keeping up with the latest technology trends, the healthcare industry can continue to experience growth in both size and service capabilities.
5. Automation
With better management for reports and patient data, health specialists do not need to waste their time looking for files when planning a treatment accordingly. With a fully automated ERP platform, doctors can manage appointments, patient records, prescriptions, and decide which patients require extra care for critical diseases or injuries. Furthermore, the HR department can easily manage payrolls with automated calendars and reports.
How to Develop ERP System for Healthcare
Are you planning to develop an ERP software with customizable features? If so, then you should consider planning the structure, designs, and features with the lucky team that will create the ERP solution for you. Whether you are a veteran professional looking for ERP solutions or an ambitious startup hoping to innovate, constant collaboration is required to develop the software that will bring your genius ideas into fruition. Here are a few things to consider when developing an ERP for healthcare industry.
What Should the Structure Be?
Before getting started with the development procedure, the first thing to decide would be the structure and components you want to cover for efficient operation management at healthcare spaces. Once you are done outlining the structure, you can easily find the right team and budget.
Let's take a look at the healthcare erp modules in various sections of a hospital management System.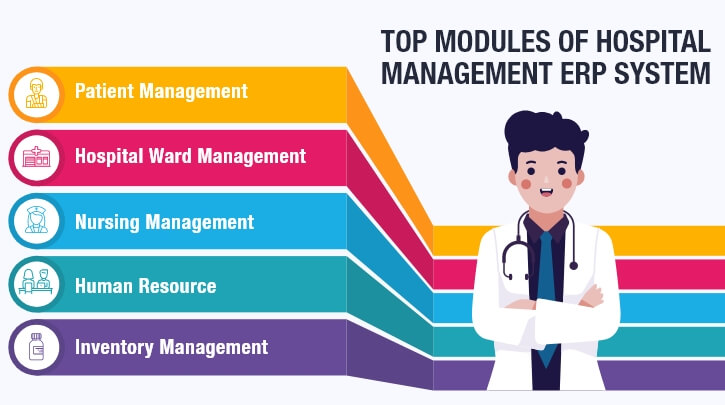 Patient Management: ERP designed for registration, emergency rooms, appointment scheduling, OPD and patient progress, physician order, reports and discharge summary fall under the patient management category.
Hospital Ward Management: This system includes categories for resources and wards that serve different purposes. Bed management, ICUs, nursing rooms, and many more depending on your business will be covered under this section.
Nursing Management: Cloud-based data systems intended to help nurses implement better patient care.
Human Resources: Includes payrolls, finance and staff management data for hassle-free working.
Inventory Management: To manage equipment, medicines and purchases.
To better understand this structure, let's dig deeper into the three modules of the ERP for healthcare.
Core Modules
ERP Support Modules
Back Office Modules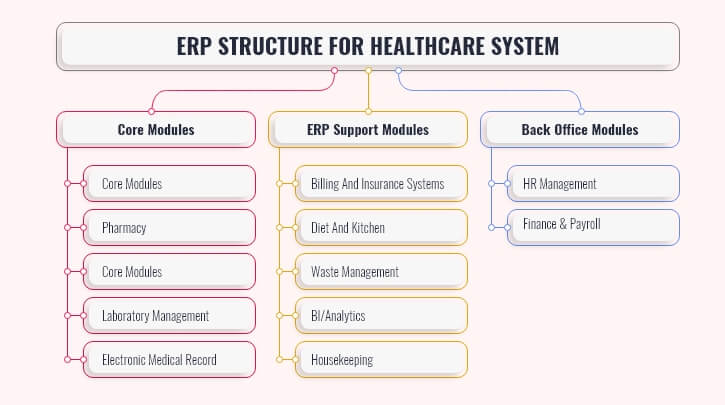 1. Core Modules
Patient Care Management: As mentioned earlier, this section of ERP will capture complete information related to patients. It also provides an enterprise search feature for operational staff to help them search patient encounters by patient name, location, admission date and time, previous reports, and appointment scheduling.
Departmental Management: To manage various departments in a hospital
Pharmacy: Medicines available and medicines to be purchased with general information that shows the data of purchase, orders receipts, drug inventory, and bills all managed with one automated system.
Laboratory Management: Includes sample investigation reports, test reports, samples to be tested, treatment history, sample dispatch and delivery records, and laboratory equipment records so that tests and reports are stored without any mismanagement.

Apart from this, ICUs, Radiology, OPD and more can be handled with automated ERP monitoring.
Electronic Medical Record: EMR represents patients' data, which can be advanced to provide more optimal healthcare. It contains all appointments from diagnostics, radiology, and any ongoing treatment, which will all be recorded in the system. The system allows doctors to view patient history without tracking down the patient's previous medical record files, helping them to focus on faster diagnosis and better treatment.
2. Support Modules
Billing and Insurance Systems: This is integrated with financial management modules for different billing, inpatient and outpatient formalities, pharmacy charges, test charges, internet and telephone charges and more depending on your business. With custom billing cycles and details, finance can be handled with excellent efficiency.
Diet and Kitchen- Healthcare software solution assists the hospital kitchen department in preparing and scheduling to accommodate patient dietary needs according to the instructions of the physician. The software captures intakes and meal details for further patient care.
Waste Management– Proper waste management at hospitals improves patient care and hygiene, which directly affects the revenue and reputation of a healthcare organization. ERP's waste management module helps in separating and disposing of biomedical waste, keeping inventory operations and predefined schedules in the record.
BI/Analytics– ERP contains the analytical view of BI analytics, intuitive reports, and suggested actions for improving business and business revenues in the future. This may include revenue details and accurate parameters based on user requirements.
Housekeeping– From task allocations, shifts, and issues related to incomplete tasks, the ERP helps housekeeping services manage a hygienic, safe environment along with various other tasks.
3. Back Office Modules
HR Management– The HR management section in ERP will streamline HR functionalities to provide the right resource to the hospital. It enhances employee satisfaction with scalable HR policies, self-service features, beneficial summaries, demographic data, and information flow available for management.
Finance & Payroll– Payroll can also be divided between HR and Finance categories for calculation, deduction and printing salaries, salary slips, offer letters, and more depending on your business. It also maintains profiles, biometric and payroll cycles in an accurate manner.

Additionally, finance includes solutions such as sales management, payables and paid accounts, capital management, asset management, bank reconciliation and more with detailed analytics and reports.
Factors that Significantly Impact the Implementation of ERP in Healthcare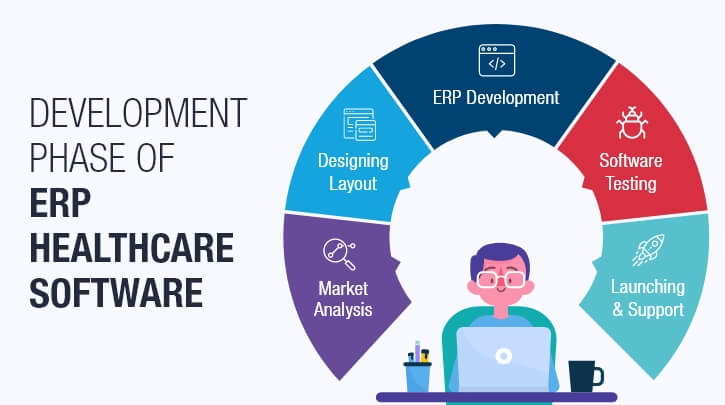 Once the structure of your ERP system has been finalized, you can create a roadmap for further development procedures. From creating an admin panel to testing and launching the ERP, this will require time and effort. Here are the main factors to be considered in development.
Admin Panel– The Admin panel is correlated with the doctors, staff, patients and receptionists for collaboration and communication, data management and data access. It is developed for administrative purposes and the authorities so that the entire database including its users can be managed.
Development Price– As a complex system with an entire database in a single platform, the investment of ERP software development can be a bit higher than a usual mobile and website applications development . The process depends on various factors and stages of development.
Analysis– This is the most crucial stage where you will create a team accustomed to software development skills so that they may define all the stages and resources required. From the entire database structure to basic requirements, everything will be analyzed within 1-2 weeks.
Recommended Reading
Emerging Technologies during COVID-19

Designing– The development team will design the roadmap including all the specifications, categories and architecture for wireframe development. The healthcare ERP management software will require necessary documentation and organizational measures to make sure the implementation goes in the right direction.
Development– This is the most time-consuming stage of the ERP development process. It involves connecting modules, functionalities, adding tools, creating the admin panel, user registration, fetching old data from the cloud, utilizing
Testing– Once developed, the designed software will be sent to testing for any glitches, bugs and errors that must be fixed in the next stage to ensure maximum performance. The accuracy of the database will be checked in each individual section, which takes considerable time and effort.
Launching & Support– When the software is free of all glitches, you will be able to launch the software for further practice. Support services will take place when developing the software, and will continue to be provided for the first few months after the system has been launched to ensure seamless operation.
ERP Healthcare software Development Cost
Evaluating all of these factors and estimating the ERP modules, resources, tools, and platforms, the price of an ERP software may feel like it costs an arm or a leg ($150,000-$750,000). However, the added functionalities and potentially reduced labor cost make the investment worth it if chosen by the right development team.
Find the Best ERP Solution for Healthcare Industry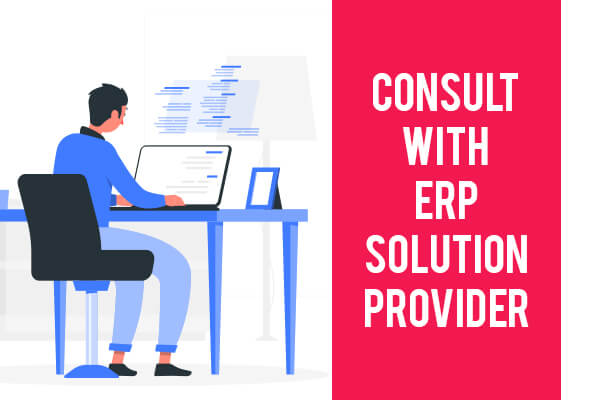 Having ERP software for healthcare system management guarantees avoiding discrepancies, offering a seamless workflow, and providing better patient care. Implementing ERP allows for more efficient communication and management between operational departments such as finance, staff and patient support. With this evolution, the healthcare sector can achieve analytical development without any issues.

If you are looking to hire the right team for healthcare ERP software development, then ConsultingWhiz could be your perfect fit. ConsultingWhiz is known for providing the most trusted software development services in the USA. We have an expert team with over 30+ years in combined experience, dedicated to creating custom software solutions for all business verticals around the globe. From evaluating the roadmap to prioritizing scalability and developing software with cutting edge technologies, we ensure the best results for your digital transformation requirements.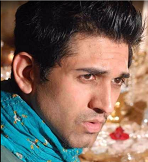 Mike is the founder of ConsultingWhiz LLC, Software development company in the USA, he has 15+ years of experience in agile technologies and  development. I've worked with many satisfied owners of customer servicing businesses. Let's connect today to get started on your path to 100% automation, reduced overhead costs, large ROI, and so much more.