"It is the tough times that bring out the extraordinary measures for a better future."
While working from home to sustain typical business operations, companies are trying their best to adapt to the new working norm and the new era of communication with their clients. The recent crisis of the novel coronavirus has put the entire world on edge, and everybody is adjusting to working remotely until the situation improves both globally and within the United States.
With millions of people being affected every day, the virus has tested the technologies and medical science currently in place; however, IT companies and software development service providers are staying active to contribute to the community by creating options to enhance 'Home Offices.'
Speaking of software development companies, here is how companies are utilizing emerging technologies during COVID-19 lockdown.
COVID-19 Impact with Challenges & Trends for Software Development Companies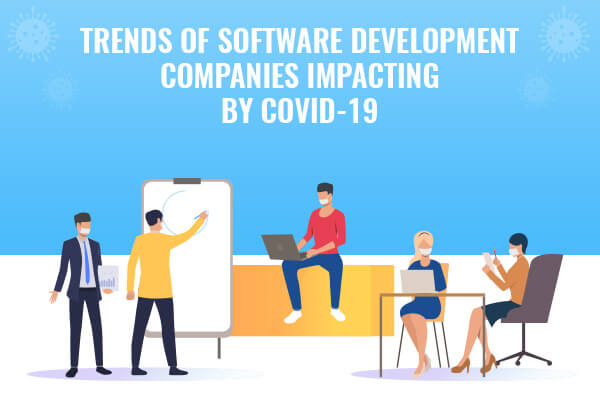 There is no denying that industries are becoming affected amid lockdown due to the impact of the coronavirus pandemic on business. Information Technology & Software Development is one domain where companies are trying to maintain productivity among dispersed teams while also adjusting to any halts in their clients' business, causing clientele lists to shorten each day.
As per the report by Forrester's IT spending, "Software spending growth will slow to the 2% to 4% range in the best case, and will post no growth in the worst case of a recession."
In response to this scenario, IT vendors and experts are finding new ways to promote business and are making an impact on emerging technologies and software development techniques. In such challenging circumstances, organizations are encouraging the workforce to work from home with as little change as possible. Developers are continuing to provide development services, and critical IT systems, to contribute during this time.
IT companies are now expected to create corona software solutions to continue in the fight against the virus's widespread effects. Whether you own a big organization or a small start-up, it is necessary to understand the latest trends in the software development industry. Investigating what will work for the future of business growth and best support remote communication will benefit businesses far beyond this immediate time of uncertainty.
New Age Technologies Amid Coronavirus Outbreak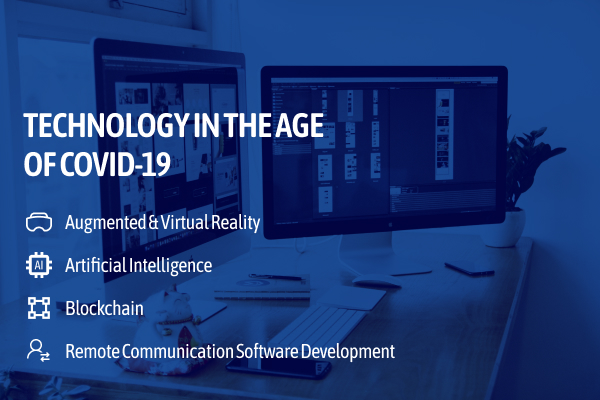 As industries have started working from home, new-age technologies and their demands are growing due to the need for reliable and fast communication tools, mobile applications, and software to digitally transform businesses. Here are the most popular technologies during COVID-19.
1) Augmented & Virtual Reality
With the help of a VR headset, you can experience the feeling of walking into a room full of other people or traveling to virtual destinations that you had planned to visit in summer 2020. As social distancing has prevented us from traveling and getting out of our homes, VR technology can help business continuity and remote communication, hassle-free. For example, if your company needs to showcase a product demo to an overseas client, Virtual Reality and Mixed Reality can help you keep your business afloat and stay on track. Additionally, VR can improve remote education efforts with demo lectures and conferences for students and e-learning programs developed by companies.
2) Artificial Intelligence
Most of the tech companies have already started seeing the rise of the AI sector during COVID-19. Experts also believe that in the next few months, the requirement for AI and Machine Learning will increase by 11%. A number of new jobs will become available worldwide to create these solutions that align with Artificial Intelligence and Machine Learning.
Here are the popular areas where AI will be leading the way for companies:
Artificial Intelligence and Machine Learning will be supporting supply chain management with analytics and market insights like demand guru by Lamashoft which uses ML to identify hidden patterns and make accurate decisions in order to increase the operational efficiency.
New software combined with AI to help healthcare organizations with better diagnosis and treatment along with AI in COVID-19 screening. Buoy is an intelligent symptom checker that uses algorithms to treat illness
Telematics and applications for safety management are going to get higher over time as it helps people to remain updated about location and connected with people.
Natural language processing (NLP), predictive analytics and data mining will help in detecting and preventing false news and analyze movements of citizens, including travel history and destinations etc.
ML and AI will also play a significant role in banking and financial services especially for cybersecurity, which is critical due to remote working, and online file sharing around the world. The demand for AI and ML is rising every day.
3) Blockchain
As Blockchain is being used for transactions and data sharing between relevant parties within a few seconds, countries like the United States, United Kingdom, and India are now looking at the big picture. Blockchain does not require any central processing unit, so it can be run by individuals, which is why people are attracted to using it.
Advantages of Blockchain Include:
Higher efficiency
Reduced paperwork and costs
Increase in security
Faster and improved tracing
4) Remote Communication Software Development
With millions of employees now working from home, remote communication tools are expected to be the biggest game changer in 2020. Switching to the remote working environment is not easy for most organizations, as many have not experienced a situation where the entire company has to adjust to business communications to operate completely out-of-office. This is when remote working tools like Zoom, Skype, Microsoft Teams, Google Hangout, and more come to the rescue.
Recently, Zoom appeared in headline news due to security system concerns raised around the world. This made the rise of new remote working software even better, and now, IT companies are getting projects based on remote working software development.
"Ultimately, almost every company needs a tool like this. I think that based on IDC estimates by 2023 that's a $43 billion market," said Eric Yuan, who is the CEO of Zoom App.
Recommending Reading-
Advantages of Remote Communication Tools:
With the rising demand for a productive remote workforce, employers and managers expect visibility from their teams, even if they are working for their home offices. In today's scenario where we are all stuck at home, software companies can leverage the 40% increase in demand for remote working solutions to create more business for themselves.
Here are some more benefits of remotely working software.
Better Productivity & KPI Assessment
For companies, one main concern is retaining the productivity of their staff as if they were in office, which is why monitoring tools can help managers to track performance and KPIs of the employees working from home.
Mobile Apps for Easy Access
Mobile app development has become the driving force of people and organizations these days by enabling them to communicate easily, manage work and deadlines, and follow the schedule. For bigger organizations like Google and Facebook, there are apps and software available for employees that track their work and make automated reports. This helps in meeting company goals during such situations.
Real-Time Communication Without Disruption
Companies require streamlined communication while video conferencing with both clients and employees. However, most of the tools available are not as advanced as they need to be in a lockdown situation. This is a great opportunity for software development companies to create tools that help in remote working without any security concerns and provide uninterrupted communication and secure file sharing capabilities.
Software Development Amid Lockdown
For corporations of varying sizes, COVID-19 has made the future feel uncertain. IT firms are struggling with massive drops in project ratios, which is likely to increase the extensive drops in profits. Software companies are working diligently to deliver projects on time and to create better solutions that attract customers to invest in long-term technology solutions.
Programming Languages In Demand for App Development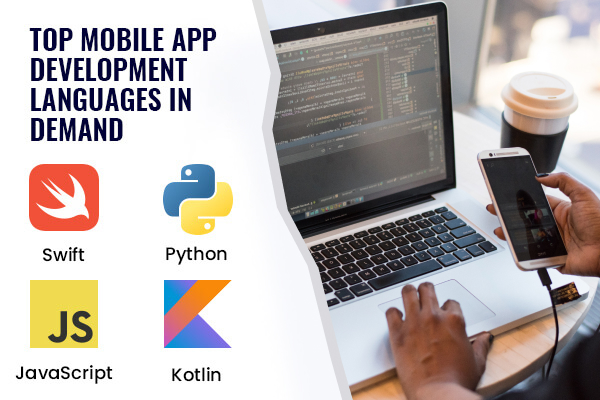 While there are many programming languages to master, here are the most popular ones, with many new opportunities beyond today's lockdown:
1) Swift:
Swift is a popular programming language for building iOS and macOS applications, which has recently been updated with additional vital features like module stability.
2) Python:
Python is expanding into a variety of new niches, including data science, artificial intelligence ML and more. There are thousands of projects available for Python developers around the world due to its ease and usability.
3) JavaScript:
As per the Hacker Rank 2020 Developer Skills Report, JavaScript is among the top languages demanded by software employers. Therefore, if you're looking to master the latest programming language, then JavaScript should be added to your list.
4) Kotlin:
Ever since Google recognized Kotlin as the best language for Android development, the popularity of this language has risen higher than ever before. Many websites and ranking or analyst firms, like RedMonk, have called Kotlin the "potential leader of programming languages, and a possible Java replacement in the years to come."
Mobile & Web Applications During COVID-19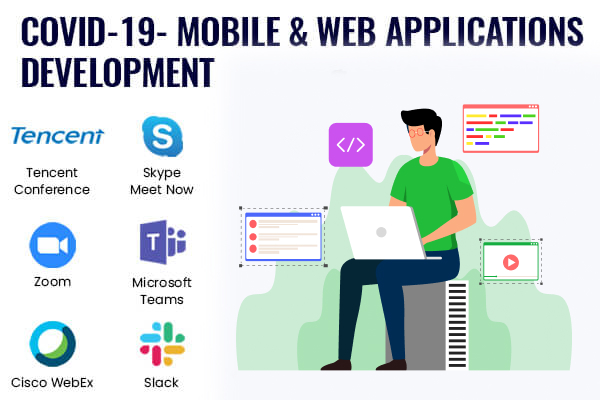 While lockdown has made video and gaming apps more popular than ever, a number of companies are coming out with new ideas for mobile and web applications. Apart from the healthcare industry and gaming industry, IT companies are experiencing benefits from the rise of teleconferencing mobile apps and monitoring solutions available for remote working companies.
Global downloads of apps such as Tencent Conference, Skype Meet Now, Zoom, Microsoft Teams, Cisco WebEx and Slack have increased dramatically since January 2020 as the coronavirus outbreak has changed the way organizations conduct business communication. However, many companies are looking for traditional app projects like eCommerce, grocery shopping, and more, but it is reported that Indian companies are moving forward with better technology like VR apps, Artificial Intelligence, COVID-19 tracing apps, and e-learning apps for institutes and schools with the help of remote working.
Cybersecurity Solutions:
Companies that rely on employees working from home amid the COVID-19 lockdown have voiced an increase in security concerns. Emails and links related to COVID-19 information are likely to become the main source of such cyberattacks. As per the Palo Alto Networks threat team, more than 100000 spiteful domains have been registered in the past one month.
This is where IT companies that provide cybersecurity solutions that embrace the opportunity to initiate better cybersecurity technology for its clients and governmental departments. Furthermore, manufacturers and companies working online can use a digitally secure communication product to identify and eliminate such movements to protect their confidential data.
Cloud Call Center & Cloud File Sharing
Cloud Call Center platforms allow companies to manage remote communications over the internet without any security concerns. Business connection setup, cloud systems, and cloud call centers are much easier to use and provide companies with total control of the plans from a distance. If you are struggling with postponed projects, connection errors, and issues in day to day project management, then you need to find a software development service provider that helps you with the right cloud solutions. Especially in today's situation where faster deployments, business continuity, better customer relations, and automatic upgradations are a must to sustain your growth.
It's been more than two months since the world has adopted the "new normal". However, remote collaboration has helped software companies to stick to their previous commitments and look forward to better opportunities. From creating a technology development program to contributing to creating mobile apps that trace COVID-19 patients, software companies are doing their bit.
Whether you are a business owner looking for software development services, or an IT organization worrying about which is the most trending technology these days, it is important to understand the demands and find a reliable partner to get started with. Tech marketing, involvement in the business continuity, and choosing the latest trend are the keys to sustaining the growth even while working from home.
ConsultingWhiz is an established Custom Software Development company in the industry. We have always believed in the fact that new technologies are the way to excel. In this time of hardships, our latest technologies will help you to resume your work with no boundaries . If you are wondering about how you will develop your apps and websites amid this lockdown then you are at the right place. ConsultingWhiz will provide you with the solutions and services that will help your business get through these hard times.We will provide you services in such a manner that your work will not be affected even a bit. With our latest technology and an experienced team, let's get back to work together!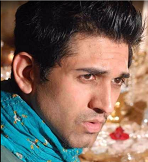 Mike is the founder of ConsultingWhiz LLC, Software development company in the USA, he has 15+ years of experience in agile technologies and  development. I've worked with many satisfied owners of customer servicing businesses. Let's connect today to get started on your path to 100% automation, reduced overhead costs, large ROI, and so much more.