As the digital world is increasing day by day, the demand for software developers is taking a peak as well. And in today's time, we all know about the ongoing dilemma of the shortage of software developers. Moreover, the search for a developer takes sufficient time which is enough to affect your business from within. So, why not use low code development platforms that can help you achieve the same goal as a software developer. And you never know, you might get even more than that.
Now you must be wondering what is low code development exactly and how it's working gonna help me in my business?. Then just sit back and relax, as here I will give you a complete guide to Low-code development.
What is Low-code Development?
Basically, Low-code development tools allow you to build software applications without writing any codes to save your time and effort. Through its Graphical User Interface, one can easily develop the application in no time.
In short, instead of relying completely on dedicated software developers, one can easily opt for low-code development tools. This enables business specialists to build apps primarily just by clicking, not coding.

Such applications are built using a visual development environment that offers drag & drop application components and pre-built connectors which allows you to generate codes automatically into a flowchart style. No wonder it is a great savior that saves you from all the hassle of traditional programming.
Nowadays, this fast and easy-to-use software is becoming more popular as compared to the traditional old coding. As per the survey, it is found that 92% of IT leaders find themselves comfortable by using low-code tools in their business.
Essential Features of Low-Code Software Development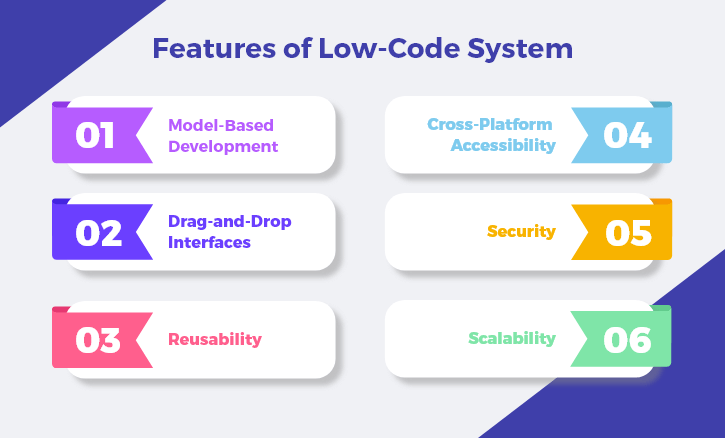 ● Drag-and Drop Interface-
When it comes to requirements in a low-code development platform, drag and drop should be at the top of your list. As, typing out the long threads of code to produce is not only challenging, but it is also very time-consuming. That is the reason why low-code development platforms are perfect for citizen developers to design application workflow using drag and drop modules.
● Visual Modeling-
One of the fastest ways to build applications is by applying visual methods and models. It helps developers to build applications by understanding the logic of what they want to create. It goes with the term, "What you visualize, is what you Make".
● Instant Mobility-
Low-code platforms automatically allow your applications to run anywhere in the world, especially on devices like smartphones, tablets, etc. As they have cross-platform functionality standards in their design. And with the help of low-code development tools, it requires barely minimum efforts of coding and resources.
● Reusability-
When it comes to modules, the pre-built modules of low-code software simplifies the use and reuse of the same modules for citizen developers. They can just be dragged and dropped wherever required which plays a huge role in reusability. Most of the low-code platforms provide additional modules through the app store for more high-level development.
● Declarative Tools-
Declarative programming is a programming method which allows you to complete an action by naming its task. Such kind of programming is used by declarative tools in order to simplify workflow creation and by making application coding faster and accessible. Declarative tools are implemented by Low-code platforms using various methods like visual models and business rules.
● Security-
There is no point in using low-code development tools that don't offer proper security for both the platform and the apps. Doesn't matter how aesthetic and functional the app is if it does not provide you security, it's not worth it. The right platform will provide you all the necessary security certifications and will protect your application from all the harm.
● Scalability
Low-code systems need to be scalable. As you never know when the user's number will hike up in your organization. Therefore, it is important that low-code should be enterprise-grade with large-scale initiatives.
What are the Benefits of Using Low-Code Platforms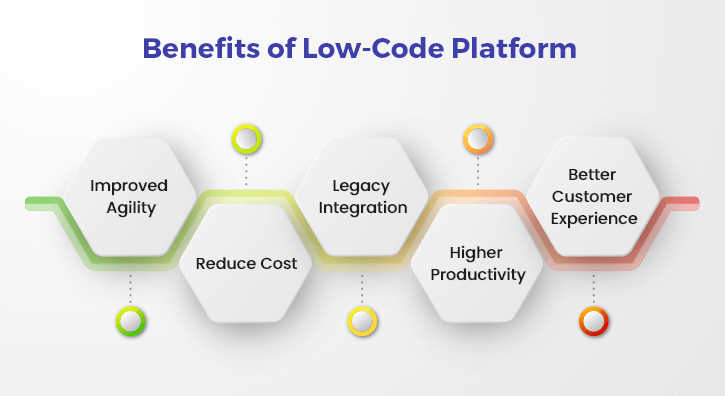 As compared to traditional coding, low code app development using the visual design of the low-code platform is much easier and faster. Thus, when it comes to your program, you will be more productive and agile. That will lead to fast delivery of applications and software.
It will benefit you in decreasing the cost of building apps. By having a low-code development service by your side, you won't need to hire top software developers that will automatically reduce the cost of hiring.
This can also benefit your organization in speeding up the process of modifying your application and changing certain elements of it. As it will help your organization in adopting the market changes along with customer requirements. You should consult with software development firms to avail all the benefits of low code development.
Low-code development tools can further help tech enthusiasts without having a strong background to build applications and become dedicated software developers.
What are the Pros and Cons of a Low-code Platform?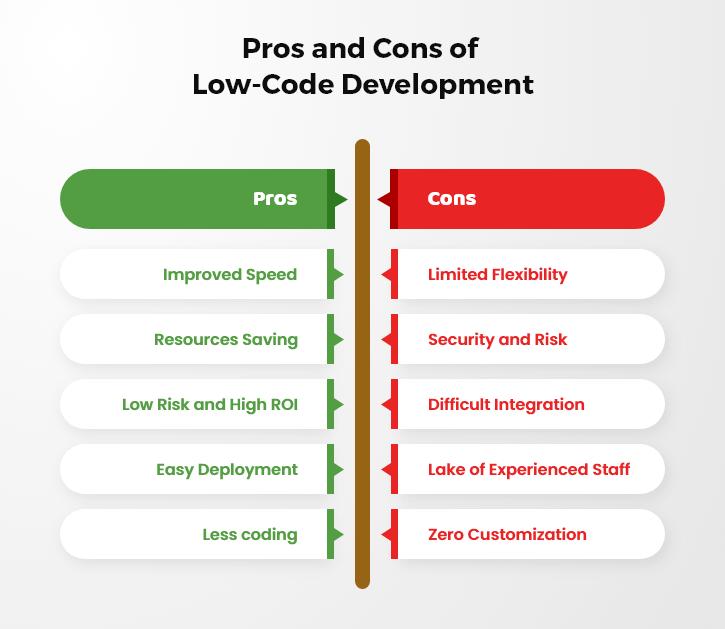 Advantages
👍 Speedy Development
With the help of Low-Code Platforms, IT teams can build software applications rapidly. By using tools such as drag and drop builders and pre-built apps, development could never have been so easy. Through empowering everyone to develop, low code application platforms spread the responsibility beyond the whole company.
👍 Expedites Development Cycles
Gone are the days when it took years and months to complete the projects. With the help of Low-code development, the speed of completing the projects can be increased. Now, projects can be completed in weeks instead of months. In today's digital age, every development professional expects the quick and fastest low-code web application development tool to deliver applications faster and with fewer bugs.
👍 Reduced Barrier of Entrepreneurship
The use of Low-code development for startups has become increasingly popular in the last few years. Just by paying a minor subscription fee, they can save themselves from paying a higher amount to professional developers. Therefore, Low code development plays a vital role by decreasing the time and money spent on the traditional development process.
👍 Digitally Transform Your Business
One can easily transform their business digitally by making cutting edge technology to a wider audience. They need to shift away from legacy systems and embrace new technology.
👍 Rapid Prototyping
One of the biggest issues is creating a prototype. And to be honest, traditional coding is way more complex to make. But through Low-code development platforms, one can easily make a prototype with minimum coding and less time. It is a helping hand especially for solo developers, as it reduces the hardship by providing them the convenience of making prototypes without much coding skills.
Disadvantages-
Despite having many advantages, low-code isn't without drawbacks. The following are cons the Low-code platform has.
👎 Security Vulnerabilities
Low-code does not offer full control of data nor even allow access to source code. Which makes it very difficult to determine the possible vulnerabilities of the application.
👎 Restrict Application Customization
The drag and drop feature has limited functionality. This makes your application limited to a certain function, as you can't implement a unique feature of your own.
👎 Understanding of Coding Languages
Understanding of codes and coding language plays an important role in Low-code development platforms. As people with no knowledge of coding might face trouble while creating an application.
Top 10 Popular Platforms for Low-code Development
We are in the age of a digitally transformed world, where market demand is growing faster than ever. Nowadays, people prefer using Low-code development software to build their custom applications using drag and drop tools instead of traditional coding. This means anyone with basic coding skills can create applications in the organization. Thus, here is the list of the top Low-Code Development Tools that are available in the market.

Visual LANSA – Low Code >> High Control

GeneXus – Software that makes software
3. Zoho Creator – Build, Integrate, Extend
4. Creatio – Everyone can automate business ideas in minutes
5. Appian – Automate more codeless. Deliver powerful business applications, faster.
6. KiSSFLOW – BPM & Workflow Software – Automate Work. Reduce Chaos
7. Mendix – Low-code Application Development platform
8. OutSystems – Build Enterprise-Grade apps Fastly
9. Salesforce Lightning – The future of Sales and CRM
10. Microsoft PowerApps – Apps that mean business
How to Move Digitally Using Low-code Development?
Do you want to start an online business or organization of your own? And find yourself stuck in the world of coding as you are a newbie here. Even looking for a particular application confuses your first step to begin. So, don't worry anymore, as creating an app from scratch is not a long road anymore. Nowadays, it is very easy to find a Software development agency providing low code development services. That can help you build the application of your dream.
It all begins with the basic idea of your website and the rest can be handled by a Low-code web development platform. Even though Low-code development software is easy to use, they require basic coding skills. And to get a good grasp on it, it would be a wise thing to consult an expert to guide you through the entire web development procedure.
Low-code development platforms enable one to build an app with the help of pre-built modules and basic coding skills. Thus, you can choose any of the applications mentioned above to create an application for your startup, business, organization, etc. Following are the steps to start your online business with low-code development software –
Step 1- Check Market Demand
The initial step to start off any business is by checking for demand. If the demand for your product and service is very low in the targeted market, then the possibility of your business prospering is quite low.
Step 2- Consult an Expert
Even though Low-Code development suggests that it is for people with basic technical knowledge, it is always advisable that you consult an expert before starting the development procedure. This will guide you through a better idea of the app's capabilities.
Step 3- The Appearance of the App
By using Low-Code software development, you can easily create a user-friendly interface. Despite having full control over the appearance of your UI, it's advisable that you discuss with an expert in order to provide a good UI/UX to your consumers.
Step 4- Content Management
Low-Code development software consists of pre-configured content which helps in custom software development. One can easily customize it as per the developer's desire. You can decide which kind of content you prefer in your app from the available alternatives.
Step 5- Prototyping
By making a prototype, you can easily get feedback from the customers and check for errors. Thus by resolving such errors, you can make your website perfect for the launch.

Read, Also- The Complete Guide on No-Code Development
Most of the experts prefer to hire Low-Code development companies for their startup due to their low budget in the beginning. As it does not require any prior coding experience, Low-Code has helped thousands of entrepreneurs to kick start their businesses.
Why Choose Us for Your Low-code Development?
Due to a lack of the right skills and resources, several startups, businesses, etc are unable to survive in this highly competitive digital world. Even though Low-code development has come to the rescue to quick up the process of online business development. But there is always a possibility of failure if they don't get proper technical guidance from experts. They help you sail through the storms of competition.
Here at Consulting Whiz, you will get complete assistance at every single step in your business career. You can completely rely on us, as your money is in safe hands. We are the best Custom Software Development Company in California. Our experience is something that makes us stand apart from the crowd and lets your dream fly high. Our software development agency has a team of experts who will guide you in the path of success by keeping it budget friendly.
You will get complete assistance for your Low-Code development projects. Our technical expert offers 100% control along with 100% flexibility to implement your ideas. Isn't it what you were looking for? Then why wait any longer. Get a consultation for FREE by telling us your idea. We will assist you to create a pathway at a nominal cost.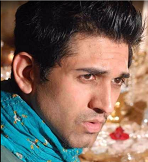 Mike is the founder of ConsultingWhiz LLC, Software development company in the USA, he has 15+ years of experience in agile technologies and  development. I've worked with many satisfied owners of customer servicing businesses. Let's connect today to get started on your path to 100% automation, reduced overhead costs, large ROI, and so much more.