Technology is evolving faster than ever before as human beings are finding neoteric ways to innovate and function things faster. They are creating methods to do things with more ease and definition than they have done in the past. But the most agile evolution is witnessed in the area of web application development. This web framework market share is growing so swiftly that we can observe innovations with every passing day. Every year the changes in the trends of web development are bringing new orchestration for the web developers and business owners as well. Developers are always on a way to discover and develop new technologies, which will hurtle them to a scintillating future.
These growing developments of trends, innovations, and technologies are proving to be spiffing to the businesses in the way that they will help them to evolve as per the market trend. But it can create tension for businesses that overlook the significance of incorporating these industry trends in web development into their business functions. The incorporation of technology trends like progressive web applications, the Internet Of Things, and Artificial Intelligence is not an exceptional task for business behemoths like Amazon, Google, or Forbes. But to many other companies keeping up with these trends can be a distressing task to deal with.
To stand on the same echelon as these incorporated giants, businesses must carefully analyze and scrutinize tendencies prevailing in the industries and focus on following the changes and trends that technology is introducing to web development.
To help you with this, we have listed out the ten most effective and latest trends in web development 2021 that must be looked forward to.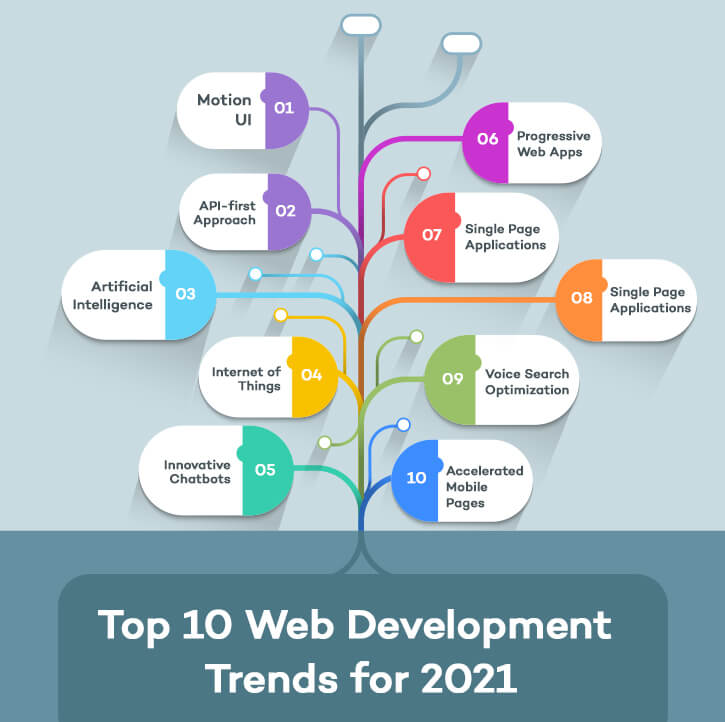 1. Motion UI
We all are aware of the importance of animations, graphics, and transitions in constructing an attractive application, web page, or website. Motion UI is one of the best and newly introduced front-end technologies that can be used to vivify the web interface. Motion UI is basically a collection of tons of attractive and appealing animations, which allows developers to create enticing creations for web development. This technology is most helpful to generate more engagement and that ultimately leads to the increased time spent by users on your website. It also benefits in creating a great user experience on your platforms.
2. API-first Approach
The Application Programming Interface or API is a software intercessor that functions the communication between various software. API conveys our requests to the system and provides the response back using seamless connectivity. This technology has brought several advantages to the domain of web development as it allows to refurbish the utilized codes between different projects. This eventually results in reduced development costs and also surges the speed to market and that's because there appears no requirement to redesign the API project to encompass new features. API enables the startups to get a chance to incorporate high-level technologies that are too far to develop for them in the initial stage.
3. Artificial Intelligence
AI is the most popular software development technology in the world. Artificial intelligence performs human-like activities such as planning, learning, problem-solving, and voice recognition. AI is the ability of a system to think, learn, and work. Nowadays, AI plays a crucial role in the success of a business. Most of the users prefer to search for the desired product directly through a website or application. AI helps the business by collecting these types of data in every visit and with its great level of personalization, it shows only the relevant and important information.
E-commerce firms are driving results through innovative AI web development technologies such as ChatBots, Voice search, and other AI solutions. Artificial Intelligence is also considered the future of web development 2021.
4. Internet of Things
Internet of Things is a network of internet-connected objects that can collect and transfer data over a wireless network. It is undoubtedly among the most growing web application trends across the web world. Apple Watch, Self-Driving Cars, and ATMs are some of the devices that use the Internet of Things. IoT development solely relies on servers and the collected data is stored in the cloud.
More and more businesses and enterprises are trying to furnish their customers with personalized and user-friendly services. The IoT technology promises a dynamic UI experience, accurate results, a strong backend, and security of data that is collected from sensors and transferred through a cloud server.
5. Chatbots
Chatbots are system programs powered by machine learning that is interactive to find information and services. Chatbots can be easily found in messenger apps such as Facebook Messenger, Kik, Telegram, Hike, and WeChat. It is also regarded as the top web technologies among others.
Chatbots will "fundamentally revolutionize how computing is experienced", stated Satya Nadella, CEO of Microsoft.
These are extremely smart in providing quick and relevant results in a seamless conversational format. They can respond to user queries by themselves in a smart manner. If needed, chatbots can also pass the issue to higher authorities. By eliminating several customer service professionals and speeding up the process, Chatbots can save a big amount of cost for businesses. Along with a user-friendly and interactive UI of a website or application.
6. PWAs
Progressive web apps are the best of both a mobile application and a web application. PWAs are the sites that glimpse and function as a mobile app. PWAs are known to furnish users with a secure, interactive, and responsive app-like web experience. Popular websites such as Alibaba, Pinterest, Forbes, and even Twitter have integrated PWA and leverage the benefits of it.
The website browsing experience can be brought closer to the characteristics of native mobile applications, with the help of PWA. Thus, making it intensely user-friendly. Pinterest experienced 44% more revenue and 40% of their users consume more time than mobile websites. Among all the trends in web development, Progressive web apps are considered the most useful ones.
7. Single Page Applications
Single Page Application is a web application that works inside a browser and requires only a single page to be refreshed. This technology removes the interruption caused by the rendering of pages and provides a smooth user-friendly habitat. Facebook, Uber, and Google are some of the single-page applications.
Single-page applications are extremely helpful for slow internet users as it consumes less bandwidth and faster data refresh. Another overlooked benefit of Single Page Applications is their simple yet attractive UX, which is easy to use and provides uninterrupted scrolling.
8. Single Page Website
A single page or one-page website is a type of website that contains only one HTML page rather than multiple pages such as About and services. One-page websites are completely loaded on the initial page and do not require to reload or refresh.
Single page websites come with tons of advantages such as quicker and more responsive navigation between content, neat and clean design, in-complex user experience. It can be expected to be the most popular among other web development trends 2021. And it is because Single page websites are a blessing for businesses as they require less time and money to develop.
Also, the Implementation of Artificial Intelligence solutions such as Chatbots and IoTs are more convenient in single page websites. This site generally leaves an impression on a user as they are rare and they bring quality over quantity.
9. Voice Search Optimization
With the rapid growth of Google Assistant and Amazon's Alexa, Voice search is huge right now and it is only getting bigger. PWC reports have stated that about 71% of users use the voice assistant to search for products rather than physical typing. IoT devices such as Alexa and Google assistant have already penetrated the market with the help of voice search functionality. Voice search optimization is also considered as the future trends in web service.
As of 2020 the current number of voice searches is 47% and will increase to 55% in the first quarter of 2021. With the voice search, the User experience is significantly improved and provides convenient and accurate results. Voice searches are easy to integrate and help in next-generation web development. Along with this, It helps in securing a good rank on Google searches.
10 Accelerated Mobile Pages
Accelerated Mobile Pages is a project developed by Google and Twitter that aims to design speedy loading mobile pages. It is a kind of open-source library that helps creating websites, web apps, and web pages with a special HTML that makes the design lightweight and fast loading. The mobile pages developed using this technology are highly efficient for e-commerce businesses as they directly help them to increase sales by enabling a fast consumer experience. And it becomes crucial because even a delay of as low as one second can lead to a 7% reduction in overall conversion.
AMP also has significance in other niches such as news and media broadcasting services. The giants in this biz including The Guardian, The Washington Post, and The New York Times realized the magnitude of this technology and are implementing it to expand their realm.
Conclusion:-
It is time to apprehend the eminence of technologies and the changes it is capable of introducing in the industry. Technology has helped in the advancement of web development and turned the way we used to use it. Especially, lately during this pandemic scenario businesses have learned and accepted the remote way of working. Technology and web development has a major chunk to contribute to this change. We can see the trend of rapid development climbing up the stairs introducing more positive changes in 2021. And those who are still overlooking the significance of these trends will face a problem in coming times. Most advisable for the businesses is to hire a web development company to look into the affair and manage it smoothly. ConsultingWhiz.com is one of the best Web Development Company in USA. We at ConsultingWhiz help your business to keep it updated with the recent trends by providing premium web development services. Along with this we provide customer assistance and consulting services to the clients to solve the problems they are bringing to us. ConsultingWhiz is the best help you can get across the USA. We through our services help businesses to carry on with the upcoming trends with ease and ensure that they face no trouble in coping up with any web development changes.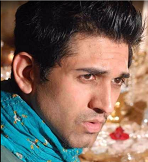 Mike is the founder of ConsultingWhiz LLC, Software development company in the USA, he has 15+ years of experience in agile technologies and  development. I've worked with many satisfied owners of customer servicing businesses. Let's connect today to get started on your path to 100% automation, reduced overhead costs, large ROI, and so much more.