The coronavirus disease continues to have a devastating effect on human health globally, impacting the economy and business industries we rely on. Existing supply chains are facing considerable strain and several industries have experienced a decline in their profits. However, industries that are focused on integrating the right digital technology with their business are managing to stay afloat and even attract some new customers. Primary examples include communication, entertainment, lifestyle, gaming, education, fitness, and nutrition.
Practicing good mental and physical health has been challenging, especially when your living room is your temporary gym, office, and lounge spot. In response to this change, people are searching for the perfect workout app, diet app, app for nutrition or home workout app. The Health & Fitness mobile app adoption category has soared since quarantine began, reaching 339.7 million downloads in April alone and $160.5 million in user spending in May. As this field continues to grow, so does the number of opportunities to expand into wellness-related categories with apps specific to exercise, diet and nutrition, home workouts, and mental health. Building a fitness app for the iPhone or Android devices requires the right technical knowledge, tools, and developer team.
If you are thinking of taking your business digital and developing a healthcare app for your business, there are some steps you should be aware of. Below are the top ten fitness app best techniques you can learn from to build a framework for your entrepreneurial idea!
Best Techniques for Fitness Mobile Application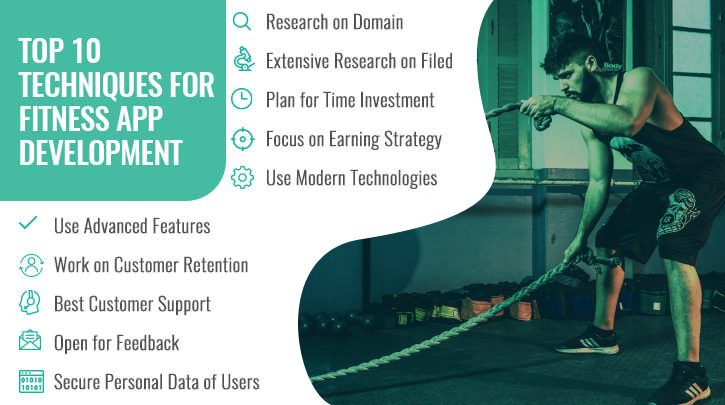 1. Decide your fitness domain
The term fitness relates to several domains ranging from mental fitness to physical fitness and includes diet, nutrition, fitness gear and equipment, and much more. To focus your concept, try to select one, two, or a maximum of three domains and stick to those, such as Workout app, Nutrition app, gym app, or a combination like diet app. It is suggested to have multiple domains only when your app has gained enough of an audience. This is because managing multiple apps may become cumbersome for a beginner to handle.
Before choosing a domain, you should analyze the best fitness apps and android apps as well as fitness iPhone apps. This will help you determine the current demand and profits that existing apps are experiencing. From here, you can choose which fitness niche you will enter and the best platform to use.
2. Do extensive research
This is an important step that is often ignored or done ineffectively by most app development firms. Extensive research comes from putting yourself in the place of a user and experimenting with versions of a fitness app for iPhone or best apps on Android to understand their existing functions or missing features. You can also hire a team of fitness app developers to do market research about what current apps are lacking and what features are redundant. This process will help you to get an edge over competitors by understanding what your target audience is already using and how you can give them something better.
3. Decide whether to invest time or money
Did you know there is a way to enter this field that calls for you to invest your time but not your money? Yup! Grow your skills by watching videos on how to build an app or gather content from open source websites. But if you don't have time to follow the DIY "geeky" tech path, you can hire a custom mobile app development company, a team of app developers that provide mobile app development services, to make your idea into reality. It may require some investment, but saves you valuable time and could pay off in the long-term. A third way to enter this industry is by investing in an already existing start-up or Mobile App development company. While this option also requires investment, you will get a pre-built team of fitness app developers and a functioning environment that will save you time during the app's release.
4. Decide your earning strategy
Up to now, we have discussed how to plan and manage your investment. So, let's talk about how to start earning and make a profit with your idea. Decide whether to make your app free, paid, or a hybrid model in which half of the features will be free and half will be paid for by premium users. You can make these important strategic decisions by meeting with mobile app development services. Another way to make money is to include advertisements that are relevant to the users of your app. This usually includes ads for yoga mats on home workout apps or protein supplements in nutrition apps with various special offers. There are many ways for the app to become profitable, just put yourself in the user's sneakers and decide the strategy that benefits you both.
5. Use latest technologies and innovations
Using machine learning or AI in your app will not only attract users but also enable you to handle the app easily since most of the work will be managed by the technology itself. Additionally, using VR (virtual reality) is a great option for fascinating users with an innovative and user-friendly environment. It is also advised to make sure your app is agile in the sense that if any technology loses its compatibility, your app doesn't lose its audience. The app should be adaptable to any new user demands and technological advancements.
6. Additional features and collaboration
Provide features such as free healthy recipes, fitness videos, a nutrition tracker, or any other added functions that are relevant and serve your fitness app best. Collaborating with famous influencers in the industry will also help make users choose your app to get motivated and encouraged by these famous faces.
7. Develop a strategy for customer retention
After you have attracted users by implementing the steps above, retention is the next step to growing your profits. Your current users will serve as our contact points to bring in new ones. Organize weekly contests, like a giveaway for a premium gym app workout, host fitness or wellness-related challenges, and reward users for sharing their inspirational milestones to social media. This will drive recognition for your app and keep your current users feeling appreciated.
8. Give proper support and timely updates
Providing proper technical support will build trust between the brand and its customers. Communicating and implementing updates will let the users know that the team is working hard to fulfill their needs. This will attract new users who positively recognize the brand's commitment to continuous advancement and development of the mobile app.
9. Be open to feedback
Why not learn from your users how to improve and earn money? Feedback is an important aspect of fitness app development. This process will not only allow users to interact with you but also makes your work easier. The more feedback you get, the more you will be able to make thoughtful improvements that lead to profit.
10. Ensure the safety of personal data of users
Nowadays, it is said that data is currency, which means that it is critical to ensure the safety of your user's data. Establish policies that are transparent so that users can trust your app and use it without compromising their privacy or identity.
Bonus Tip : Have a backup plan
This is the most important step! The impact of COVID-19 has reinforced for businesses that the best way to be ready for the unexpected is to prepare for anything. Examples of backup plans include preparing for a situation that requires you to change or expand your existing fitness domain or having potential buyers for a situation where you are unable to handle the app due to your other businesses. There may be some unavoidable problems since it takes considerable dedication and hard work to build and grow an app as a brand, so optimize your time and effort when it comes to preparing for the uncertainties and opportunities the future holds.
As we wrap up the top 10 ways to build an app with a bonus tip, we'll leave you with some healthy food for thought: create an app or a service with the mindset of solving customer issues and building your brand's trust. Customers will start to see you as a brand that has value and they will help you to grow your business authentically. If you build an app or service with your only goal of earning money, you may not be able to maintain success long-term.
Still unsure of where to begin? Start by searching App development USA and app developer cost USA or for other countries around the world. This will not only kindle your motivation to grow but will also open your mind to new and innovative ideas.
Hire ConsultingWhiz for Fitness App Development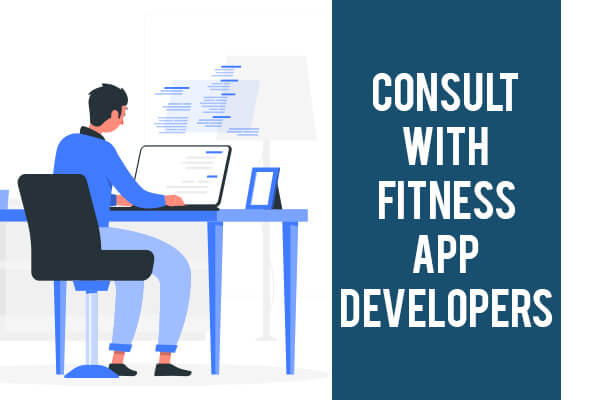 If you are looking to hire the right team for your fitness app development, then ConsultingWhiz could be your perfect match. We have an expert team with 15+ years of experience in providing trusted mobile app development services. Our custom mobile app solutions have served multiple business verticals across the globe and delivered transformative results for clients. From evaluating the project plan to prioritizing scalability and ROI, we ensure the best results for your mobile app from idea to execution.
Let's make the world happier and healthier together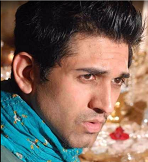 Mike is the founder of ConsultingWhiz LLC, Software development company in the USA, he has 15+ years of experience in agile technologies and  development. I've worked with many satisfied owners of customer servicing businesses. Let's connect today to get started on your path to 100% automation, reduced overhead costs, large ROI, and so much more.