The Covid-19 has not only spread the human contagion but it is said that economic contagion is now spreading as fast as the disease itself. The supply chains have faced a lot of issues and various industries have faced a major drop in their profits. On the other hand those industries that are working and utilizing the digital world and its features are not facing a great fall. Some of the industries have seen far more profit during this time, but on the contrary others are struggling. These industries are ranging from communication, entertainment, lifestyle, gaming, education, fitness, nutrition and many more. Even you at some point of this quarantine have thought to follow a fitness regime looking for a workout app, diet app, app for nutrition or let's say home workout app. Today, taking the lessons from this present scenario we are going to discuss the top 10 ways to make a fitness app for the iPhone and android. If you are someone who is new in this field and want to play safe and different, and be in the list of profitable brands, you can learn and make a framework for your entrepreneur mind!
Fitness is something that has always been an important discussion. Ranging from physical fitness or mental fitness. Physical fitness is not only limited to building biceps or bodybuilding but it is also being fit, eating well, following a diet, or doing something that increases the heart rate. On the other hand, mental fitness is keeping ourselves detoxed out of our stressful lifestyle and being calm so that we can work efficiently, making a positive impact in our surroundings. Mind it, these fitness apps generally come under the umbrella of the healthcare app. Building a successful fitness platform is just like helping people to achieve something that is not everybody's cup of tea. Fitness is a vast field and growth potential is immense so most of the companies just jump into it and flop missing the key information to help them navigate this field. Today we bring to you some proper curated steps on building a fitness app best or a healthcare app. Let's get started!
Best Techniques for Fitness Mobile Application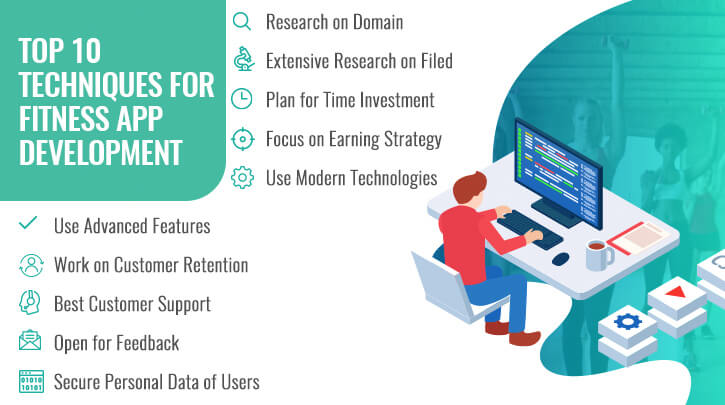 1. Decide your fitness domain
Fitness has several domains ranging from mental fitness or physical fitness, and it is related to diet, nutrition, apparels, equipment and much more. So to focus your ideas try to select one, two, or a maximum of three domains and stick to that like Workout app, Nutrition app, gym app, or a combination such as diet app. It is advisable to jump into multiple domains only when your app has gained some audience since it would be like collaborating multiple apps and as a beginner can become cumbersome to handle and a reason for the failure. To choose a domain see the profits and demand of various existing best fitness apps and android and fitness iPhone apps and decide taking them as the origin point.
2. Do extensive research
This is the most important step that is missed or done incorrectly by most of the app development firms turning out to give same functionality as given by the already existing apps.Think of yourself as a user, use various fitness app for iPhone or best apps Android to determine their loopholes and missing features, or you may hire the team or take the help of your friends or fitness app developers to do a market research on what the existing apps are missing and what are the loopholes or functionality that is redundant in various apps. This process will help you to get an edge over competitors since from starting fetching a huge range of audience.
3. Decide whether to invest time or money
What we mean by it is to decide the way how to enter into this field. Now there is a way where you have to invest your time but no money. Yes! just grow your skills by watching videos on how to build an app or gather content from open source websites. Invest only time and no money. If you don't want to follow a "geeky" path just hire a custom mobile app development company, a team of app developers that provide mobile app development services, to make your idea into reality but that requires some investments. The third way is by investing into an already existing startup or Mobile App development company which is an investment, but as a benefit you will get a pre-built team of fitness app developers and an environment that will save your time to roll out the app.
4. Decide your earning strategy
Until now we have discussed how to manage your investment, now let's talk about how to gain and make a profit with your investment. Decide whether to make your app free, paid, or hybrid in which half of the features will be free and half will be paid aka for premium users by having meetings with mobile app development services. Use meaningful advertisements that will ensure the users will not get irritated . Sell some products on a timely basis like yoga mats on home workout apps or protein and supplements in nutrition apps with various offers. There are various ways for it to become profitable, just keep yourself as a user and decide the strategy.
5. Use latest technologies and innovations
Using machine learning or AI in your app will not only attract the users but also enable you to handle the app easily, since most of the work will be managed by the technology itself. Not only this, but using VR(virtual reality) is a great option as it would fascinate users with the innovative and user friendly environment. Try to make your app agile that is if at any point some technology just loses its importance your app doesn't lose its audience. The app should be adaptable to the new user requirements and technological advancements.
6. Additional features and collaboration
Provide additional features such as giving free fitness recipes, fitness videos, or give a nutrition tracker or a limited period fitness trainer access converting your fitness app best. Try to collaborate with famous faces that will make the users use that app by getting motivated and influenced by them.
7. Develop a strategy for customer retention
After you have gained the customers by our above ideas, retention is necessary so as to keep the profit growing because those customers will also be our contact points to bring new users. Organize weekly contests with fitness based challenges, have a giveaway of a premium gym app workout, or regularly post the inspirational stories of users themselves to keep them motivated and inspired.
8. Give proper support and timely updates
Giving proper support will build a trust between the brand and the customers. By giving updates the customers will get to know that the team is working hard to fulfill their needs hence it will attract more customers looking at the rapid advancement and development of the mobile app.
9. Be open to feedback
Feedback is an important process in fitness mobile app development. This process will not only give users an opportunity to interact but will also make your work easy. The more feedback the more you will improve and the more you will earn.
10. Ensure the safety of personal data of users
Nowadays it is critical to ensure safety of data since data is said to be currency. Make policies that are transparent so that users can trust your app and use it without any fear of losing their privacy or identity.
Bonus Tip : Have a backup plan
This is the most important thing! Have a backup plan for the situation that demands you to change or grow your domain in fitness, or have potential buyers for the situation where you are unable to handle the app due to your other businesses. There may be unavoidable problems since it takes a lot of dedication and hard work to build and grow an app as a brand, we don't want it to get wasted in any situation.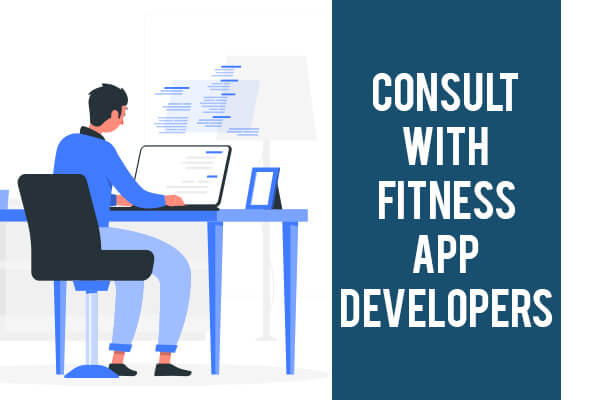 So here it ends the top 10 ways to build an app with a bonus tip. The most important thing is don't build an app or service having only thought of earning money, try to make an app or a service with a mindset of solving customer issues and building trust.You may take a rough idea by searching "How much Does Mobile App development Cost in USA?" or "The Cost for Developing a fitness App". This will not only ensure your motivation to grow, but will also open your mind for new and innovative ideas. In addition customers would start to see you as a brand of trust and help you to grow automatically.
Stay fit and make the world fit and happy !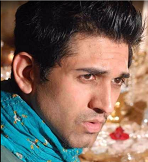 Mike is the founder of The ConsultingWhiz, he is expertise in the Software industry and has 12+ years of experience in Mobile App, Custom Software Development & Technologies that support SaaS Based Companies.