The online dating scene is booming, and apps are a popular choice for singles hoping to find new matches and pursue exciting love interests. People are more open to connecting with others via an online messaging platform before deciding whether to meet in person and build a relationship further. Apps like Tinder/Bumble are leading the market with an extensive 7.86 million mobile users in the US alone. Bumble follows Tinder at second most popular with an impressive 5.03 million. Tinder's success is a result of the app's sleek and engaging design and its host of unique functions and add-on features.
The Developer's Predicament about Tinder
Although it may feel like everyone is downloading dating apps and easily making matches, there are major frustrations that have been voiced about top apps in the market. Users find that certain apps are too expensive, addictive, unsafe, boring, or limited in features, which causes them to lose interest quickly. Many of the dating app like Tinder/Bumble have gone down over the last 10 years because users frequently refuse to pay the fees for premium membership.
Tinder's Success Story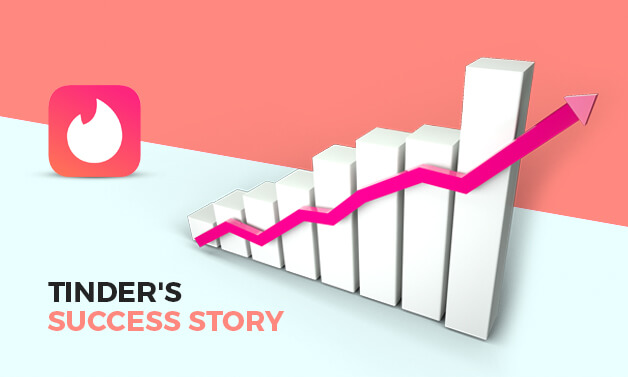 Online dating has become increasingly mainstream over the last decade. Platforms that facilitate online dating are no longer a last resort for people "desperate for love" but rather a fresh start for finding and forming new connections. Thanks to the Internet's global reach, apps like Tinder are a convenient tool for the modern relationship-seeker.
Tinder's a Name Not So Unknown
Tinder was launched in 2012 right when mobile phone adoption was continuing to climb. It was first built for iOS devices and later became available on Android and web versions as well. The initial value proposition for the app was its "double opt-in" system that only let people connect and chat based on their mutual decision to swipe and match with each other. Within a short period of time, Tinder expanded its features and became a national and global sensation. The app amassed a fan-like following with over 50 million users to date and an average of 1.4 billion swipes is now made per day.
How to Develop a Successful Dating App like Tinder: Tinder's Secret Formula Revealed
There are many other apps like Tinder or Bumble that have become rivals in the dating apps market. Dating apps are competing for the attention- and affections- of global users, hoping to captivate swipe-happy users as Tinder continues to do so. The secret formula to Tinder's success can be deciphered by taking a closer look at the app's development technique and business model.
Simplicity and familiarity with the application: The Tinder app is a mixture of traditional dating and hookup apps, making it a unique hybrid yet easy to understand. It has a swipe left or right option for profiles which mimics the "hot or not" game. Similar to the popular app Grindr, Tinder helps people search for profiles via geolocation to help connect nearby users who are eager to match and meet each other. Features like these help differentiate Tinder without straying too far from what dating app users are familiar with.
The ingenuous UX formula: The main formula for Tinder is: Swipe, get matched with someone who is "your type", flirt and then date. Swiping left or right is fun and fascinating as people pass beautiful and attractive faces and spend hours on the app. A key advantage Tinder has is that it recognizes the anxiety, fear of rejection of modern daters and eliminates this stress with the help of the double opt-in feature.
Proximity feature: This feature helps to facilitate connections with people in a nearby proximity. This makes meeting up much more convenient and takes the stress out of a long-distance relationship.
The killer customer development strategy: there are certain strategic factors that elevate the the app's popularity, such as:
Ease of customer acquisition
Effective and efficient marketing
Creating a trend rather than following one
Being more socially acceptable than other sorts of hookup and dating apps
Smart and timely product extensions and monetization techniques
5. The algorithms fuel the stickiness: Tinder/Bumble said that it took about 2-3 months to complete their algorithms. There are many technical complexities going on behind the scenes each time a user swipes or matches. The matching algorithms are what makes Tinder unique. All that is required is some basic information on a profile and the app does the rest!
Tinder rates its users on various metrics with 3 major factors:
1) Desirability- The numbers of right swipes you get.
2) Involvement- How active are you on the app and how you're using it.
3) Choosiness- How do you pick your match? This shows how selective you are when swiping.
Tinder's secret weapon : the Hook model.
The gamified layout of the app is why people often feel like they're on a gaming app technology rather than a dating app. Its animated design and fast-functioning algorithms mimic a lot of the gaming app experience. Tinder engages its users with its addictiveness and aims to create addictive habits by motivating users to swipe more for a greater potential to find matches.
The user interaction with the product follows a 4-step process:
• Trigger
• Action
• Variable Rewards
• Investments
And precisely this is what we call a "hook model"
4 major reasons to create a dating app like Tinder.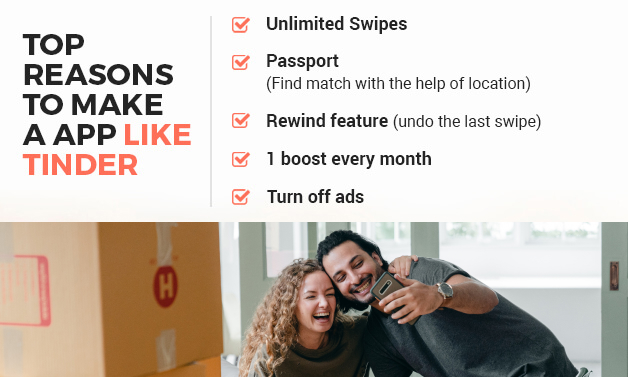 People enjoy using social media to explore potential relationships. With this in mind, Tinder created a social space for people to connect virtually and socialize before deciding to meet up or date.
Other app like Tinder/Bumble have the potential to generate sizable revenue quickly, just as Tinder is now worth 10 billion!
The ingredients of Tinder's success is more apparent now, yet many other dating app like Tinder/Bumble have not stolen Tinder's spotlight yet. Could your app be the next big hit?
The cost of mobile app development consulting services is more affordable than ever before.
Tinder's Monetization Strategy
The first decision to make is whether the dating app will be free or paid. There are a handful of ways a mobile app development company can help in monetizing a free app appropriately. Tinder was able to implement a monetization strategy by adding these elements:
The strategy goes like:
• In App Ads
• Subscriptions
• Paid standalone features
• Sponsored profiles
Advertisements: Tinder was launched as a free app and was monetized using ads. Free apps are frequently cluttered with irritating ads that interrupt users. With a paid subscription, Paying Tinder users can switch off all the bothersome ads except those which appear in the format of the users' profiles.
Subscription: In 2015, Tinder introduced its freemium model, Tinder Plus, which was later followed by an extension called Tinder Gold. When users chose to upgrade to Tinder Plus or Tinder Gold, they received access to coveted app features that made the experience even more enjoyable- and addictive!
Tinder Plus subscription provides:
Unlimited swipes
Passport(find a match with the help of location)
Rewind feature (undo the last swipe)
1 boost every month
Turn off ads
To access the benefits of Tinder Plus, the subscriber has to pay $9.99 to $19.99 in the US and the mobile app development cost depends upon the age of the user.
With Tinder Gold, users receive the features of Tinder Plus and a few extra bonuses. This includes a "Likes You" feature that lets users preview who liked their profile before they decide to swipe right or left on that account. Tinder Gold allows for up to 5 Super Likes a day!
Paid standalone feature: This monetization element lets users handpick certain features and pay for those features only. One of these features is a profile "Boost" (already included in the Freemium feature) which can be bought for $1.99 to $3.99 as a standalone item. The Boost in pushes a Tinder user's profile picture to the top of the rotation for the next 30 mins. This is appealing to users because a boosted profile typically receives 10 times more views and triple the amount of matches.
There are many such standalone features provided by Tinder app such as "limit number of searches per day" " pay for a private chat", "Pay for profile highlighter", " pay for a direct message without a match" etc. So, with the countless opportunities to pay to customize how you use Tinder, it's no wonder that recommendations pour in about creating an app like Tinder for friends too!
Sponsored Profiles: Partnerships and collaborations allow corporations to get their products or content advertised using Tinder's familiar format. This way, promotions do not feel as interruptive.
Tinder's basic feature set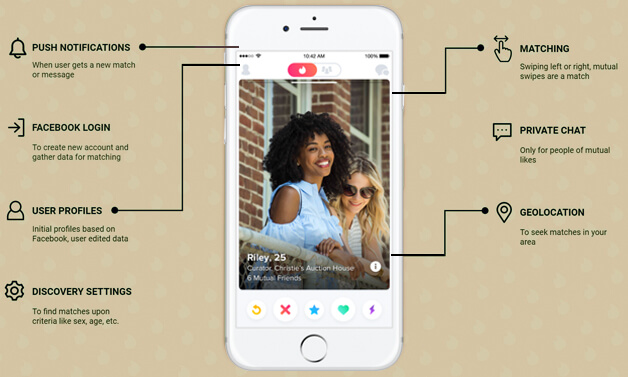 Facebook login: Signing into Tinder is simple. Users can log in via Facebook and the Tinder algorithm will collect their data from Facebook to create a profile. The extraction of Facebook data creates the profile effortlessly without the time-consuming, form-filling process that other dating apps have.
User profile: After a login via Facebook, Tinder pulls the relevant information from a person's account, like a profile picture, workplace, college, age, interests, etc. to create the Tinder profile. After the basic setup is complete, the user can edit his or her profile picture and information to plug in any missing details.
Geolocation: Vicinity is one of the driving factors in Tinder's functionality. The app algorithm searches for matches within a user's nearby area using geolocation. The app constantly updates based on the current location of the users actively swiping left or right within a certain radius.
Discovery settings: Once a profile is created and active, the user can adjust their settings to reflect their preferences. Profile discovery is contingent upon a pre-set geographic parameter, which can be set up to a 10 mile range in the free version of Tinder.
Swipe: Tinder's swipe function is what sets it apart. Matches are generated based on the geographical location, mutual friends and common interests. When profiles cycle through a user's app, they can "Like" by swiping right on the image, or opt out with a "Nope" by swiping left. The algorithm that makes this action possible is complex to develop, but worth it in terms of satisfaction with the app and its overall ease of use. So, if you're looking to develop an app like Tinder or Bumble, you should strongly consider implementing a swipe system.
Match: After a match is made, the conversation can begin. Matches are formed when users both swipe right on each other. This indicates that both parties are interested in each other and open to pursuing a connection.
Chat: Once a match is made, a private chat option opens up. In the basic chat option, users can send messages and view messages. Tinder also has a feature where users can like a message by tapping the green heart or sending gifs or Emojis using the blue button at the bottom of the chat interface.
Tinder's advance paid feature: it provides premium features. In this advance freemium feature, it enhances the app's performance and also ensures better user retention.
Hide advertisements: Because Tinder Plus or Gold users pay extra, they receive an ad-free experience that is less disruptive than in a free version of the app.
Boost: The boost freemium feature pushes a user's profile to the top of the rotation. Boosts can be purchased for single use or in packs of five or ten. Tinder Plus and Gold users get 1 free boost a month.
Super like feature: If a user "Super Likes" someone by swiping up on their profile, then the person who he/she Super Liked will receive a blue border and star next to their name in the list. This feature lets another user know that the person who Super Liked them is very interested in a potential connection! With Tinder Plus or Gold, users get 5 super likes per day. In the free version, only 1 super like is permitted per day unless you choose to purchase more. A feature that allows users to express a special interest in another person is a feature to include when developing other apps like Tinder or Bumble.
Likes you feature: This feature notifies users if another user liked their profile before having to swipe right or left to find out. The likes that person has received become visible in their custom gallery.
Rewind button: The Rewind button essentially gives users a second chance on a decision. It lets a user undo a right swipe "Like" or left swipe "Nope" in case they swiped one way or another accidentally or changed their mind about a profile they saw. Only the paid Tinder subscribers can access this feature, which is one reason why users will choose to upgrade.
Location change (passport): In Tinder's premium versions, users can set his or her location map to an entirely different city even though he or she is not geographically located within that area. This Passport allows paid subscribers to "travel" and virtually explore matches in other destinations where Tinder users exist.
Unlimited right swipes: When a user reaches the maximum numbers of swipes per day in the free version, they can upgrade to receive unlimited Likes. Having more opportunities to swipe right does not guarantee more matches, but certainly helps improve a user's chances!
High profile dating: Rumor has it there will be a new service called Tinder Select. This invite-only version of Tinder is for qualified elite profiles or celebrity status users only. Tinder has not formally announced Tinder Select just yet, but it certainly has the potential to shake up the online dating atmosphere.
Swipe between groups and people: This feature is unique in a way that it provides the user to switch to the social mode and then revert back to private. This enables the person or the group to swipe on individuals or a group of friends swipe on another bunch of friends or a group. Other variable features of Tinder are:
Helps in inviting a friend or friends
Helps in swiping and matching with the groups around.
Group messaging
Create Better Dating Apps like Tinder
There are countless ways to build a better dating app like Tinder/Bumble. Check out this list below for some thought-starter app features and concept ideas.
Tweak the concept: Though the left and the right swipes are both fun for users and a money maker for Tinder, receiving a high volume of "Likes" cannot solve the problem of online romance loneliness. The app coffee meets bagel introduced a new concept for organizing potential matches by generating a daily card deck of 21 profiles. A user then chooses the profiles they are most interested in from the curated deck. This model is less overwhelming for users who do not want to spend all day swiping or going through Likes they've received.
Enhance the UI design: Tinder's UI displays high quality profile pictures as different user accounts cycle through. One way to augment UI is by adding additional visual elements or clean-cut icons and navigational components.
Personalize UX: Dating apps often face issues related to judging someone purely based on their profile appearance even though it is widely known that looks can be deceiving. This same judgement can also be applied to a person's bio and profile description. AI is a great way when the human can't explain the online romantic chemistry, however, AI comes into play and help the people. Tinder brand new feature called the smart photo feature that enhances a user's chances to get a match according to his or her profile. Tinder works on the likes and dislikes of the individual photos and it may reorder the pictures of the different users on the basis of preferences.
Tweak the algorithms: Research conducted regarding Tinder's ranking algorithm revealed a slight bias favoring women accounts. The algorithm promotes selectivity in a way that women are more likely to receive higher rankings and get more matches compared to men. To avoid this skew, consider adjusting a dating app algorithm to rank profiles according to elements other than gender.
Understand and address your audience: No two people are exactly alike. Taste differs from person to person and it is highly likely that a dating app created to serve niche audiences with distinct tastes and attributes will do very well. An element of exclusivity enhances human emotions, which is why apps like The League can successfully charge a steep membership fee and only admit an "elite" group of users to its community.
Providing safety and security: As Tinder requires only Facebook login to verify an account, creating a false identity is a possibility. Spammers and scammers, fake accounts, catfishers, and uncensored content can ruin the reputation and trustworthiness of your app. Be sure to provide extra security measures to build trust among users and build a safe online dating space.
Online dating apps remain a popular choice for romantic pursuits among the digitally-focused Millennial user base. This is a promising outlook for entrepreneurs looking to create a new and innovative app for the market.
Wondering how to take the next step with your idea? Get an estimate for what your app idea could cost and hire a full-service mobile app development company to bring your vision to life. You'll need a team of UX Designers, Developers, Quality Analyst and more to make the app successfully. This may seem like a big task to take on, but hiring the right team for the job will make all the difference in terms of product quality and ROI for your investment.
Hire the best Mobile App development company for your project! ConsultingWhiz has been developing market-leading custom mobile apps for over 10 years. We have high standards for the quality of apps we produce and a dedication to providing clients with the results they seek. Our team of experts successfully leverages the latest and greatest technology to build apps that are unique, scalable, and built to last.
Along with superb development and maintenance support,our team can provide idea evaluation and consultancy services for clients interested in learning about the app development process, marketing, sales, and more. Just call us at +1 949 656 9676 to find out more!
Or, if you feel like your idea is ready to go, email us your project requirements at contact@consultingwhiz.com We'll connect with you and discuss complete mobile app consulting and technical details surrounding your dating app idea!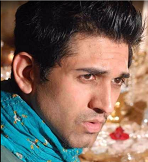 Mike is the founder of ConsultingWhiz LLC, Software development company in the USA, he has 15+ years of experience in agile technologies and  development. I've worked with many satisfied owners of customer servicing businesses. Let's connect today to get started on your path to 100% automation, reduced overhead costs, large ROI, and so much more.