The presence of social media and social networking not only influences modern culture but has also become part of our daily routines. New ways of instant online communication and messaging apps connect societies and make conversations possible anywhere in the world. Among the many apps that have defined new mediums of social interaction, Snapchat has impacted and shaped how we create and share messages with friends, family, and virtual communities.
Snapchat's Unique History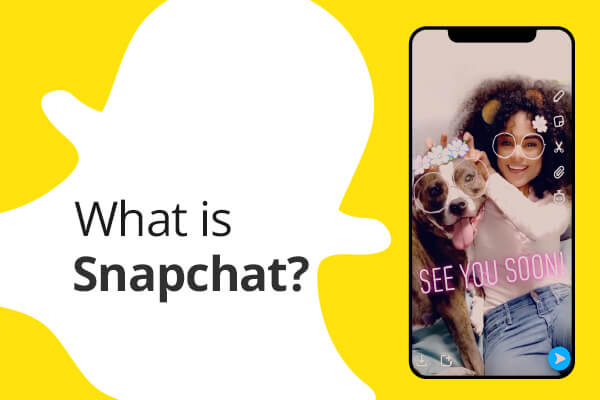 Snapchat founders Bobby Murphy and Evan Spiegel created and launched Snapchat back in 2011 when the social media scene was dominated by Facebook, Instagram, and Twitter. It was a risky decision to enter into this domain and compete against other trending messaging and social networking apps. In order to stand a chance among these top contenders, Snapchat would need to create an entirely new and unique experience for social media users.
So, Snapchat's co-founders ventured outside of the box and introduced the concept of sending and receiving disappearing pictures. This form of instant messaging did indeed create a stir in the online world and helped Snapchat gain popularity. Users gravitated to the app for its fun yet simple take on social sharing, and after a year or so, Mark Zuckerberg, the CEO of Facebook tried to buy Snapchat for about $3 billion. Bobby Murphy and Evan Spiegel turned the offer down, as Snapchat continued to remain one of the hottest and quickly adopted apps online. By the year 2014, Snapchat was worth $10 billion and launched catchy updates such as location Geofilters and the Discover page. These new additions helped attract more users and became part of Snapchat's monetization policy and growth strategy.
Ever since Snapchat's initial release, the app has been through many changes and updates that elevated the app from being a mediocre message platform to the perfect picture sharing space. Snapchat's remarkable evolution has been quite an interesting one, but how does the app actually work?
Snap It & Send It: How Snapchat Works
Snapchat is a mobile app that connects users with one another through multimedia messaging and content sharing. The platform allows its users to send photos, videos, or share story-style recordings privately among friends or to a public server. Users can also form "snap streaks" where they exchange messages every day. Snapchat also lets users get creative with quirky image/video filters, customizable captions, and the option to draw or add stickers to virtual content. The personal multimedia messages will vanish in around 10 seconds and public content will disappear after 24 hours.
All of this content is referred to as "a Snap" and users can even integrate the various stories into an extended version of the pictures and videos. Snapchat also has a feature called "Memories" that collects any saved media and shows a personalized flashback of that point in time for a user to view after one, two, or three years. This non-permanent way of communicating opens up opportunities for users to snap photos/videos and share life's everyday moments to their friends to public feeds.
The app is available on both iOS and Android devices and is particularly successful among teenagers who prefer visual and graphic communication to traditional text-based messaging. The Snapchat user base has stretched boundaries and demographics, and larger companies and brands have chosen to advertise public content to the collective user Discover page. Snapchat users can browse their favorite news sources or view celebrity content from all over the world. With these constantly evolving features and endless possibilities for content sharing, Snapchat is able to entertain its loyal users with each message and remain a top social media application.
App Features That Make Snapchat One of the Top Social Apps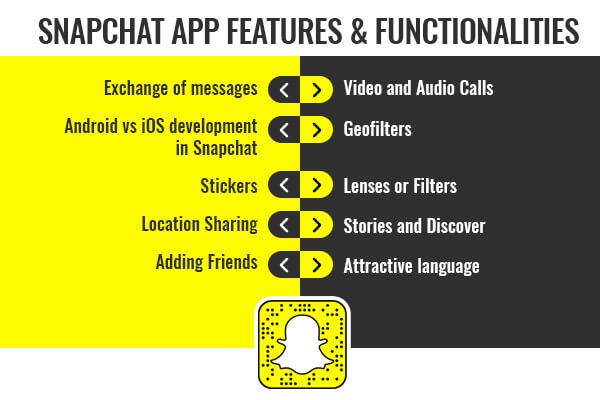 Snapchat regularly introduces new and unique features. This commitment to innovation helps the app earn the loyalty of its users and keeps them curious about what updates will be added next. For example, one recent update included the addition of talking photos and video filters. It also enabled the user to include Emojis or stickers in videos and while chatting as well. So, apps similar to Snapchat should keep in mind that regular updates and new features drive traffic and excite audiences.
However, if a mobile app development company wants to develop an app like Snapchat then it should also understand Snapchat's approach to social media functionality, which includes how the platform features enhance social media sharing and public content creation.
Exchange of Messages– Snapchat has made messaging and texting more glamorous with fun features and twists. The photos and videos can be edited with captions, filters, and different effects. The chat 2.0 update also lets a user send audio notes and make audio and video calls privately or with a group. Additional message privacy features include the option for users to snap videos and photos privately to their selected contacts or in "private" stories made visible to only some members of the user's contact list.
Android and iOS development in Snapchat- Snapchat is compatible with Android and iOS devices. It can be downloaded from the App Store or Google Play Store and users can send snaps to friends regardless of whether their device is an Apple or Android product. The app functions like this:
First, whenever the user sends a text message then the message is right away uploaded to the server of Snapchat.
After the message is uploaded to the server, the user or "Snapchatter" gets a push notification regarding any new text message, snap, videos and calls etc. These new snaps are downloaded for a short time in a temporary location in the Snapchatter's phone.
Once the snap is opened by the user, Snapchat starts deleting those temporary snaps and texts that were being copied from the phone and the app server gets an alert notification.
Lastly, the text is destroyed from the app's server. Snapchat also has a unique setting where if the user does not view the message or text for the next 30 days, then Snapchat starts deleting the messages automatically.
Stickers– The stickers feature is an undeniably playful part of modern online communication. Snapchat has around 200-300 stickers and counting that are built into the app itself. Users can even design and share their own stickers for added creative fun.
Location sharing- Users have the choice to hide or share their location over Snapchat with real-time updates. Once a user shares their location, it automatically gets displayed in the interactive maps screen for friends to see.
Adding friends- Adding new friends to a social media account is the main goal of social networking. Snapchat provides simple and fast ways to add new friends by scanning a "Snapcode", searching a username, or linking up phone contacts. Users can also grant Snapchat access to their current location to search for other nearby Snapchatters who are looking to add new friends.
Video and audio calls– This unique Snapchat feature lets users chat with their friends over video calls and audio calls. This is Snapchat's way of competing against online social media giants like Facebook, WhatsApp, and Instagram in terms of video/audio capabilities.
Geofilters – These are geographic filter overlays that become available based on a user's current location. For example, certain cities, towns, or larger events spaces may have a pre-designed filter that displays the location's name or address.
Lenses or filters- Lenses and filters are a fan-favorite and one of the most creative features offered by Snapchat. Snapchat users can enhance or edit videos and pictures with help of face detecting technology. This feature also assists in the addition of special effects and audio augmentation.
Stories and Discover page- The stories feature allows Snapchatters to display or broadcast their lives using pictures/videos for their friends, family, or other virtual communities. All the stories last for 24 hours and get deleted automatically due to the self-destructive nature of the content. The "Discover" page is a new way of exploring public Snapchat stories from various brands or celebrities.
Attractive language– If you want to develop an app similar to Snapchat, keep in mind that language matters a lot. Snapchat users have an entirely different kind of modern lingo and nicknames for certain things. Including youth-focused language as part of the application will make it more diverse, unique, and attractive.
As you can see, various features make Snapchat one of the most popular messaging apps. Snapchat developers capitalize on new trends and consumer preferences across the evolving and ever-competitive social media landscape.
Various Steps to Make Apps Similar to Snapchat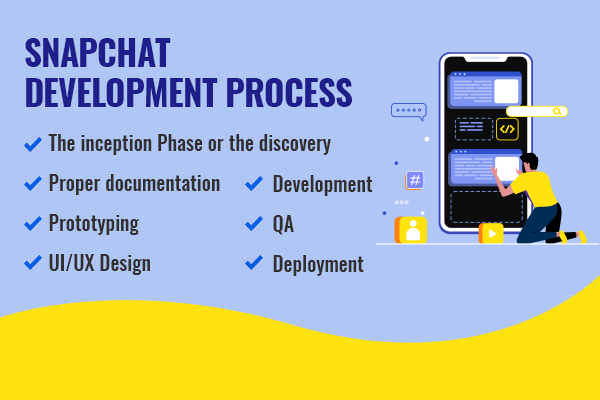 These steps below will help you understand the core steps and processes for developing an app like Snapchat. Once you familiarize yourself with this, you can get an idea of how much does mobile development cost and how to develop apps like Snapchat for Android.
The Inception Phase- To develop apps similar to Snapchat, the main aim of a mobile app development company should be to discover the practical, working prerequisites and non-working prerequisites for future planning. This in turn helps in deciding on a budget for the required mobile app development services and other business requirements.
Proper documentation- Proper documentation helps a mobile app development company to work effectively as per the documentation and avoid any issues that may arise. All the business managers and analysts should prepare the documents and work on the project's base and core features. This documentation will explain exactly how the app will perform and what mobile app development services will be provided to keep the app updated properly. As a result, the mobile app development company can make an app similar to Snapchat without missing essential information.
Prototyping- Prototyping helps the mobile app development company or the team to develop prototypes of the application before it is fully released. This lets developers test the user journey and experience to determine what can be done during the development of apps similar to Snapchat and for further improvement of mobile app development services.
UI/UX Design- The UX/UI is based on the prototype of the mobile app development company. The mobile app design team will create the design for the app and decide how the interface will contribute to the look and feel of the app similar to Snapchat.
Development- Once the mobile app development company's design team finishes the design of the app, the next step is to precisely integrate and combine the required content for development.
QA- The quality assurance team at a mobile app development company makes sure that the app like Snapchat is free from all kinds of hindrances and bugs. Mobile app development QA services help in testing the application to remove any lags or glitches that may disrupt the user.
Deployment- After the app similar to Snapchat is ready to be launched, the team helps to deploy it perfectly into the online market without any issues or problems.
How Snapchat Makes Money!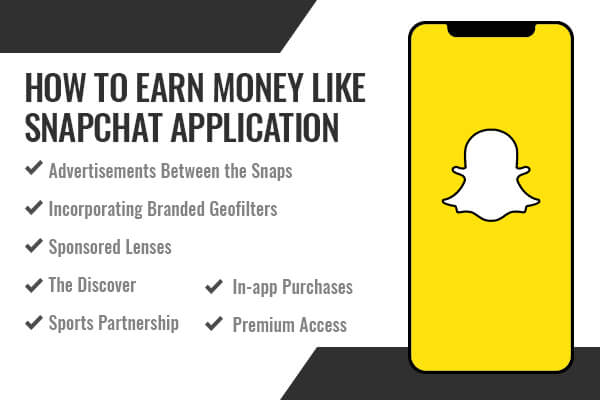 Snapchat is an expanding mobile application company and has numerous revenue-generating sources. Let's take a closer look at how Snapchat makes its money, and how your app can follow this example too.
Advertisements Between the Snaps- Brands can market and advertise their products/services to users in the app by showing 10-second promotion videos. Snapchat charges companies a fee for displaying these ads, and Snapchatters can choose to swipe up on a brand's content to be shown more related information.
Incorporating Branded Geofilters- Similar to the traditional Geolocations feature, a Snapchat user can create a personal Geofilter that will be made available for a certain period of time. This, of course, costs money to do, but users can be creative and have fun with their design.
Sponsored Lenses– Snapchat has the option for brands to pay to display customized lenses. These lenses help for advertising to certain demographic locations in relation to a marketing initiative. This is the most prevalent type of advertising which helps the company to gather a solid amount of traffic and reach a wide audience.
The Discover Page– Snapchat has unique promotion sections on the Discover page where companies can share promotional content. It costs about $0.15 per view on Snapchat Live, which adds up quickly among a large user base.
Sports Partnership– Collaboration with sports organizations like Adidas and Nike is a good way to allow global brands to advertise sports games, goods, and services. There are fixed charges tied to this promotion and big brands are willing to pay it to reach Snapchat sports fans.
In-app Purchases- To make money on your app like Snapchat, consider providing additional features a user can purchase as "add ons." For instance, Snapchat provides extra features such as replay for feeds on a picture or a video that the user has already gone through.
Premium Access– Snapchat offers premium lenses for users to further enhance their messaging experience on the app. Some users will pay extra for the chance to use exclusive and exciting lenses to stand out among their friends.
So, if you want to carve your name in the hall of fame (and make the big bucks) you've got to do things the way Snapchat does. Provide users with the option to pay for certain bonus features and customizable tags. Once your app similar to Snapchat has gained more popularity, big brands like People and CNN will pay to collaborate with you. These techniques will help your app to make a lot of money in the online market.
A mobile app development company should provide all the required mobile app development services so that your app similar to Snapchat will be successful and work efficiently in all aspects. With the help of different monetization processes, a mobile app development company can structure an app to earn profits as Snapchat does.
How Much Does it Cost for Snapchat App Development?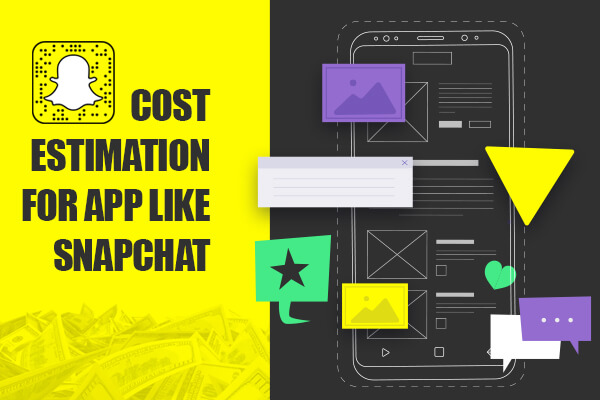 Snapchat is one of the most popular and coveted online applications among youth and adults. This enormous social media platform is constantly providing its users with various updated features and tools for editing their pictures and video snaps. With all of these glamorous features and effects, it becomes quite difficult to get an exact estimation of how much a Snapchat-like app costs to develop.
There are three factors that can help determine how much apps similar to Snapchat may cost to make. These factors have a heavy impact on the duration of the app development project and the total budget that should be allotted. To get an idea of how much does mobile development cost for apps like Snapchat on Android and iOS devices, consider the following:
The Project scope- It entirely depends on the mobile app development company to choose which features to incorporate and which features to discard from the mobile application. After implementing the desirable features, then a mobile app company can keep track and estimate how much the app is going to cost and how much time is going to take to get fully developed.
Timing of the project- The timing of the project or the development of an app like Snapchat totally depends on the number of application developers involved and carrying out the development process.
Budget- Time and material budgeting are important for projects. Dedicated team modeling is very much essential for a company's long term benefits as well as project success.
So, if we look into specific insights:
-The wireframing of an app like Snapchat cost around $700 to $7,000
-The UI/UX design of the app cost approximately $700 to $10,500
-The registration can cost up to $6,250
-Push notifications cost around $2,000
-Video and photo customizing will cost approximately $3,400
-The audio and video calls can cost up to $9,000 to $11,000
If we roughly take the sum of the whole cost to develop an app like Snapchat, it will come around $70,000. However, the cost may vary depending on which features you decide to include in your app.
Since you are spending such a substantial amount of your hard-earned money and dedicating so many hours to the project, you deserve the best app for your investment. Of course, to develop the best app, you need the best mobile app development company.
One of the biggest reasons behind Snapchat's popularity and success was its ability to incorporate innovative ideas into the product. Our team at ConsultingWhiz has 10+ years of experience in the Custom Software development industry with an innovative leadership team ready to provide you with exactly what you need. We always keep in mind the specifications and customizations you require and tailor or process to be most beneficial for you.
We know what attracts an online audience that's why we work with a commitment towards impeccable app design and seamless development that is affordable and high-quality. If you want to excel among the tough competition in the social media app space, you need an expert team to support you. ConsultingWhiz is the one-stop solution for mobile app development and the ideal partner for making your app idea a reality.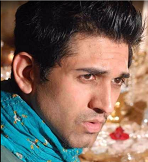 Mike is the founder of ConsultingWhiz LLC, Software development company in the USA, he has 15+ years of experience in agile technologies and  development. I've worked with many satisfied owners of customer servicing businesses. Let's connect today to get started on your path to 100% automation, reduced overhead costs, large ROI, and so much more.