You know Uber, right? Chances are you've used an app like Uber at least once in your life.
Uber is among the most popular rideshare companies making the lives of people easier. They are currently the market leader in the transportation niche, but their success was certainly not achieved overnight.
The Initial Days of Uber–
Uber was among those startups that struggled to establish its brand presence in the taxi services industry. Uber's company mission to make transportation easier and more convenient for riders also created employment opportunities for millions of drivers. The company soon earned recognition for its premium services at affordable prices has become the talk of the town in its market sector.
Today, Uber is the market leader in the transportation sector. The company's growth is widely attributed to its reasonable prices. The crucial reason behind the success of apps like Uber is the lag-free services that Uber offered. The demand is rising every other day and people expect convenient services at an affordable cost.
In most metropolitan cities that face traffic problems, an increasing amount of people are opting for public transportation over driving. Due to this shift, the demand for safe, secure, and reasonable transportation services has risen. Here is where Uber's services come into action.
After meeting with several Mobile apps consulting agencies to fulfill their need for a Mobile app development service, Uber decided to begin with an iOS app. Uber provided regular taxi services that were pocket-friendly and inexpensive for riders. After the success of the basic model for apps like Uber, they introduced a luxury cab service at an affordable price.
Uber's luxury cab service was originally named "Uber Black." Uber Black was focused specifically on providing next-level customer service with a diversified range of premium features and elements like professional drivers and newer car models. However, Uber's Uber Black services only attracted the upper-class riders who could afford it.
So, Uber came up with a plan to appeal to the majority of consumers rather than a select segment of society. Uber launched a service called "UberX" that soon became the default cab service people selected over others since it charged what was reasonable and is less expensive than Uber Black. Following the successful introduction of UberX, Uber added Uber Pool services to enrich the user's experience with a low-cost group ride option.
After exploring every aspect and new ways to exceed the expectations of its customers, Uber is now all set to fly high with the Uber Copter service.
Today, making an app similar to Uber-like businesses is not as difficult as it was back when Uber first launched. The process of building an Uber-like app has its complexities but will pay off once it hits the market. There are different ways to develop an app like Uber/Uber clone app and many Mobile app development companies offer app development services that have mastered this strategy and helped businesses prosper. But what are the core aspects that make Uber an outstanding rideshare service app?
The Important Features of an Uber like app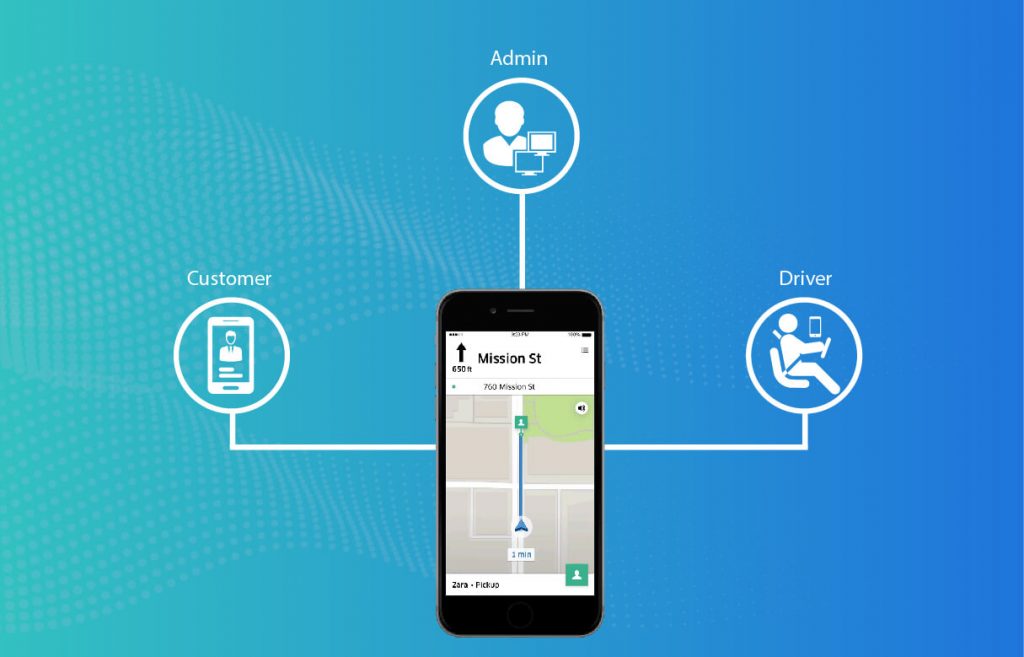 Before planning to create an Uber-like app, you should know what core components make up Uber's business. Apps for Uber consist of 3 applications:
• The admin app
• The driver app for Uber
• The customer app
There are different features for each of the apps mentioned above, and there are 2 feature categories they likely belong to, such as:
● Most viable features
● Advanced features
Features of the Driver App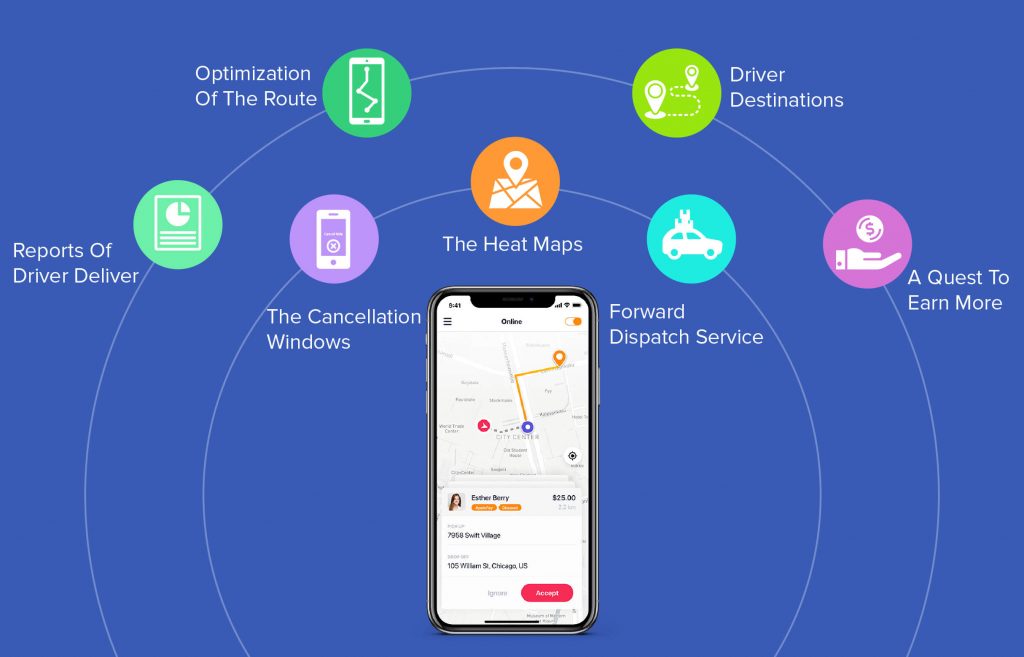 1) Reports of driver delivery: Uber has planned everything systematically. Before entering the taxi services business, you should ensure the safety of the passenger riding in the vehicle and the safety of the vehicle's driver. The driver app reports the safety of the passenger along with that of the driver. It also provides weekly and monthly reports about the way a driver operates the vehicle, such as if he/she drives too fast or recklessly. Uber can take harsh steps to remove the driver if their driving is unsafe for the passenger and others on the road. Conversely, if a driver has a perfect record and drives safely, then he/she could be promoted and become a trainer for others who are learning the rules and regulations of Uber.
2) Optimization of the Route: This helps a driver to plan out a trip using the fastest and most efficient route to reach the customer's destination at the scheduled time of arrival. With the help of the Uber app, the driver can re-route the trip and follow easy navigation instructions using the route optimization feature in Uber's driver app.
3) Driver Destinations: With the help of the driver app, the driver can choose which ride requests to accept depending on what request pairs with where the driver is headed to next. This convenient feature enables the driver to earn money without going out of their way and helps riders reach their desired destination via the Uber App.
4) A Quest to Earn More: When the driver reaches the pickup location on time and the rider is running late, they will wait for the first few minutes and the rider won't be charged. However, if the rider takes more than a few minutes, they'll be charged an added fee for keeping the driver waiting. This fee will be added to the total ride cost and the amount paid to the driver.
5) The Cancellation Windows: – When the driver reaches the targeted location on time and the customer gets late, so the first few minutes the customers are not charged. But after a while, if the customer takes a lot of time to reach the driver then he/she has to pay extra for the time being late along with the fare of the entire ride.
6) The Heat Maps: This is an advanced feature of the Uber app. It's essentially a cheat sheet for Uber drivers. The map shows the driver areas for which the demand for Uber services is the highest. This helps the driver to find out where to go to pick up make more money.
7) Forward Dispatch Service: This high-tech feature provided by the Uber App enables the driver to confirm the rides even before completing the previous ride. This helps drivers to earn faster and get the most out of their time spent on the road.
If your business serves these industries, you could create an app like Uber to expand your operations:
● Healthcare facilities transportation
● All kinds of beauty services and on-demand salons
● Various beauty services and on-demand salons
● On-demand gas delivery services on time
● On-demand transportation
● On-demand food delivery services
Features for riders and users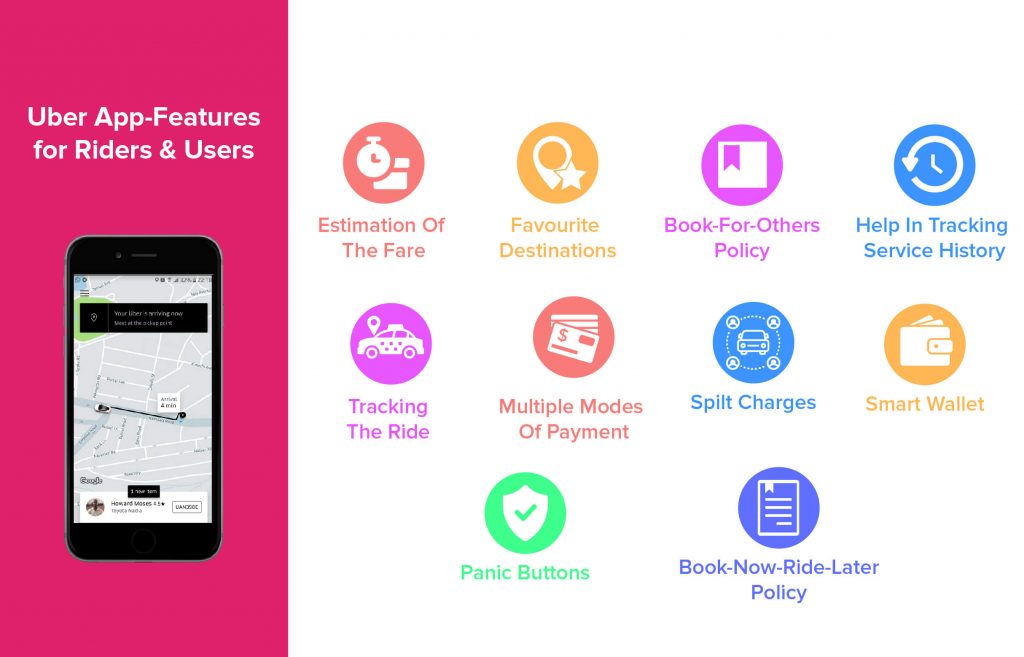 1) Tracking the Ride: Uber provides features for the rider that allow them to track their ride immediately after they booked it. As the rider heads to the pickup location, the driver will accept the ride request and begin to head towards the rider. With the help of this tracking feature, the rider can check on the driver's progress using the interactive map tracker and can see when the driver will arrive at the pickup location. The rider can also follow along as the driver takes them to the dropoff location. Apps like Uber are valued not only for being profitable but also for safely monitoring trips in real-time.
2) Estimation of the Fare: Riders can view an estimated rate for how much the ride will cost after entering the pickup and the dropoff location in the Uber app. Certain factors affect price estimates, for example, there can be a price surge due to a high volume of ride requests in an area. Determining a price algorithm is an important component that Uber-like app developers must keep in mind.
3) Multiple Modes of Payment: To succeed in the taxi services industry, Uber provides riders with the option to choose from various payment methods based on what is most convenient for them. Because riders have different payment preferences, Uber lets riders link online banking, UPI, credit, or debit card information to their payment profile.
4) Help in Tracking Ride History: Uber has a feature specifically for riders who book rides regularly which allows them to fetch or track their past ride history. Details of the ride history are available in the form of a viable report.
5) Book-Now-Ride-Later Policy: This is similar to an advance booking feature Uber has where the rider can schedule his/her rides ahead of time. The rider will receive the driver's details 1-2 hours before the scheduled ride and can easily track the driver throughout the entire trip.
6) Book-for-Others Policy: With the help of this service, the customer can book or pre-book a ride for someone else (whether its a friend, family member or colleague) using their own Uber account. The rider who books this ride on behalf of someone else can also track it using the app.
7) Smart Wallet: Uber designed a smart wallet for its riders so that they can easily pay their ride fare with no delay. The wallet has a feature that allows riders to link their bank accounts with the Uber smart wallet and make payments easily.
8) Panic Buttons: Uber introduced the emergency button feature to increase care for the safety of its riders. When the rider gets into a driver's vehicle, they can contact emergency responders directly through the app if they feel unsafe for any reason.
9) Favorite Destinations: This feature lets a rider travel to a destination he/she has been to more than once. By pre-saving a frequent or favorite destination, a rider can easily book the next ride without having to re-enter the address each time. This saves the rider time and provides additional convenience.
10) Split Charges: When a rider is traveling with his/her friends, they can choose to split the ride fare among each other for a small fee. This makes sharing the cost of a ride easier since the price division and payment processing are both handled within the app itself.
How to Build an App like Uber?
After witnessing the incredible success of Uber, many companies are coming up with similar ideas for their business. Thus, the market demand for creating an app like Uber or Uber clone app is increasing significantly. Making apps for businesses choosing to be more Uber-like creates an opportunity for Mobile App development companies to supply their development services to match the high demand for this business model.
There are several things you need to keep in mind before choosing to create an app like Uber:
1) Get into the business arena with a mundane as well as a fundamental approach towards what you are trying to formulate. Be clear that you want to build an app similar to Uber.
2) To create an app like Uber, you have to first study how to make an app like Uber and learn how to develop a sustainable model and gather market demand to provide the services that customers desire.
3) Supply chain management is necessary to meet the demand of the customers via distributive supply chain management format.
4) A business should know how to retain and delight its customers. Uber stands out because its services are different from other traditional taxi or cab services and provide unique benefits for the customers.
But how is an app like Uber or Uber clone app actually developed? Before jumping directly into the process, take a look at some of the main features of the Uber app that are important to understand.
Development Phase to Create an App like Uber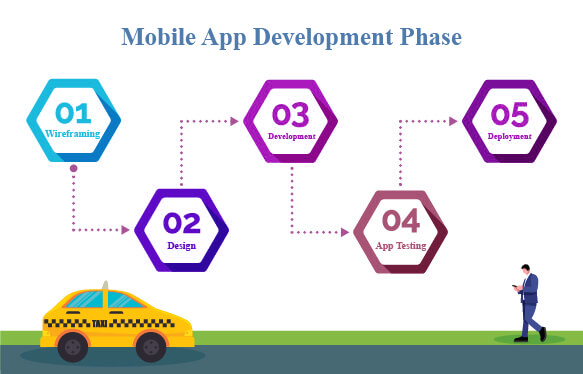 The decision to develop an Uber-like app will require a high level of commitment and dedication to work. You have to remain adaptable and alert from the very time you conceptualize the idea until the release of the beta version. The fastest and most efficient way to build an Uber-like app is to carefully plan things out before getting started with the work. Apps similar to Uber must include a comprehensive variety of features ranging from basic features to more advanced ones. A mix of features differentiates your app from competitors but can affect the app's speed and responsiveness. Understanding this challenge and workload that comes with app development is an essential part of feature planning.
The planning that was required to build Uber's features is highly similar to the planning needed in developing features for other Uber-like apps. Since many of the features resemble one another, the planning of these features is very much the same as well.
There are typically three classifications to develop an app like Uber. The initial version of an Uber app consists of the most achievable features for all three stakeholders, such as the admin, the driver, and the rider. The developers who want to build your Uber-like app must take these features into account.
However, the advanced version of the Uber app has the most robust technology and features for all the three stakeholders. This advanced version of the app will be launched very soon. The third version of the app contains all kinds of basic features and classifications like "Uber for all stakeholders" and many such advanced features.
Things to Keep in Mind to Create an App like Uber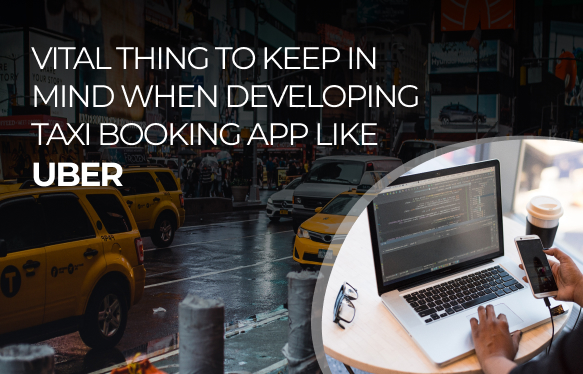 If you want to develop an app like Uber, then you must research basic development for a simple Uber app, the market, and its tactics. Educate yourself about how to create an app like Uber or Uber clone app and discover what innovative ideas could be included in your version of this model. Once you do this, you are ready to move on to focusing on the advanced set of features to build an app similar to Uber.
For an app similar to Uber, one has to work on the functions and features of the app. You also need to conduct research about important elements before beginning to develop an app like Uber.
The important elements that are required to build app similar to Uber are:
● User friendly-navigation
● Proper and smooth UI/UX design
● Appropriate visuals and precise graphics
● Real-time functionality of the app
The Best Way to Plan to Develop an App like Uber.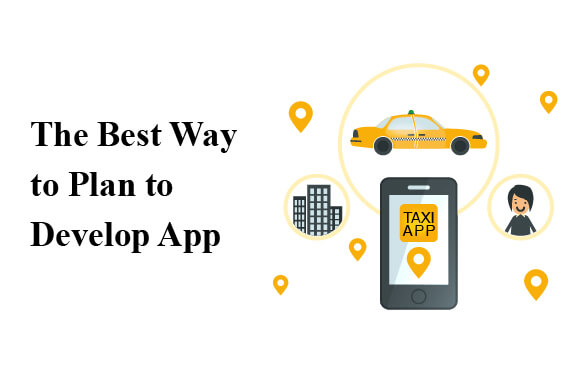 1) The first concern for building an app similar to Uber should be the USP (unique selling proposition) that will help your app stand out from others. It's better to ask yourselves, why do you want to create app like uber? Analyze the answer and then proceed. Even ask yourself what sort of difference you're going to make with the help of your work, and then proceed with the development.
2) The app is going to resonate better with end-users. Also, the app developers should make sure the app is user-friendly and the user should not find any sort of glitches while using it. It is helpful to outline and release the most viable features of the app before launching your business across other platforms.
3) During the launch of the business, demographics are a very important factor to take into account. Be aware of what demographic area you are targeting, promote the app accordingly, and ask for feedback from users every now and then. Then, work on the improvement based on feedback and implement changes and innovations accordingly.
Your Revenue Model to Build Uber-like App
While Uber does not have its own line of cars, it does have drivers working for Uber and customers who make up the company's revenue.
Revenue streams for the Uber like app can be:
● Getting commission from the drivers.
● Getting the ride fare from the passengers.
● Compensating cancellation charges from the passengers.
Cost Estimation to Develop an App like Uber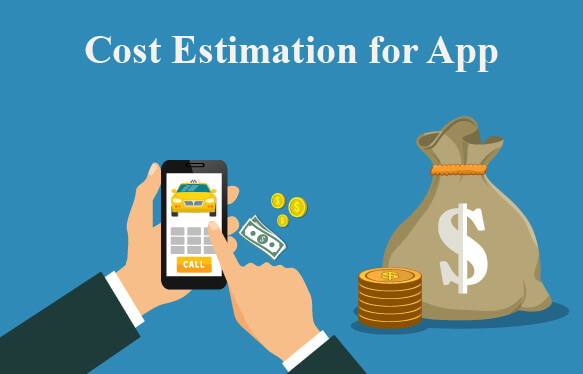 ● Influence of features: There are three main possibilities that can help to develop an app like Uber. Either we can include the most viable features, more advanced features, or an impeccable composition of the moderate and advanced features.
● Influence of operating system: Selecting an operating system depends on your audience and their tendencies. Having an Android version or an iOS version of your app is based on your customer's preferences.
● Influence of technology: The app developer is responsible for identifying the app development needs. Whether to choose native or hybrid app development is a careful decision you have to make. If there are any issues and technicalities you're facing, then you can seek help or assistance from the developers.
● Influence of sources: Without a skilled team of developers in-house, the best option is to outsource development to a Mobile app development company. It is important to be precise with the selection process and research Mobile app development services that best suit your needs. When researching companies, take a look at their past projects and level of experience. Then, finalize and compare the budget for app development and make your decision.
Many of the Mobile App Development companies have their own variable cost to develop apps like Uber.
The original Uber app was estimated to cost over $500,000 to develop. However, the price has dropped significantly in recent years due to a few agencies that now have subject matter expertise to develop this under $150,000 or less based on the exact features. There are additional ways to get that price lowered, take a look at the numbers provided below:
● If there is an app with a UI/UX design prototype, the estimated price can be up to $7,500
● If there's a mixture of basic and moderate features, then the cost may go up to $50,000 – $75,000.
● If the app is well developed with all the advanced features, then the cost can increase from $50,000 to $150,0000.

The easiest and smartest way to build an Uber-like app is to work with a Mobile app development company that has the subject matter expertise such as ConsultingWhiz.
Many of the app models are dependent upon the demands of the client, while other models are determined by the Mobile app development company.
Hiring Dedicated Resources: Know the scope of work and be conscious of what you are paying for. You should understand each of the extra resources before choosing dedicated resource-based hiring.
The set of resources required to develop an Uber-like app:
● UI/UX designer
● 2-4 developers
● Assured quality engineer
● A backend developer
● Project Manager
Resources required in developing the advanced version of Uber:
● Project or the team manager
● UI/UX designer
● 3-4 developers
● Proper quality assurance engineer
● 2-3 back-end developers
Any Mobile app development company claiming that they create an app like Uber/Uber is not always genuine. If you are looking to build an app like Uber for your business, then you can't take risks. You need someone experienced enough to make this difficult task easier for you.
Your app is your business and your business is just like our business. ConsultingWhiz is not only the best Mobile app development company in USA but we also provide Mobile app development services along with Mobile apps consulting. We create a customized app through our proven process that produces results every time.
So, if you are looking to build an Uber-like app, then you're in the right place. We have an expert team with 15+ years of experience in providing Mobile app development services. Our team's expertise in Mobile apps consulting is our backbone and a driving force behind our continued success. The confidence of our clients in us and the top-notch expertise of our expert team has enabled us to become a market leader in this domain.
If you want to learn how we can help your business, give us a call at +1-949-656-9676 or email at contact@consultingwhiz.com and we can discuss your needs and app expectations. Feel free to ask for a demo too! Hire ConsultingWhiz for your mobile app development and together we can work to create the next successful Uber-like app for your business.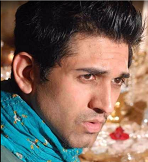 Mike is the founder of ConsultingWhiz LLC, Software development company in the USA, he has 15+ years of experience in agile technologies and  development. I've worked with many satisfied owners of customer servicing businesses. Let's connect today to get started on your path to 100% automation, reduced overhead costs, large ROI, and so much more.