Artificial Intelligence has become prominent in the technological world and is trending all across social media. Everybody wants to know about it and how to leverage its power for their businesses. As recent statistics indicate, 80% of the businesses and tech leaders accept that artificial intelligence is among the best technologies to boost productivity and create faster operations that yield meaningful results. About 40% of eCommerce businesses have integrated AI into business so that they can manage their business with the most innovative tech available.
AI has existed for more than a decade now, and today, business owners recognize how essential it will be in boosting business productivity and getting accurate results with machine-based intelligence. This not only saves time and manual labor but ensures better customer service management and automation. With numerous software and techniques available, Artificial Intelligence in business can keep up with the industry-specific tasks and help the companies develop faster.
If you are a business owner looking for AI integration ideas for your business, you first need to understand the benefits of adopting artificial intelligence in your business and find a skilled AI development team to provide efficient solutions that drive growth.
Why is Artificial Intelligence Important for your Business?
Artificial Intelligence has seamlessly inserted itself into enterprise processes. Not only does it streamline business management, but it also helps managers make data-informed decisions. Although there are hundreds of ways it benefits business, here are the major reasons why adopting AI into businesses is an excellent idea.
* Useful Insights
AI in the enterprise provides massive amounts of data on leads though system metrics, pattern recognition, social media, and chatbots, etc. This way, companies can collect and study these data to make profitable marketing decisions about the product and services.
* Virtual Assistance
AI tools provide virtual assistance at any time and anywhere without the need for human involvement. Most customers only require support for frequently asked questions that have general answers. If they can receive the auto-reply answers instantly, the chances of them coming back to your app or website increase, and your business will start to build a trustworthy reputation online.
* Reduced Time & Expense
There is no denying that machines make fewer errors than humans and operate 24/7 without getting tired. They can generate accurate results and handle significant tasks without a human overseeing it. With a one-time investment in AI integration, businesses can save time and money in the long-term and boost business functionality while minimizing human errors.
* Better Customer Experience
There is nothing more important for a business than loyal customers and positive feedback. To achieve customer satisfaction, you need to fulfill their demands and serve them better than the rest. AI analyzes customer behavior through different tools and applies actionable insights to help you design exactly what customers want.
How to Adopt Artificial Intelligence in Your Business
AI integration in business, if done correctly, can increase efficiency in the most advanced manner. Here are a few ways to begin integrating AI into your business.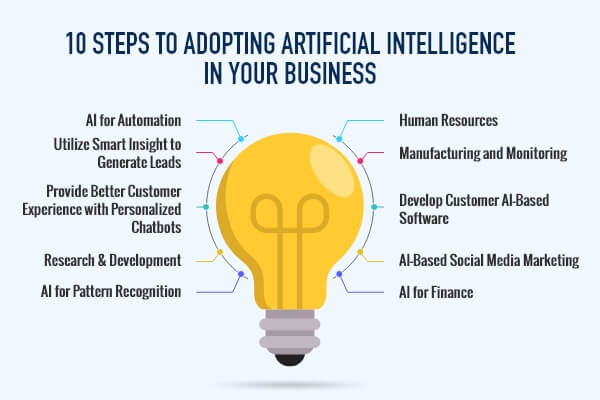 1. AI for Automation
Automating routine business processes is one of the most crucial requirements for business owners these days. It helps the business in various ways by reducing labor time spent on administrative tasks by completing them faster and more accurately to maximize results. You can use AI to drive automation by integrating a CRM (Customer Relationship Management) System. With several functions like data distribution, communication across multiple channels, and useful insights, you can optimize business processes and automate operations tasks for better business growth.
2. Utilize Smart Insight to Generate Leads
When you are able to target the right audience with relevant content, your ability to generate leads improves. You can then develop specific marketing strategies to convert more leads. Whether it is via social media channels, email marketing, PPC, or others, Artificial Intelligence helps your business by using smart algorithms to showcase your ads to potential customers with instant profiling.
For example, Facebook advertising has Lookalike guidelines based on AI that helps businesses to target potential customers that have similar interests to your existing customers. This way, you can deliver the exact information they are looking for and attract quality leads better than you would get with traditional sales methods.
3. Provide Better Customer Experience with Personalized Chatbots
It is estimated that the chatbot market will reach up to $1.35 billion by the year 2025, which is around 25% greater than today. The reason why has become increasingly clear: chatbots help your customs get fast, correct solutions to their immediate questions. The interactive AI-based tools utilize natural communication and understand human input via speech or writing. Whether you are a small business or an established company, having a chatbot can engage your customer in a meaningful exchange of information 24/7 with excellent data collection to improve your services and products. Based on the queries, you can create strategies to attract more customers and improve profits and leads altogether.
4. Research & Development
With AI in organizations, companies can detect problems that they could never anticipate before. AI tools provide enhanced research and development capabilities for almost every industry. For instance, healthcare, financial services, and automotive industries can collect market insights and utilize Machine Learning to research existing problems and their possible solutions. Artificial Intelligence assists in R&D tasks by elevating its precision to achieve industry-specific results.
5. AI for Pattern Recognition
When it comes to smarter marketing and sales, pattern recognition through AI and business intelligence go hand in hand. Companies are opting for AI-based software to understand customer behaviors and identify trends or patterns that will be useful in creating results-driven plans. The best example of pattern recognition would be Pinterest and Google search in which the system understands the user and showcases similar results every time they log in.
In addition to this, AI has taken pattern recognition a step further with facial recognition. Facial recognition is utilized for security reasons and the recruitment process. The technology also uses people's images like cooking and targeting with specific recommendations. Hence, businesses can integrate AI enterprise software to understand patterns and reach conclusions accordingly.
6. Human Resources
Artificial Intelligence has transformed the term "human resource" with the intelligence recruitment process and talent management. AI improves efficiency with automated tasks and personalized recruitment processes. For any business, talent management, payroll management, and finding the best human resource talent takes a lot of time and effort, and these cannot be neglected to achieve success. This is where AI steps in and provides precision with better information, automated payroll management, and supervision procedures.
By streamlining the hiring process with the incorporation of analytics based on the skills and qualifications of the candidates, AI can make the human resource job less tedious and more accurate.
7. Manufacturing and Monitoring
If you are in manufacturing and eCommerce, AI development services can assist with quality monitoring, predictive maintenance, 3D operations, and energy management. Manufacturing companies are utilizing AI technology in their environment to enhance the performance of their equipment and the quality of their goods. AI helps mark areas of concern in the production process before expensive issues occur. It can also support quality control issues in manufacturing departments.
8. Develop Customer AI-Based Software
For an established business, it is important to stay a step ahead by integrating the latest technology into business operations. There are many custom software available for purchase. You could also receive a specially developed and customizable AI-based software for business management and automation. Finding a standard AI software developer is the right investment to manage your modern business without inefficiencies or security issues.
9. AI-Based Social Media Marketing
Marketing experts have observed enhanced results with personalization in the past few years due to artificial intelligence and its impactful insights. With AI-based website development and social media integration, marketers understand behavioral targeting and utilize the process of sales-boosting and lead generation via popular social media channels.
10) AI for Finance
The automotive and banking sector need efficient operations management when it comes to accounting and finance. By integrating AI in accounting, you can reduce errors and get real-time access to invoices and transactional history. AI can also process and monitor financial processes with a higher level of security.
Recommended Reading
Apart from these areas discussed above, there are multiple process automation techniques that you can utilize to make your business as fast as possible with the advent of Artificial Intelligence in Business.
Find the Right AI Development Services for Your Business
As the most effective process-augmenting technology, Artificial Intelligence is an exceptional way to enhance everyday business tasks and help your employees work smarter, not harder. However, AI implementation and automation take a lot of knowledge and technical experience to create. This is the reason why you need to hire AI developers who are aware of the changing trends and industry-specific requirements to make the most out of machine learning and artificial intelligence for your business.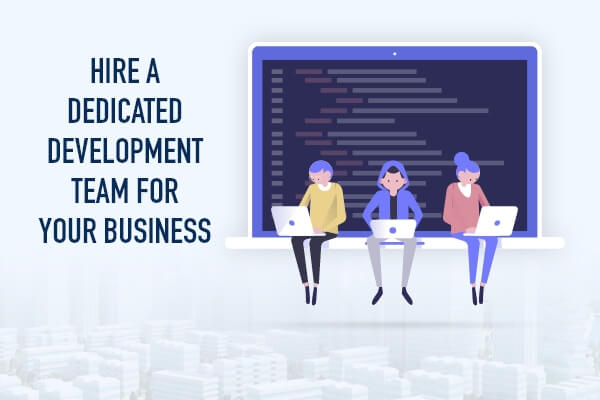 In terms of expertise and experience, Consulting Whiz is the company you can rely on. We have been offering cutting-edge AI development services as a custom software development company in the USA to businesses across the world. We have hired the most talented professionals who are experts in accelerating organizational growth and simplify multi-step procedures within the business. Whether you need AI software or integrated chatbots, we can do it all at the most affordable cost.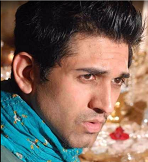 Mike is the founder of ConsultingWhiz LLC, Software development company in the USA, he has 15+ years of experience in agile technologies and  development. I've worked with many satisfied owners of customer servicing businesses. Let's connect today to get started on your path to 100% automation, reduced overhead costs, large ROI, and so much more.