In an era of online dating and gossiping, dating apps are mushrooming all around. People are more open to meet other people online first thereafter if they like them, they'll meet otherwise things will end then and there over social media. Alike, Tinder is one of the world-wide well-known dating apps which has established itself firmly and people are all head over heels for this app because it is helping many men and women to meet new people as well as to know them simultaneously. Tinder is used by a billion all around the globe. Tinder's success is not only people who meet and greet each other but the way it has been designed and the way it works and performs its functions.
The developer's predicament about Tinder
Every other person is now using dating apps so as to find their match without any kind of hassle and tassel between people. Yet many confront when are asked how they feel regarding the dating apps, many say it sucks and is good for nothing. However many use it and contradict themselves by speaking against it. As they find is expensive, addictive, unsafe, boring, limited and inadequate and what not. Many of the dating app like tinder have gone down over the span of the past 10 years and many moneybags or the tycoons refuse to give away the funds for the creation of the dating apps.
Tinder's Success story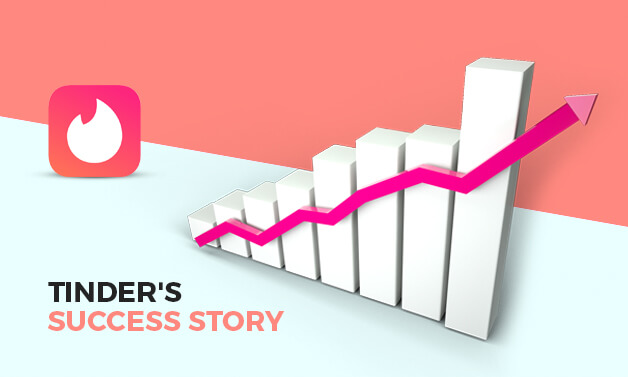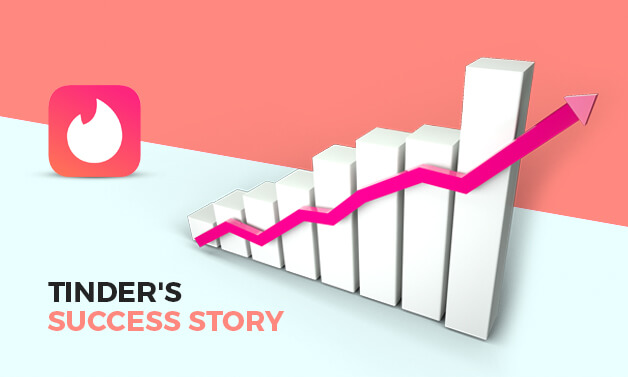 Online dating has become so main stream for the past 10 years. As people are finding people and get hitched to each other, it's a thing for ages now. It is also said that people who are desperate for love, they go for online dating and stuff.
However, a major population have spoken up that, online dating is a very good means to meet-up new people in the befitting manner possible.
As mobile phones grew universal, then Tinder made a stellar move by immersing people those who were once dubious about dating people online. Tinder gained a huge fan-following, now 70% of the people have become online daters and tinder is succeeding every other say with it's growing tinder users.
Tinder's a Name not so unknown
This app was launched in 2012. And within a shorter period of time, Tinder grew from a teenage play work to national-multinational sensation. The app is more or less an innovation, which have a swipe technique which gained popularity among people along with an amazing app design. Tinder has 50 million users all around the world and 1.4 billion of swipes per day. This is more like an achievement for Tinder.
How to develop a successful dating app like Tinder, Tinder's secret to be coveted.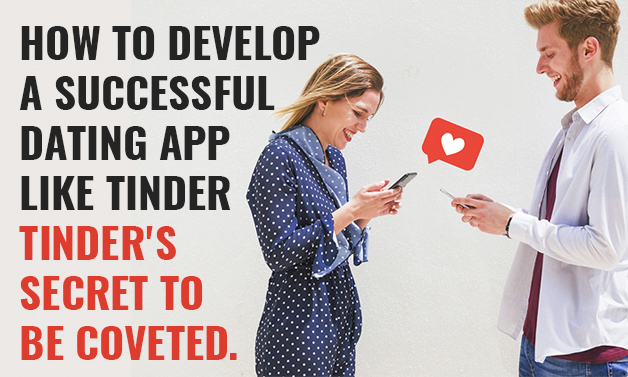 There are many other apps like Tinder who are the rivals of tinder and are trying to figure it out to beat it in spreading online romance, but tinder has already won the love war as it secrets are prudent. Yet let's reveal the secret formulas in the making of Tinder that upheld the app's accomplishment.
Simplicity and familiarity with the application: The app is a familiar admixture of the dating and the hookup apps, which makes tinder an elegant hybrid of those. It has a swipe left or right of the profit and rating it as well, which in turn is catchy, the hot or not game. Also include the excitement of the Grindr app, it helps people search for pictures of the people who are nearby and those who are eager to meet each other. This makes Tinder out of the box yet familiar.
The ingenuous UX formula: The main formula of Tinder is, Swipe, then get matched to your type, flirt and then date. Swiping left or right is very fascinating and people tend to swipe left or right as if it's a playing machine. As watching and swiping through many beautiful and attractive faces becomes a soothing activity. The advantage of this app is that it recognizes the anxiety, fear of rejection of the present world humans and even eliminates the scary spammers with the help of the Double-opt-in feature.
Proximity feature: it is basically a feature for the spontaneous meetups. It helps to make connections with the person who's around your proximity so that while dating or knowing each other so distance won't be a hindrance for the two
The killer customer development strategy: there are certain factors that helped in the upliftment of the app's popularity among the people are:-
• Ease the acquisition of customers.
• Due to the effective and efficient promotion and campaigning.
• Creating a trend
• More socially acceptable than any other sorts of hookup and dating apps.
• Smart and Timely product extensions, also many such monetization technique
5. The algorithms the fuel the stickiness: Tinder said that, it took near about 2-3 months to get done with their algorithms. The app may appear to be sweet and simple but there's a lot of complexities groping in. When you try to figure out you will get to know that there is some sort of algorithm that the users don't fill out any questionnaire just provide your FB profile access and the rest is under the care of Tinder.
Tinder rates the user on various metrics, and the ranking basically rest on 3 major factors:
1) The desirability- the Many numbers of right swipes you get.
2) Involvement – How active are you on the app and how you're using it.
3) Choosiness- How do you pick your match? These shows how picky are you while swiping left or right.
Tinder's secret weapon: the Hook model.
As due to tinder's play-thing format or the gamified layout the app is mostly considered as a gaming app rather than a dating app. It's an animated design and the algorithms of the app is no less than anything more like a gaming app. Tinder, in turn, rewards the people with the addictiveness which is often compared to the niche of a machine. The main aim is to create addictive habits by helping the users by gaining rewards
The user interaction with the product takes 4 steps all along:
• Trigger
• Action
• Variable Rewards
• Investments.
And precisely this is what we call a hook model.
4 major reasons to create a dating app like Tinder.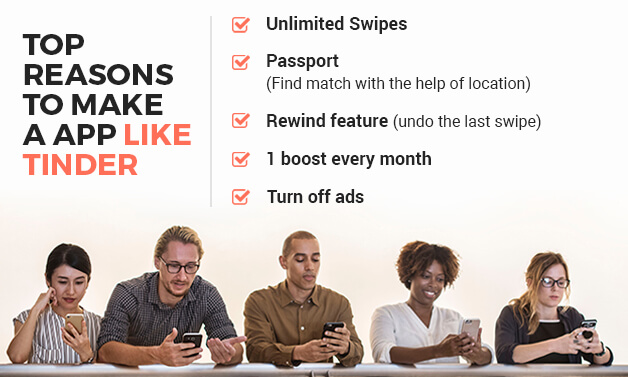 As in the modern times people prefer social media over spending quality time. So tinder is a great space to find people online and make connections and dating them.
Other app like tinder can be of great worth as long as it is succeeding in the work they do, just as Tinder worth billion these days.
The ingredients of Tinder's success is known to us yet many other apps or a dating app like tinder are yet to figure out the hows and whats of tinder's success.
And the cost of mobile app development consulting services is now all affordable and inexpensive than before.
Tinder's Monetization Strategy.
Before carving out an app like tinder, one has to make a choice first whether to make the dating app free or paid. Tinder hit the spot all free without any paid services. There is a bagful of ways with the help of which the mobile app development company can monetize a free app appropriately. So the tinder's monetization is
The strategy goes like:
• Ads
• Subscription
• Paid Standalone features
• Sponsored Profiles.
Advertisements: In the year 2012, tinder was launched as the free app and it was monetized through many other free ads and campaigns for it's publicity. As it is known that the free apps are more like an irritant that bothers the people while surfing online with all kinds of advertisements and incentives and etc. With Tinder's subscription, it helped in granting the paid users of Tinder to switch off all the ads and incentives that bothered and disturbed their ease, but except those ads that appear in the format of the users profiles.
Subscription: in 2015 Tinder introduced the freemium model, Tinder Plus and after that tinder plus got an extension called Tinder Gold. And subscription to this freemium model gives the plus users access to the coveted features of the apps.
Tinder plus's subscription allowances to the users:
Unlimited swipes
Passport(find match with the help of location)
Rewind feature (undo the last swipe)
1 boost every month
Turn off ads.
Tinder plus is a paid benefit. To subscribe the benefits of Tinder plus, the subscriber has to pay $9.99 to $19.99 in the US and the cost depends upon the age of the User.
And in Tinder Gold, it is basically an extended version of Tinder plus. It adds on a feature of new likes. This feature helps to know how many people liked you. And these helps you to either like them back or discard or even help to check their profiles without swiping right or left.
Paid standalone feature: This feature enables the users to handpick certain likeable features and pay for those features only. And this feature is called Boost. Apart from being included in the Freemium feature, it can be bought for $1.99 to $3.99 as a standalone feature per boost. It helps in sending the Tinder user's profile picture to the top in for the next 30mins. And in turn, this top in help to increase the chances for any match 10 times more profile views and 3 times more matches while the boost.
There are many such standalone features provided by Tinder app such as "limit number of searches per day" " pay for a private chat", "Pay for profile highlighter", " pay for a direct message without a match" etc. So one can use this app and can even suggest the app like Tinder for friends even.
Sponsored Profiles: There many such programs that look for partnership and collaborations which allow the corporate bodies to get their products or content advertised using tinder's familial format as it does not appear so interrupting.
Tinder's basic feature set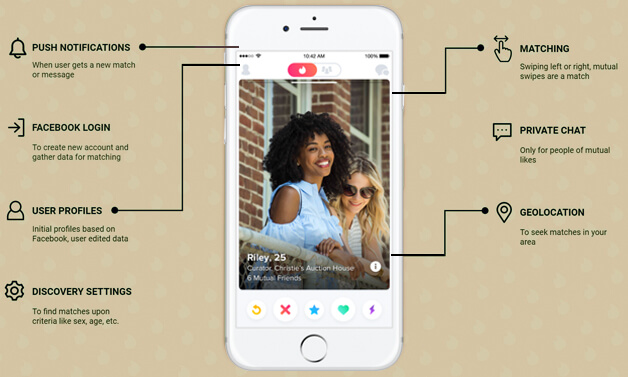 Facebook login: Signing in to tinder is pretty simple, just log in via Facebook and thereafter the Tinder algorithm then curate the data from Facebook just so to create a profile for the user. Extraction of Facebook data helps to create the profile effortlessly without any tiresome process of form filling process just like other dating apps have.
• Proper login
• Curation of Facebook data.
• Creation of the profile for the user.
User profile: As we login via Facebook, Tinder extracts all the detailed information from Facebook like a profile picture, working, college, age, mutual friends, distance, interests and etc and etc to create the tinder profile. And after the basic work is done. The user himself/herself can thereafter change his profile picture and information according to himself
Geolocation: vicinity is the main criteria of the tinder model. As it helps to find people near your vicinity. Geolocation is one of the major features of Tinder, as the apps need a constant update of the current location of the people swiping each other right or left.
Discovery settings: as it creates an automated profile as soon as we log in with the Facebook profile which in turn allows a default search setting initially. After a while one can change the settings and adjust it as per the user's convenience. The user can set the geographic perimeters upto to 10 miles and not more than that in the free version of Tinder.
Swipe: Swipe has the UVP of Tinder. And swipe is imbedded in Tinder just so to sort candidates of choice. Firstly the, matches are purely based on the geographical location, mutual friends and common interests in certain areas. So if you like you swipe right and if you not you swipe left. It seems easy but the algorithm that goes into it is pretty complex to fathom. So if one has to develop an app like Tinder one has to keep the swipe thing in mind.
Match: It is the very beginning to start a conversation. And a match is found only when there are common interests and mutual friends or common geographical location, or if the user swipe right to a particular profile.
Chat: once your match is found, a private chat options opens up for you. In the basic chat option you can send messages and view messages. Also, there's this feature on Tinder that you can like a message by tapping the green heart or even send gifs with the help of the blue gif button at the bottom of the chat interface or add emojis
Tinder's advance paid feature: it provides premium features. In this advance freemium feature, it enhances the app's performance and also ensures better user retention.
Hide advertisements: In tinder plus or freemium, here the users get an ad-free and zero intruding experience.
Boost: it helps a user to come up in the top of the user list. Added to that, for a moment, only to become the most coveted candidates amongst all.
Super like feature: if a user super likes someone by swiping up, then the one he/she super liked will have a blue star next to their name in the list. With the help of super like you can inform the person you like in the hope of mutual interest. The person will evidence a blue banner right under your name which in turn uplifts the chances of the match threefold. With tinder plus or freemium, it gives you 5 super likes per day but with the free version, it gives you only 1 super like a day. So this feature will help you develop an other apps like Tinder.
Likes you feature: this feature enables you to know whether who likes you or not even before swiping right and all the likes are visible in your gallery.
Rewind button: in the plus version of Tinder this feature is like a button which helps to cancel the dislikes and helps the candidate to give him or her a second chance. However, in the free version the user can reweigh his/her dislikes.
Location change (passport): In Tinder plus, the user can change his or her location even though being at a different location., this is what we call passport in Tinder.
Unlimited right swipes: when a user uses the maximum numbers of swipes per day in the free version and in turn switches off the unlimited swipes in the paid version.
High profile dating: tinder has a service called Tinder select which is more like an inviting service which is for the elite and higher class or celebrity tinder users. However, Tinder has not announced Tinder select yet also not interested to talk about it.
Swipe between groups and people: this feature is unique in a way that it provides the user to switch to the social mode and then revert back to private. This enables the person or the group to swipe on individuals or a group of friends swipe on another bunch of friends or a group. Other variable features of Tinder are :
Helps in inviting a friend or friends
Helps in swiping and matching with the groups around.
Group messaging
Create a better dating apps like Tinder
There are innumerable ways to build a better dating app like tinder some of them are listed below,
Tweak the concept: Though the left and the right swipes are a money earner for the app, yet they can't alone solve the problem of loneliness. Neither does swiping makes an individual happy. For example, When the coffee meets bagel limits a daily card deck of 21, so it gives choices to the user to choose between the 21 cards. So accordinglythis help to not to either overwhelm or paralyze the application's users.
Enhance the UI design: the UI of Tinder is with amazing quality pictures along with the new smart photo features.
Personalize UX: As we judge people according to their appearances even though we know appearances are deceptive and unpredictable. And the are small neat tales that define or trigger our choices that too subconsciously. And this same goes for the bios of a profile. AI is a great helper when the human can't explain the online romantic chemistry, however, AI comes into play and help the people. Tinder brand new feature called the smart photo feature that enhances a user's chances to get a match according to his or her profile. Tinder works on the likes and dislikes of the individual photos and it may reorder the pictures of the different users on the basis of preferences.
Tweak the algorithms: according to tinder's ranking algorithm it represses men. Tinder is biased towards men. It promotes selectivity, where women are more prone to high ranking and are getting more matches cooperatively than men. It creates a feedback loop where men are awarded a fewer match. That's very selective of tinder.
Know and find your audience: as we know no individual is similar in any way. Taste differs from person to person. And there is a chance that you might win with a very nook app. Exclusivity ablazes human emotions and desires all along. With the help of the league app it plays with ideas and raises the benchmark.
Providing safety and security: as Tinder requires only Facebook login, that the only verification it requires so creating a false identity is not so possible. Spammers and scammers, fake accounts, double standard and uncensored content and fake or catfish relationship can ruin the fame and reputation of your app to the roots. So to provide security on such ground one should incentives to the users for moderation and modification.
The dating market is blooming and it will never stop. Your chance to use this market is NOW! Then What should be the next step? Estimate the costing and Get set to get your App. Now, Hiring Freelancers at first sight to get your work done costs a lot for the business owners. Like, You need a team of UX Designers, Developers, Quality Analyst and more to make the app successfully. It seems a hectic task, isn't it? Obviously, Managing them and getting a good synchronization between them is hell important. What's the better solution?
Hire the best Mobile App development company for your project! In addition to this, make sure that company has got experience in building all kinds of Mobile Apps. It has been 10+ Years for Consulting Whiz excelling in this industry. With Top 1% Experts, we always deliver the customized and best results. So, if you are interested to create an app like Tinder, let's join hands to make your dreams possible and leverage the market potential.
Yes, Along with Superhero support we provide complete consultancy for our clients like you who have little knowledge about marketing and sales. Just Call Us 949 656 9676 and we will take your worries and serve you the best experience.
If you are absolutely ready to go, mail us your requirements at contact@consultingwhiz.com You will get complete mobile app consulting and technical details about the app.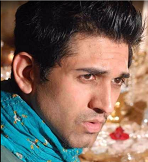 Mike is the founder of The ConsultingWhiz, he is expertise in the Software industry and has 12+ years of experience in Mobile App, Custom Software Development & Technologies that support SaaS Based Companies.