With an ever-growing demand of getting digital products, there has been a boosted requirement for IT staff across the globe. But, hiring a developer or designer is not an easy task, there is a complete process of it. Sometimes, hiring individual employees is not a preferred option for IT Startups due to affordability, experience needed, and geographical boundations. Therefore, alternative options to collaborate with existing IT companies become a very favorable option.
IT Staff Augmentation is now a proper service offered by several IT Companies considering the increasing demand in this sector.
What is Staff Augmentation?
The IT industry is a dynamic place where demand and supply change rapidly. More importantly, the requirement of tech skills is constantly updated. In such a case, it is almost impossible to maintain a large enough team that comprises all the expertise. Especially when the firm is trying to grow while being lean.
Staff Augmentation provides experienced and skilled employees for the firm on a contract or project basis. Some organizations are solely involved in providing staff augmentation services for a software company. These vendors bear all the costs of resources and responsibilities for the supply of quality service. While freelancing platforms are also a great source of hiring tech talent temporarily and for particular expertise in the required field.
In the year 2019, CompTIA estimated that around 10% of technical jobs in the US go unfilled while this number climbs to 15% when it comes to core technical roles. This shows the inefficiency of the traditional hiring system. Further, as the demand for technologies like VR and IoT Services increases in the future, this demand and supply gap will widen.  Hence staff augmentation will keep flourishing in the future, providing a better alternative to current hiring systems.
Why Staff Augmentation?
Getting access to the right talent while maintaining a budget is a struggle for many midsize companies. Through the staff augmentation channels, the company can access the global developer base and choose the most suitable ones for their project. This becomes more important when there is a deadline on your head and you don't want to compromise with quality.
While this is also helpful when a company faces geographical constraints such as lack of required skills nearby. In such a case, the company can submit the required technical requirements to the augmentation firm and get the right talent.
The reason behind the rising popularity of the staff augmentation model is the numerous benefits it offers.
Benefits of Staff Augmentation Services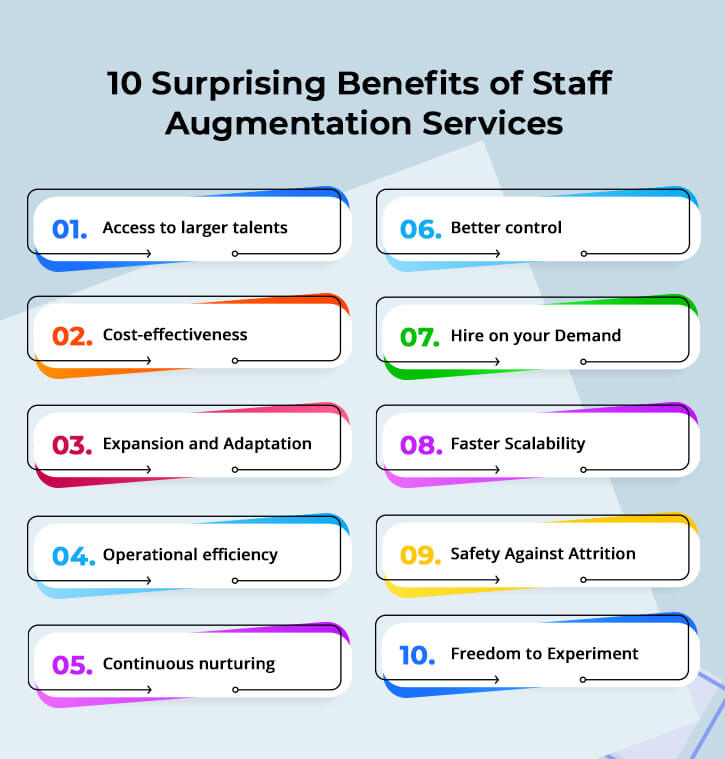 To make any hiring decision, we must consider the advantages that every option offers us. For the same reason, here we present out the 10 key benefits of staff augmentation for IT startups and companies.
1. Choose from a Wider Range of Talent
In contrast with the traditional approach of looking for the right candidate yourself, staff augmentation provides you with much more options. The only task for a company is to put out the technical skill they require in a person and the rest of the work is handled by the vendor. Most of the time these vendors hold ready to work candidate portfolios to assist staff augmentation for small agency and startups which make the hiring even quicker.
2. Affordable at Anytime
Maintaining the financial viability of a project is the foremost goal for any organization. Without this, the company can suffer losses despite giving complete services. A large part of these costs relates to the hiring and training of new employees. Reduction in hiring costs is one of the biggest advantages of staff augmentation services.
3. Hire on your Demand
In traditional hiring, the firm needs to hire a dedicated team for a specified period which in most cases is long. This is because a firm cannot afford expenses related to hiring again and again. The augmented staff can be easily called for a shorter time as required by the organization. Besides, the contract under augmented staffing can easily be canceled and renewed as per the needs.
4. Better Input to Output Ratio
A small team working on a large project can lead to either delay or a below-par quality of service. However, when it comes to hiring new employees, the input-output ratio might heavily suffer due to excess costs. Having easy access to talent at lower costs with augmented staffing helps the organization to maintain the quality status while submission of work on time.
5. Faster Scalability
Urgencies are very common in the IT industry. There can be great opportunities present in front of an organization yet due to the lack of a few developers these changes can be missed. With quick to hire services, staff augmentation for tech startups can be done easily allowing rapid expansions as per the needs of the project
6. Safety Against Attrition
Employees leaving the company for a new job opportunity or other reasons is a big headache for many IT companies. With ready to employee talent available, the firm can get good insurance against the problem of attrition. Any emergency fulfillment of vacancy can be done with staff augmentation services.
7. More Diversity in Ideas
A big drawback to geographic restriction is the lack of diversity in the ideas at the workplace. These may be ideas relating to a new project or further improvement in the existing quota of services. Having new talent regularly helps the organization to maintain a fresh approach in dealing with a project or solving a technical issue. Also, previous experience can be leveraged in case the organization mostly has fresh talent.
8. Local Insight
A company can be working on a project from a client who resides in a different country. In this case, a lot of times the firm may require local insights for a project. With constantly available augmented staffing services, the company can hire a dedicated developers team from specific locations to get a broader idea about the client's needs.
9. Avoiding the Legal Issues
Hiring a candidate for a job is a hectic job in itself which involves a lot of legal provisions. As most of these hiring are for a longer time, they consume more resources. An augmented development team can be hired on a project basis or for a shorter time. While most of the legal details are fulfilled by the staff augmentation company.
10. Freedom to Experiment
With the swift availability of skilled developers, a firm gets more room for experimenting with new technologies and combinations. This is particularly helpful in the development of custom projects. What makes it attractive is getting these services at a fraction of a cost without maintaining a large infrastructure.
Read Also- How to Hire the Right Development Team or Companies for the Work
Having the option to hire the topmost experience from around the globe is a big advantage in itself which makes augmented staffing lucrative. But at the same time, an organization needs a team that can adapt itself quickly according to the requirements of the project. A great augmented development team offers the required skills and services while following the work culture.
Consulting Whiz is a custom software development services provider that can fulfill your required augmented staffing needs. With our experience of more than 13+ years as a software development company in USA, Consulting Whiz has helped popular IT brands with its quality services. Discuss your augmented staffing needs with our ace consultant and understand the solution you are looking for.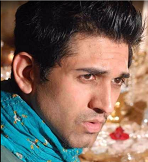 Mike is the founder of ConsultingWhiz LLC, Software development company in the USA, he has 15+ years of experience in agile technologies and  development. I've worked with many satisfied owners of customer servicing businesses. Let's connect today to get started on your path to 100% automation, reduced overhead costs, large ROI, and so much more.