Coding still sounds like a very technical and hard skill to almost every non-tech business founder. Having a great idea that you know has a lot of potential excites the founders. But, coding haunts their dreams with doubts and fears. Also, the technological landscape has developed tremendously in the past few years. With so much advancement in the IT sector, the introduction of No-Code development was no surprise. According to statistics, approximately 60% of businesses use No-code development tools. But what exactly is No-Code development?
Some founders have found it extremely useful while others are not feeling free and flexible. Likewise, some take help from a No code web development company to achieve it. Let's uncover everything about No-Code stuff and understand how you can leverage it for your business.
What is No-Code Development?
Though the name is very much self-explanatory, No-Code App Development is the process of developing software without writing codes. A No-Code development framework allows even non-technical people to create applications or software.
No-Code development tools have a user-friendly interface with drag and drop features, to allow users to create the software according to their requirements.
This helps businesses to create software without hiring a development team. A single developer with non-technical background can easily create an app using No-Code development tools. The only requirement is they should know what features the app should have and how it should look.
Its features have made No-code very popular among business enterprises. It is believed that by 2024, 75% of businesses are going to implement no-code development tools in their development activities.
This was all about what No-Code development is. But to get a better understanding of this framework, let's see some of its features.
Top Features of No-code Platforms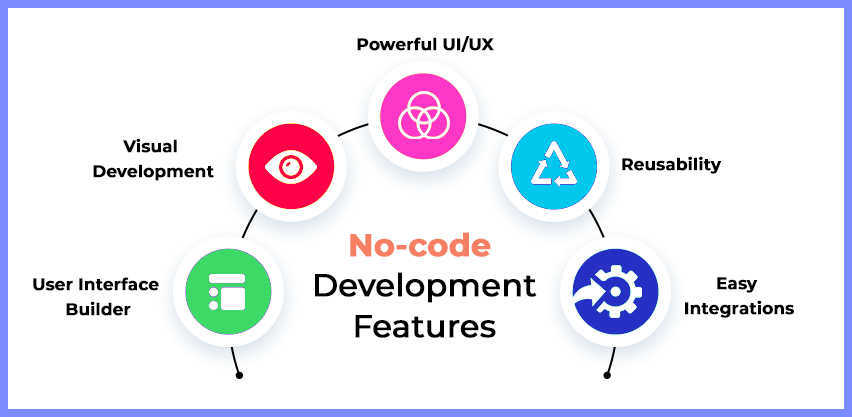 ● Visual Modelling Tools
Visual Modelling refers to the use of graphical and textual designs for creating an application. No-code platforms use visual Modelling tools for application development. This reduces the development time while also being easy to use.
Non-technical developers find this tool very helpful while creating an app. It allows them to envision the look and features of their app. Making changes is very easy with visual modeling tools.
● Out of The Box Functionality
No-Code platforms provide out-of-the-box functionality, which eliminates the requirement of building core modules for mobile app development. Most No-Code platforms come with built-in modules, preconfigured databases, and server-side applications. They also provide a user interface for connecting with preferred databases.
● Drag and Drop Functionality
No-Code's drag and drop interface is a popular feature. It allows the user to drag any function you require in your app and drop it at the desired place. This feature is the primary reason why no-code platforms have gotten so much recognition all over the world.
This not only makes the development process faster but also helps the user in envisioning the app in real time and making changes quite easily.
● Cross Platform
No-Code is accessible across various platforms. This is another feature that has helped in increasing the popularity of no-code development. It can easily integrate with different types of web services like Twitter, Slack or ideal. Creating a website or software or a mobile app for all the devices is tough even for a professional developer.

Therefore, these No-Code platforms have in-built responsiveness for each element and section. Tough jobs are already done for you to smoothly create your dream app.
● Reusability
With No-Code development, a developer can reuse small parts of the previous application in new ones. This reduces the development time as most of the functions can be reused from old applications. The time for developing a great product is huge when you do it from scratch. Ask any developer and they would need many weeks to produce a fully operable system.

No-Code development platforms allow you to quickly create new sections, screens, or pages.
What are the Pros and Cons of a No-Code Development Platform?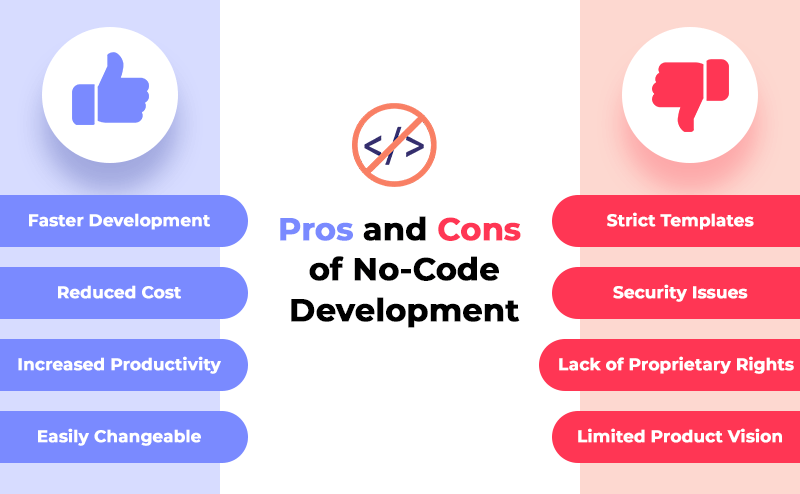 ✔ Faster Delivery of Apps
As already discussed above, No-Code helps in reducing the development time of any application. With its drag and drop features, it is extremely easy to use. There is no need to spend time writing hundreds of words for a code. It allows you to reduce time to market significantly and deploy your application sooner.
✔ No-tech Expertise Required
Learning anything takes time but to perform development with No-Code tools is like an easy game. You just need to be aware of what you want to build. There are easy tools that can be operated by anyone who knows how to use simple online tools. For example, WordPress allows you to build a custom website completely through its No-Code tool called Elementor.
✔ Very Affordable on Your Budget
With No-Code software development, there is no need to hire different Developers for different parts of the app. A single person can create the whole using No-code development tools. This reduces the cost of development up to 80%.
✔ In-built Functionality
No-Code framework comes with built-in modules and databases. There is no need for creating a database or UI from scratch. It has various tools that can be used for developing the app. Adding or removing content, images from the system becomes easy with in-built CMS which comes with almost all No-Code development platforms.
What to Take Care of while Using a No-code Development Platform?
1. Customization is not 100% but Enough
While No-Code provides a lot of features to its users, customization is somewhere restricted to pre-existing elements. The users can only use the functions available in development tools. The users need to adapt to the development tools since they don't have full authority. Also, it does not mean that you can't develop what you think.
2. Lack of Control and Flexibility
Developers do not have much control during app development in no code. With traditional app development, the developer has full control as they themselves write the code. But with No-Code software development, a developer has to use pre-built modules and tools.
3. No Ownership of Source Code
With no-code the developer is creating the app, but not writing the codes for it. This means that while the business or developer will have ownership of the app, the source code will be owned by a No-Code vendor.
4. Security Concerns
Due to the lack of control with no code development, many security issues might arise. When you use a no-code development tool, you don't know much about its security levels. There is a high chance of data being leaked or hacked while using No-Code development tools. Since you don't have much control over the technology stack, you cannot make any changes to improve the security either.
Low Code Vs No-Code Development
Many people believe that No-Code and low code are interchangeable terms. This could not be far from the truth. Both No-Code and Low code development platforms are part of the first few rapid application development tools. But there is a key difference between them i.e.- No-Code requires no coding at all but low code development might require some additional code to be written.
Let's compare some capabilities of Low Code vs No-Code development frameworks to get a better idea about their differences.
1. Coding
No-Code- In No-Code, there is no coding required at all.
Low Code- Developers need to write additional codes to complete the development of the application.
2. Prior Coding Experience
No-Code- Prior coding experience is not required. Anyone can build an application using No-code tools.
Low Code- A skilled developer is required with prior coding expertise to build and connect apps.
3. Targets
No-Code- Businesses are targeted by No-Code platforms.
Low Code- it targets developers who want faster app development.
4. Application Types
No-Code- It is used to build small and simple applications for business purposes.
Low Code- It can be used to create almost any type of software application.
Top 10 Platforms for No-Code Development-
By now it must have become clear that the demand for No-Code solutions is rapidly increasing. Many big enterprises and businesses grabbed onto this opportunity and introduced their own No-Code development tools or platforms in the market. Here are the top 10 No-Code development tools that you can use for custom software development.
Microsoft power apps
Bubble
Appsheet
Airtable
Nintex platform
Salesforce platform
Betty Blocks
Outgrow
Nutshell
Bizness Apps
How Can You Start Your Online Business Without Coding?
If you have a startup idea that requires an app, but you have no prior knowledge of coding, you must be wondering how to develop that app. Being a startup, you might not have the resources to hire top software developers for your project. Luckily for you, creating an application has become very easy with No-Code development tools.
It's all about taking initiative to build the website. Rest can be done by the No-Code web development platform. Once you start navigating through the different options available, you can easily figure out how to design it. Though no-code development is easy, but with any new tool, it takes a lot of time to do the things. The best way to get your online business up and running is to consult an expert while doing it. Due to the limited flexibility provided by the No code web development tools, consulting an expert and taking the help of a Software solution provider is definitely a good choice.
No-code development platforms allow one to create an app using pre-built modules, and without the need to write a code. You can use any of the above-mentioned No-Code development platforms to create an application for your startup.
Here are the steps to start your online business without coding-
Step 1- Check Market Demand
The first step of starting any business is checking for demand. If the market demand for your product or service is extremely low in the targeted market, then the chances of your business prospering are very low.
Step 2- Consult an Expert
Though No-Code development offers a solution for Non-technical users, it is always better to consult an expert before starting the development process. It will give you a better idea of the app's capabilities.
Step 2- The Appearance of the App
With No-Code software development tools, you can easily create a user-friendly interface. Though you have full control over the appearance of your user interface, it's better to discuss with an expert to provide a good UI/UX to your customers.
Step 3- Content Management
No-Code development tools have per-configured content which can be customized according to the developer's requirement. You can select what type of content you want in your app from the available options.
Step 4- Prototyping
Creating a prototype of your app makes it easier to find any errors or get customer feedback. Here, you can work again on the errors and make your dream app or website perfect.
Most of the experts prefer No-Code development for startups because of their low budget at the beginning. Since there is no requirement of any prior coding experience, No-Code has helped thousands of entrepreneurs to kick start their businesses.
Why Choose Us for Your No-code Development?
In the highly competitive digital world, there are many startups going down due to a lack of right skills and resources. No-code development platforms help you quicken the process but with the right technical guidance, it becomes easy to sail through the competition and become the best. At Consulting Whiz, we believe in helping our clients to achieve success with the best management of resources and money. Being the most reputed custom software development company in USA, we have been enabling small businesses to become full-fledged market leaders. With a team of business experts, our consultation has been most popular in guiding the businesses with pocket-friendly budgets and the success they dreamt of.
Reading Recommendation- Top Mobile App Development Ideas for Startups
Even for the No-Code development projects, we assign a technical expert who can provide you 100% control and 100% flexibility in implementing your ideas. Sounds like it can help you? Why not try it out. Here is your FREE consultation for your idea. Get a complete roadmap of how to achieve the goals in the most affordable manner. Contact contact@consultingwhiz.com now or call at 949 656 9676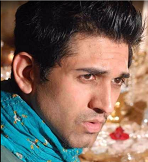 Mike is the founder of ConsultingWhiz LLC, Software development company in the USA, he has 15+ years of experience in agile technologies and  development. I've worked with many satisfied owners of customer servicing businesses. Let's connect today to get started on your path to 100% automation, reduced overhead costs, large ROI, and so much more.