Everyone loves shopping, and when you can shop the latest fashionable sitting at home and with a just click is just a bliss. Online shopping offers such an opportunity to everyone, that's why online shopping is witnessing a huge surge. In online shopping you don't need bags, shopping carts, or malls for shopping, only a Shopping App like Amazon is enough to buy the latest fashion.
Online shopping has seen a huge surge due to COVID-19 pandemic. During the pandemic, various shops, markets and malls were closed, but it cannot stop the people from shopping. Therefore online shopping through App Like Amazon has become everyone's first choice and only option.
There are number of reasons why customers prefer online shopping with Amazon Like App compared to offline shopping –
● Very first halt like Lockdown due to Covid 19, where we can't go anywhere to purchase anything we need, that time only Shopping Apps like Amazon were fruitful.
● Cost-effective shopping from online portals like Amazon Shopping App.
● Unlimited time saving
● Boundless options for anything you search for- in an App Like Amazon
● Good discounts and EMI options are there on any product of your choice.
Amazon is undoubtedly the market leader and people's favourite when it comes to online shopping.
Market Analysis of Amazon
Amazon is the largest retailer in the world. It is amongst the top 5 biggest companies in the US along with companies like Google, Facebook and Microsoft.
The revenue of Amazon for the September quarter 2020 was $96.145B, a 37.39% increase year-over-year and in the last twelve months ending September 30, 2020 was $347.946B, a 31.07% increase year-over-year. With 193.6 billion in net sales, the United States was Amazon's biggest market in 2019. Amazon owns 31.2% of the market share in the online retail market in India. .
What Makes Amazon so Popular?
Amazon is an online marketplace that basically connects the buyers and sellers. Being an online marketplace there is a huge demand for Amazon Like App. The major interactions and revenue for any e-commerce comes directly through its mobile app.
Mobile web shopping is a top channel for e-commerce, and retailers who create interactive mobile sites have the chance to thrive and grow as m-commerce expands. App users account for approximately 42% of Amazon's smartphone visits, while visits to Amazon.com make up the other 58%.
The popularity of Amazon is the result of its client first approach.Basically whatever their customer needs they will make it. As a result Amazon's platform is not only client friendly but it makes their shopping experience memorable which brings repeated clients to their app.
Here are some of the features of the mobile app which makes the Amazon so successful –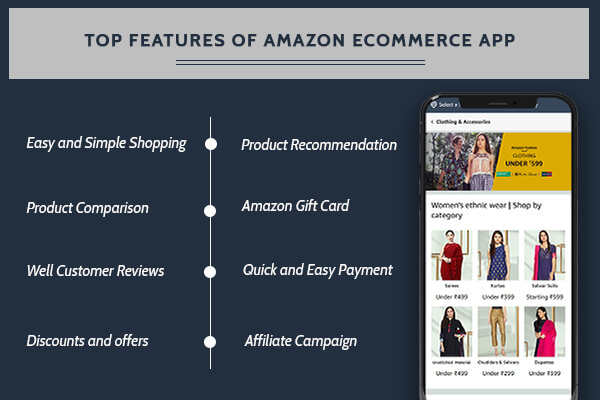 The seamless mobile app of Amazon provides a great user experience to the customers which makes it super easy for the users to make the purchase.
Amazon saves the customer's time by saving the card details and encourages them to come back again and again.
Identical design across the mobile site and app makes users comfortable and familiar with any of the platforms.
One common shopping basket across all the platforms makes it easy for the customer to shop the items from a number of products.
Intelligent recommendation of products is the biggest feature that made amazon so successful.
How Does the Amazon App Work?
Any On-demand app like Uber App or Taxi App, Amazon works with two different interfaces for different people. Amazon does not own any shops and that shows that retailers, shopkeepers and brands get access to the Amazon platform. So, Amazon offers space in his platform to registered sellers. Otherside, buyers have a different platform where all products are featured. If you wish to Develop an Ecommerce App , you should know about both the panels and accordingly Hire Ecommerce App Developer .
Seller Or Retailer Panel
There are two parties involved in the app. One is the sellers and the other one is the buyer. The sellers have a seller account through which they can host the various products on the platform.
User or Buyer Panel
On the other hand the buyers have a different account. They can add their shopping items in the cart and buy them through paying instantly or later using various buying options.
How to Make an App like Amazon?
A big question is a way to make a Shopping app like Amazon which will attract many customers. Here are the important steps for creating a successful E-commerce APP like Amazon for Your Business.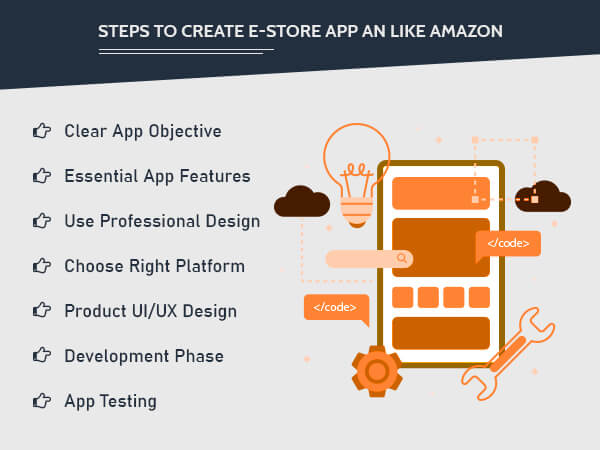 Steps to Create a Successful E-commerce APP like Amazon for Your Business –
1. App should have Clear Objective
From the images to the content to the UI and ultimately the back end development, all the material should be designed with the corporate goals and keeping the end-users in mind. Reconfirm you have got clear objectives for Building App like Amazon before you jump into the event process. The clearer you're, the higher your developers will understand your requirements.
Once you decide what products to sell and whom you're going to serve, the next step is to research your market in your particular niche. Take a radical check out services and apps selling an equivalent sort of goods. This may allow you to know which features are essential for your niche and can proceed in the same direction without a fail.
2. User Centric and Friendly Interface
Let's take a glance at Amazon Like App, the industry's leader in both numbers of sales and customer satisfaction index. The corporation went online as an online bookstore and had an inventory of available books for sale and quickly they became one of the foremost successful startups within the field.
So, what has made App Like Amazon such a successful Internet retailer?
One of the biggest factors that helped Amazon to capture the hearts and minds of its customers was a user-friendly interface.
3. Choose Essential Features
The faster you create an E-Commerce app like Amazon, the longer you will need to improve supported users' feedback, create worthwhile content, interact with customers, and market your app. Features you should have to consider for an MVP?
1) Customer log-in – Allow customers to browse your shop as guests without inputting plenty of personal info. Offer additional sign-up options, for instance, via email, Facebook, and Google. When in the phase of Developing an Ecommerce App.
2) Product search – lightning-fast, add many filters and high-quality indexing to assist users quickly find what they need inside your app.
3) User reviews – Encourage customers to rate the purchased items and leave reviews.
4) Smooth checkout – Customers search for free shipping options, so shipment fees may scare them off. The app's slowness and lack of various payment options can also influence their decisions.
5) Display the checkout progress – Show users what percentage steps they need to finish before completing a sale. Customers are far more patient once they know exactly what proportion of time they need to spend in your store. Make checkout as simple as possible.
Don't confuse customers with unnecessary questions and options. Direct logged-in users straight to the order review screen without having to verify MasterCard and shipping info.
6) A reliable and safe payment gateway – this is often the simplest and most secure thanks to accepting payments online. When a user makes a sale, a payment gateway collects, verifies his/her MasterCard details, sends this data to your bank, and transfers money to your account.
As this process involves sensitive information, your payment gateway should be 100% secure and reliable. Use only the systems that have an honest reputation and suit payment industry standards like PCI DSS.
Don't forget to incorporate multiple payment options like Google Pay, Amazon Pay, and Apple Pay to spice up your sales.
7) Shipping – eCommerce apps like Amazon one among the explanations for Amazon's success may be a network of warehouses for fast delivery. Most users now expect the lightning-fast shipment that's free or dirt-cheap, so continue with the days. There are many shipping APIs you'll integrate into your e-commerce app to supply fast and low-cost shipping.
To make the experience as smooth as possible, show the shipment time and price on the merchandise page. Make your shipping forms as user-friendly as possible. Allow multiple input formats and confirm that entry fields aren't obscured by elements of your interface (e.g. keyboard).
8) Recommendation engine – Such systems may range from simple algorithms that recommend goods supporting user preferences (if Alice likes product x and Bob likes products x and y, therefore Alice also will like product y) to incredibly complex AI and Machine Learning implementations that save companies like Netflix a billion dollars annually.
According to a Forrester study, quite 15% of shoppers admit to buying recommended goods.
Such systems add a private touch that increases user engagement, exposes cross-selling opportunities, and, ultimately, drives your bottom line. Recommendations are best when displayed on your home screen, product pages, and within the handcart, but you'll also email targeted discounts to people that browsed certain categories of products.
4. Implement Professional Design
Outstanding design is another powerful tool to draw in customers' attention. Most users form their opinion of online shops supported visuals alone. Here are a couple of essential tips for a newly launched app.
Design a clear-cut logo – this is often the very first thing a possible customer sees before he or she decides to use your app. You will never get an opportunity to form a primary impression again, so don't screw up. Make your goods stand out. Users remember 80% of the knowledge they see and only 20% of what they read.
Use a white background for the images used – Have quality pictures made up of every angle. Display large photos to catch viewers' attention. Enable the choice to concentrate seamlessly. You may also use short videos showcasing the products, a technique proven to draw in more attention than even the simplest of photos.
5. Choose the Platform
iOS devices are more popular in North America and Europe, while other parts of the planet prefer Android. The standard practice is to form an eCommerce app like Amazon shopping app for iOS first then port it to Android as iOS users are willing to pay quite their Android counterparts. From the developer's standpoint, iOS Develop Ecommerce Mobile App is more convenient and takes less time because you've got to optimize just for the 2 latest versions of Apple devices and OS.
With Android, you would like to optimize for a greater sort of device and screen resolutions that prolong the event. You can, of course, save some time and money by supporting only the foremost popular Android devices.
The platform's domination in fast-growing markets, like China, means you ought to consider creating a shopping app for Android. Or you can have the simplest of both worlds with a cross-platform app.
Technologies like React Native allow developers to reuse up to 95% of the code between iOS Ecommerce App Development and Android Ecommerce App Development leading to an app that appears, behaves, and performs like its native counterparts.
6. Lookout of Product Growth and Support
After successfully launching your Developed Ecommerce Mobile App, it's time to enhance your product. This stage includes collecting user feedback, doing additional research, and deciding what features to implement within the next cycle of development.
So, here's what you ought to specialize in after launching an MVP, speed up your app. Back in 2012 Amazon calculated that every extra second of loading time would cost it 1.6 billion USD or 1% of annual revenue. Newer data shows that every extra second can reduce your sales by 7%. This speed is most vital when loading the app's home screen, product page, and checkout.
Organize tech support – Build a Clone of Amazon App At some point, something will fail and you'll need to affect discontented customers. Most users like better to communicate their frustration without leaving an app or making phone calls, so it's necessary to possess a page for complaints and propositions.
It's also recommended to possess a comprehensive FAQ, an inventory of contacts, and a staff able to affect user complaints 24/7. One way to form your customer service more efficiently is to make a specialized chatbot.
According to Business Insider, customer support bots could save American businesses almost $23 billion a year.
Recommended Reading-
These AI-driven programs are available 24/7, have near-instant response times, and may handle many requests at an equivalent time. you'll even take a page from eBay's book and use a bot to order goods.
The first thing you ought to do to market your App Like Amazon is to form it visible within the App Store. a number of the optimization techniques can make users 2-10 times more likely to download your app. And don't ignore social media.
How Does Amazon Clone App Make Money?
Fixed Subscription– Amazon charges a fixed amount of subscription from the sellers for hosting their products on its platform.
Commissions– Amazon charges a certain percentage of the charges as a commission on the sale of each product. The commission charges vary depending on the product category and the price of the product. The commission ranges from 5-20%
Logistics – A larger portion of the revenue is generated from the logistics that Amazon provides for shipping your products. The extra charges which Amazon charges for delivering each product directly goes into its pocket.
How Much Does it Cost to Make an Amazon like app?
The Cost to Build App like Amazon can be segregated into three parts –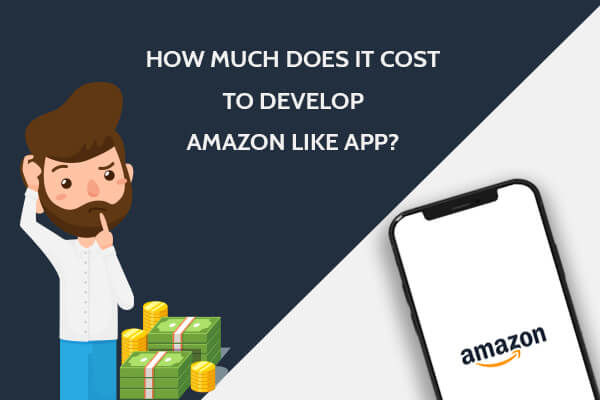 Wireframing – It is developed to understand the basic functioning of the Amazon clone app. It is the rough template which is developed before turning any idea into a real app. It will cost you around $700 – $1000.
UI/UX design – The design of the app is the foremost thing that engages and attracts the user. It is the interface with which users interact, therefore it plays a major role in Ecommerce App Development. The design part in the Cost to Build App like Amazon is around $7000 to $10,000
Development – It is the most important part of Ecommerce App Development, it's where the idea is converted into the real product. The developments Cost to Build clone app of Amazon ranges around $30,000 to $80,000.
Choose the Right Mobile App Development Team
Amazon is a bigger brand than just an Online shopping app. This gives them freedom to invest heavily in development and marketing of shopping. For others, the key to make an app like Amazon lies in finding the right development team. Leading Mobile App Development in USA, Consulting Whiz has Industry's best experts with deep expertise in the E-commerce domain. From interactive product catalogue to AI-driven search results, We understand the dynamics of successful E-commerce businesses. Consult the experts of Consulting Whiz to understand the timeline, cost structure and your extra advantages while working with us. You can mail our expert at contact@consultingwhiz.com or call us at +1-949-656-9676.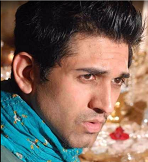 Mike is the founder of ConsultingWhiz LLC, Software development company in the USA, he has 15+ years of experience in agile technologies and  development. I've worked with many satisfied owners of customer servicing businesses. Let's connect today to get started on your path to 100% automation, reduced overhead costs, large ROI, and so much more.